One Of Chris Pratt's MCU Costars Could Have Had His Jurassic World Role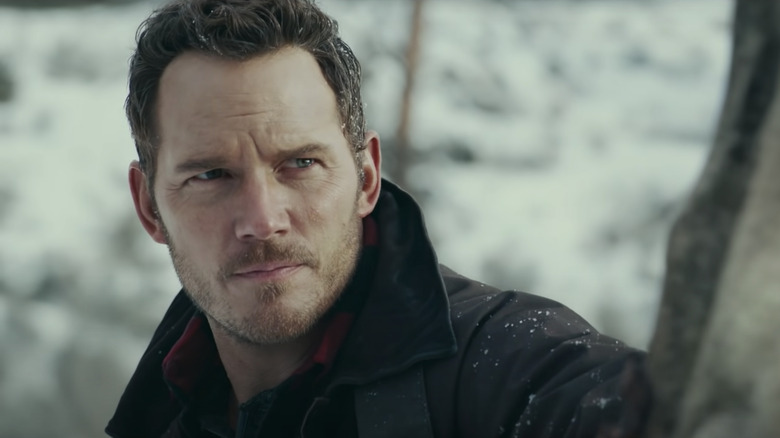 Universal Pictures
Who would win in a fight: Thanos, or the dinosaurs of "Jurassic World"? If he's wearing the Infinity Gauntlet, it's a safe bet Thanos would, since he could probably just snap some or all of the dinosaurs out of existence. Lest you think this is a purely hypothetical match-up, just know there's an alternate reality in which Josh Brolin — the actor who brought Thanos to life via motion-capture in the Marvel Cinematic Universe — might have played the lead in "Jurassic World" instead of his MCU costar, Chris Pratt.
While appearing on the Happy Sad Confused podcast to promote his 2022 Prime Video series, "Outer Range," Brolin discussed his decision to turn down "Jurassic World," telling host Josh Horowitz:
"'Jurassic World,' with all respect to Steven [Spielberg], I could not picture me doing it. I could not picture me being that guy. And I'm very, very happy, based on my decision, of what Chris does with it because I think Chris is the right guy. When I saw Chris in 'Guardians of the Galaxy,' and I was just like, 'What?' I mean, we all were. I even said it to him embarrassingly at a party, 'Dude!' So, I think I knew from a big picture standpoint that somebody else would do a much better job than me."
Horowitz also posted a video clip of Brolin's remarks on Instagram, which you can see above. Suffice it to say, Brolin would have brought a very different flavor to "Jurassic World." He's starred in plenty of other blockbusters, of course, but if you think about his appearance as the self-serious Cable in "Deadpool 2," or his appearance as the young version of Tommy Lee Jones's no-nonsense character, Agent K, in "Men in Black 3," Brolin seems better suited to playing the straight man opposite a comedic actor.
Denis Villeneuve and Outer Range hold true Dominion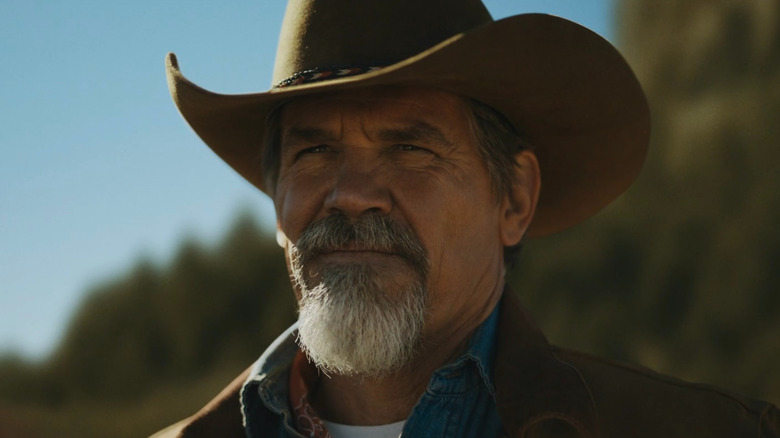 Prime Video
This isn't the first time we've heard about another famous actor being up for a role that ultimately went to Chris Pratt. Zachary Levi, the star of "Shazam," revealed that he was up for the role of Star-Lord in "Guardians of the Galaxy" at one point. Like Pratt, who rose to fame on the sitcom "Parks and Recreation," Levi had a background in comedic network television, having starred in another NBC show of that nature, "Chuck."
It's easier to imagine Levi dancing to Walkman tunes as Star-Lord than it is to imagine Josh Brolin palling around with a velociraptor named Blue in "Jurassic World." While there have been perennial calls on social media to replace Pratt as Star-Lord, his "Guardians of the Galaxy" director, James Gunn — who was once fired, then rehired from the franchise himself due to old insensitive tweets of his that resurfaced — has defended him.
In the long run, maybe it's better that Brolin didn't star in "Jurassic World," anyway, as his commitment to that film and its sequels, "Jurassic World: Fallen Kingdom" and "Jurassic World: Dominion," might have pulled him away from some of his other dramatic projects. In 2015, the year of the first "Jurassic World" movie, Brolin costarred in Denis Villeneuve's superb action thriller "Sicario," and he and Villeneuve would go on to collaborate again in 2021 with "Dune." In 2022, the year of the trilogy ender, "Jurassic World: Dominion," Brolin also led the stellar cast of the aforementioned "Outer Range" for Prime Video.
It's fun to see Brolin in blockbuster mode, but not starring in "Jurassic World" freed him up for other (arguably better) projects, so all's well that ends well.