Zachary Levi's Guardians Of The Galaxy Audition Landed Him Shazam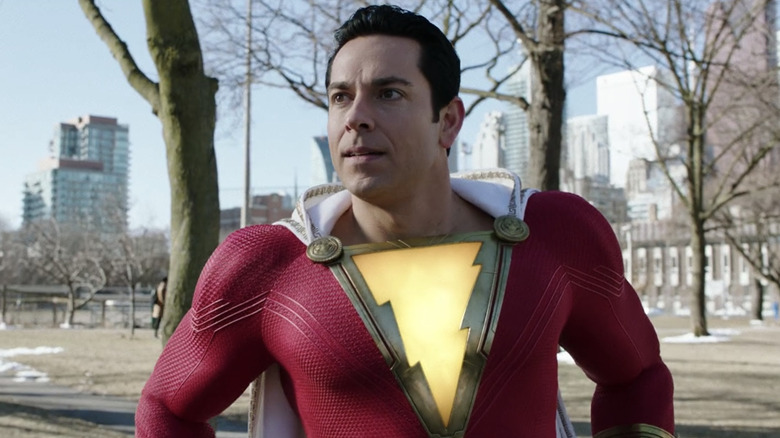 Warner Bros.
Zachary Levi is one of those actors who, like J.K. Simmons and Willem Dafoe, has had a role in both DC and Marvel movies. DC fans know him as the hero of "Shazam," while in the Marvel Cinematic Universe he took over the role of the dashing Fandral from Josh Dallas in "Thor: The Dark World" (only to be quickly killed off in the next movie as director Taiki Waititi cleaned house).
Levi almost played a much larger role in the MCU, however. In fact, he was up for the starring, nay, star-lording role of Peter Quill in "Guardians of the Galaxy."
In a conversation with The Playlist via its podcast, The Fourth Wall, Levi revealed that he had a previous history with "Guardians" writer-director James Gunn, who also hopped the fence to DC as of this year with "The Suicide Squad." Apparently, Levi got far enough along in the audition process for "Guardians" that he was even camera testing as Peter Quill, aka Star-Lord. He said:
"James and I knew each other, we were friends, we would have game nights at each other's homes, had a lot of mutual friends. And so he had asked me to come in and read for Star-Lord, and I did, and then that led to the next step, and then all of a sudden I was camera testing. Oh man, I wanted that role so bad, like so, so, so, so bad. It came down to me, one other guy, and Chris Pratt, but Chris was always their favorite and he was hesitant to take it, which is understandable, I mean it's a big franchise thing, it's Marvel, does it work out, does it not work out? Is this what everyone is going to know me as for the rest of my life? All of those things that go through your head."
What If... Zachary Levi Played Star-Lord?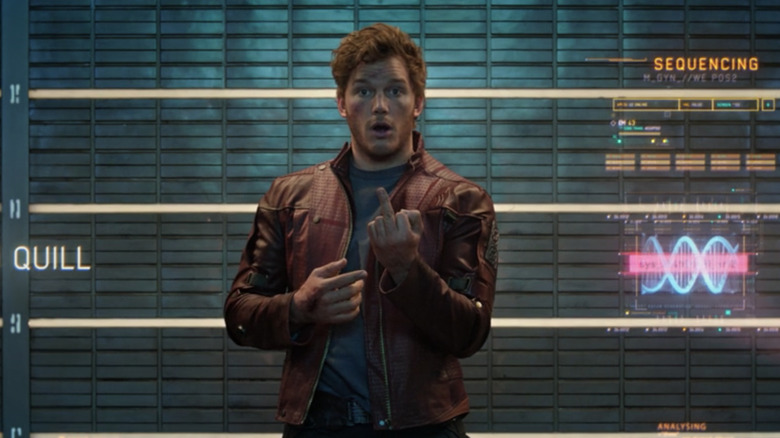 Marvel Studios
Even though Pratt ultimately won the role of Star-Lord, Levi's connection with Gunn is what set him on the path to "Shazam." He explained:
"But eventually, and I think smartly, [Pratt] decided to take the job and so it didn't go my way or anyone else's way for that matter, but I hoped I left enough of a good impression with James that when I was auditioning for 'Shazam,' and his very dear friend, and manager, and sometimes producing partner, Peter Safran, calls up James because this is how our industry works ... Fortunately, I was in good standing with James, I try to be in good standing with as many people as I can be and try to be a decent person, and I think between that and how well James thought I did in the Star-Lord test, he said, 'Yeah man, you really should give Zach an opportunity at this. I really think he could be great.'

"Was that the thing that sent it all over for me? I don't know that, but I'm sure it was part of that conversation, absolutely. I'm indebted to James that he would believe in me enough to remember that and pass that info on."
Robert Downey, Jr. once said that his favorite phrase he ever coined was, "I'll burn that bridge when I come to it." Levi's story, though, illustrates the value of building bridges (rainbow-colored and otherwise, per "Thor"), even when those bridges might seem to be leading nowhere at first.
Over the summer, we saw an episode of Marvel's animated series "What If...?" entitled, "What If... T'Challa Became a Star-Lord?" It envisioned a reality where Quill's surrogate space dad, Yondu (Michael Rooker), adopted Chadwick Boseman's character from "Black Panther" instead of Quill. Levi and Pratt, both of whom are in their 40s yet still look boyish, make a good Shazam and Star-Lord, respectively. However, it's always fun, in the mighty Marvel fashion, to play, "What if?"
While we wait for "Shazam: Fury of the Gods" and "Guardians of the Galaxy Vol. 3" in 2023, we can entertain ourselves with games of, "What if... Zachary Levi played Star-Lord?"