How Outer Range Aimed To Flip Hollywood's Western Revival On Its Head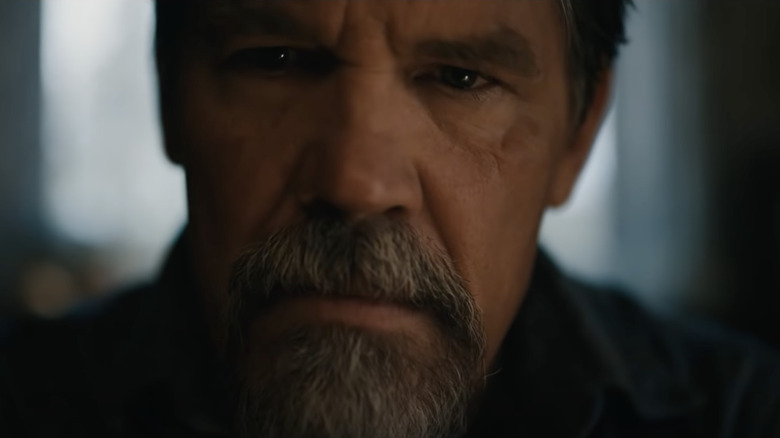 Prime Video
"Outer Range," the new Prime Video series starring Josh Brolin and Imogen Poots, puts a sci-fi twist on the neo-Western. Brolin's character, a Wyoming rancher named Royal Abbott, sees his daughter-in-law go missing, and it may have something to with an enigmatic black hole to nowhere that appears on his land. He's also fending off rival ranchers and dealing with the fallout of a death in his community.
The official synopsis for "Outer Range" describes it as "a thrilling fable with hints of wry humor and supernatural mystery" that "examines how we grapple with the unknown." Speaking to Deadline recently, Brolin discussed how the show aims to add an element of danger to the movie and TV revival of Westerns, with titles like the Oscar-winning "The Power of the Dog" and the Paramount Network hit, "Yellowstone," starring Kevin Costner. He said:
"You have Yellowstone and the Western genre is back, and then everybody is trying to piggyback on that thing. I think what we've done is create a danger zone, and it doesn't feel safe."
In "Outer Range," Poots plays Autumn, a backpacker who arrives at Abbott's ranch, looking for a place to camp. The actress previously discussed how Brolin's acting advice helped her as she was delivering her performance, and she also mentioned how she — like "The Power of the Dog" director Jane Campion — has an outside perspective on the American mythmaking at play in Westerns. She explained:
"Being British I was really obsessed with the American west and the myth of the American west growing up, so getting to be a part of it and deconstruct it, and have this otherworldly element was just a dream come true."
'It's a Western turned upside down'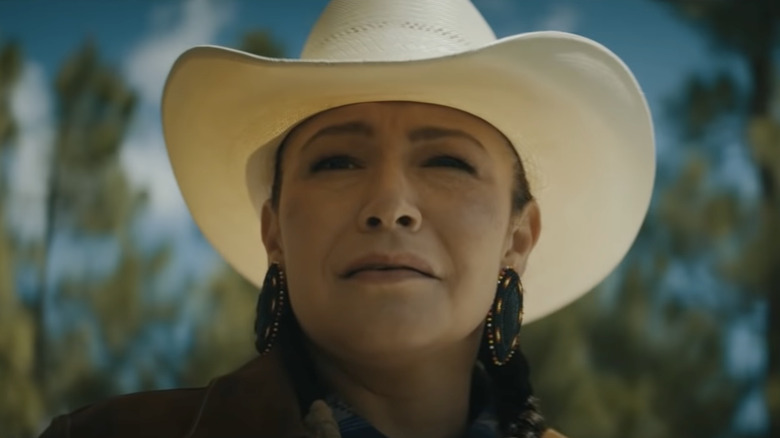 Prime Video
"Outer Range" costars Tamara Podemski as Joy, the deputy sheriff in Abbott's town. The Canadian actress is of First Nations descent and she discussed how the show and her character might help refresh a genre that has, in the past, often relegated Indigenous people to antagonist roles in stereotypical cowboys-and-Indians-type stories. Podemski said:
"Sheriff Joy, to me, is the light in a very dark world. I was brought to this particularly because its a Western turned upside down, and I love the way that people are describing it as a Neo-Western because Hollywood isn't really known for its truthful depiction of Native Americans, so this was really attractive to me because we have a great opportunity to bring audiences a very different narrative."
Rounding out the "Outer Range" cast are Lili Taylor, Tom Pelphrey, and Lewis Pullman. Taylor, who gained recognition as an indie movie queen in the 1990s with films such as "The Addiction," plays Royal's wife, Cecilia. Pelphrey, who was the heart and soul of "Ozark" season 3, plays one of his two sons, while Pullman ("Bad Times at the El Royale") plays the other.
Mixing science fiction with the Western means juggling different genre expectations, and this is something Pullman touched on in a separate interview with ComicBook.com, saying:
"I think that [tonal balance] was one of the main things I was drawn to. I was like, 'This feels like somebody asked [the Executive Producers to] try and make something that is impossible — something that feels seamless, that blends all these genres and all these tones together, but you don't even notice that it's happening to you.' It almost feels like it was a challenge, and they succeeded with flying color[s], but I just was drawn to the world and to the characters. Also, I think that this whole show was set up so well, [with] incredible people behind [it], incredible writing, [and an] incredible cast."
The first two episodes of "Outer Range" are currently streaming on Prime Video, with two new episodes set to drop each Friday from now until the eight-episode first season concludes on May 6, 2022.