Josh Brolin's Advice For Outer Range Helped Imogen Poots Become Unhinged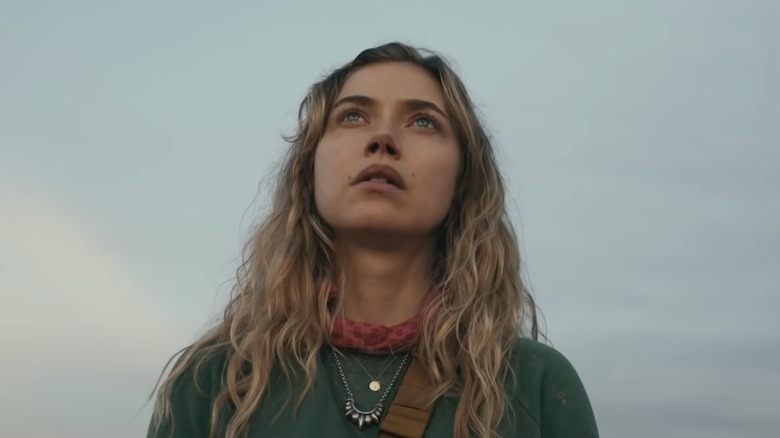 Prime Video
Since her feature film debut in "V for Vendetta" in 2005, Imogen Poots has starred alongside a number of veteran actors, such as Robert Carlyle in "28 Weeks Later," Patrick Stewart in "Green Room," and Anthony Hopkins and Olivia Colman in "The Father." In the new Prime Video series, "Outer Range," Poots plays Autumn, a backpacker and would-be camper who shows up on a Wyoming ranch, owned by Josh Brolin's character, the impressively named Royal Abbott. Autumn finds a strange symbol on a rock formation on the ranch, one that she's been drawing for years, as well as a hole that opens up in the ground, threatening to suck viewers into a new mystery-box show.
Though she has no formal training as an actor, Poots has had a great deal of on-the-job training over the years and has built up a sturdy filmography that has enabled her to learn from her co-stars as she went. In an interview with The New York Times, Poots says this was "an intentional forging of a path" that enabled her "to be around people who were undeniably better" and who "offered a sort of guidance." "Outer Range" was a continuation of this; as Poots was working with Brolin, he even shared some advice for her that helped her let down her guard and center herself in her scenes more. She explained:
"On this show, Josh said to me, 'You should take up a little more space; you're still unsure about that.' I have had a tendency to flicker around the edges, rather than feeling I have a right to be here. That's maybe a symptom of having been a student for too long. [...] Thinking about what Josh said, I saw this role as a real chance to get loose, however alarming that may feel. For an English person to get loose is — whoa! Historical!"
About that 'Yeehaw!' and one awkward kissing moment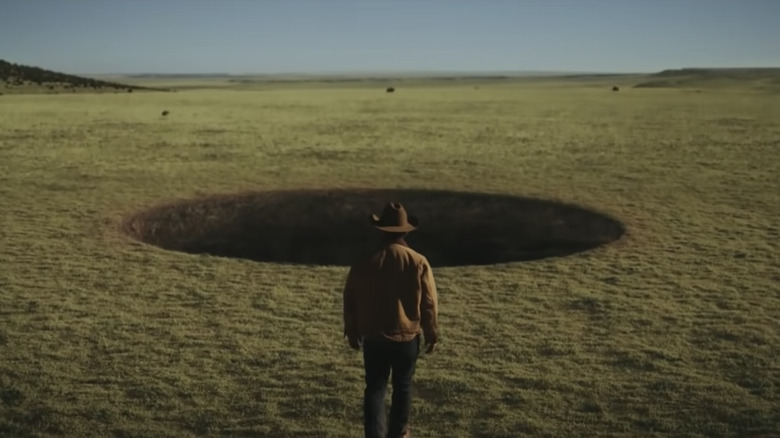 Prime Video
The first season of "Outer Range" is eight episodes, and later in the season, there comes a moment when Autumn lets out her own exuberant "Yeehaw!" in the vein of a "fairly unhinged" cowgirl, as the Times describes it. Poots said:
"That was an Imogen addition. We were trying to figure out how she'd react, and I nervously said [adopts an uncertain voice], 'W-w-what about "Yeehaw"?' and Josh said, 'That's great, let's try it.' I'm just happy it stayed in; that doesn't always happen."
It will all be worth it if the yee-haw Poots improvised in "Outer Range" is even half as memorable as the method ad-lib in "Gangs of New York" where Daniel Day-Lewis's character exclaims, "Whoopsie-daisy!"
Another high-pressure moment for Poots on "Outer Range" came during her kissing scene with Noah Reid, who plays Billy Tillerson, a member of rival ranching family. Poots described the filming of the scene as anything but romantic. As she put it:
"It was like an art installation — we were having conversations about whether the saliva would be viscous enough, whether it would travel the distance between Noah's mouth and mine. Larry [Trilling], our wonderful director, would be screaming off-camera [adopts an American accent]: "OK, now come apart! Oh no, it's not sticking, go back!" We had to keep realigning our tongues. And I'd just be saying, 'So how's your wife, Noah?'"
You can tune in on Prime Video to see Poots trading dialogue with Brolin, yelling, "Yee-haw!" and choreographing her tongue and saliva viscosity with Reid. The first two episodes of "Outer Range" are available to stream as of April 15, 2022, and new episodes drop each Friday hereafter.