Alfonso Herrera Had Just One Worry In Mind When He Joined The Ozark Cast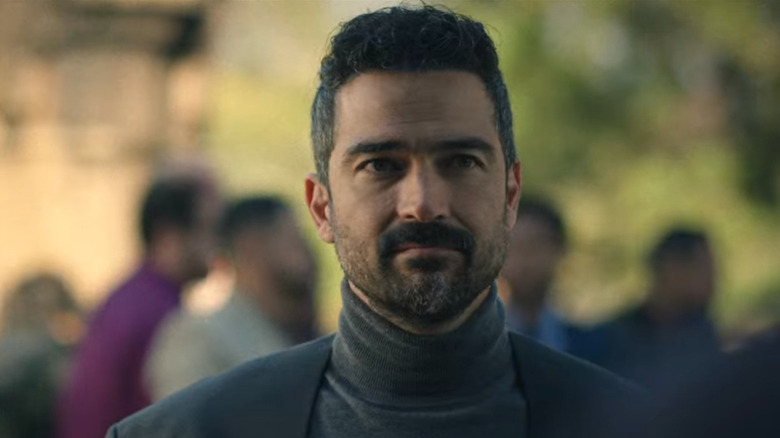 Netflix
When Alfonso Herrera joined the cast of "Ozark" this year as Javi Elizonndro, the nephew of Omar Navarro (Felix Solis) and his up-and-coming replacement as leader of the Navarro drug cartel, he was boarding the show as a wild card late in its run. The final half-season of "Ozark" is now streaming on Netflix, so Javi has already reached the end of the storytelling line along with every other character on the show. He was the new kid on the block in "Ozark" Season 4: Part 1, but he acted as the main antagonist, which required Herrera to step up against other Emmy-nominated and Emmy-winning actors like Jason Bateman, Laura Linney, and Julia Garner.
In an interview on the Post-Credit Podcast, Herrera discussed what it was like for him to hitch a ride to one of Netflix's most popular shows as it was pulling into the station. When asked how it felt "to be a game-changer at the tail end of it," Herrera said:
"I don't see it like that because I constantly tried to do my best. It might sound cliche, but it's not. I just go there, try to do my job the best I can. All the family members — and I say family members from 'Ozark' — were there since season 1, trying to give their A-level game, delivering their A-level game, and the only thing that I tried to do was the best I could. Because I knew the importance of this show, and I knew the importance of this character, and I didn't want to f*** it up. I really didn't want to f*** it up. I wanted to do something that was, first of all, interesting for me, and at the same time interesting for the rest of the audience. I mean, that's the main goal. And the only thing you know, that it's like a finals Champions League game, is right now, the response of the people. The response has been amazing, it's been very positive, and the only thing I can say is: I'm glad I didn't f*** it up."
Introducing the educated sociopath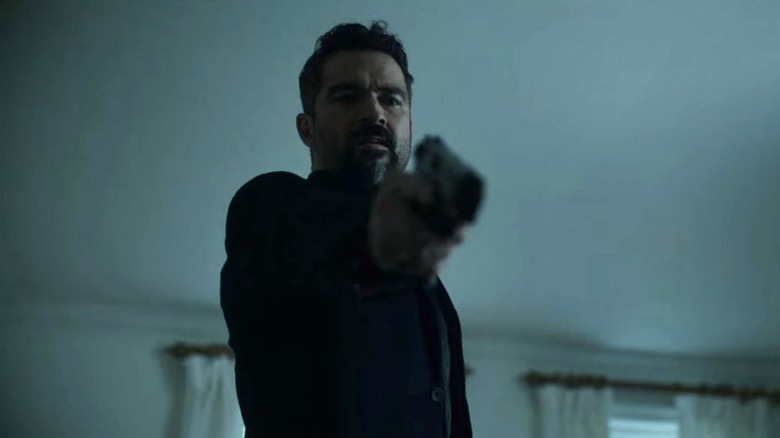 Netflix
"Ozark" has now concluded is four-season run, and Javi wasn't around to stir up trouble for very long, but he certainly made an impression. When we first meet Javi in a party at Navarro's estate in the Season 4: Part 1 opener, we learn he is an educated man. He's handsome and genial, and as Navarro introduces him to Marty and Wendy Byrde (Jason Bateman and Laura Linney), he explains that Javi went to business school in Chicago, where the Byrdes are from originally. However, this makes Javi no less menacing or sociopathic. He poses a real threat to established characters, and by the end of Season 4: Part 1, Javi shows just how dangerous and perhaps fatal he can be to some of those characters.
Not for nothing, but the title of Herrera's Post-Credit Podcast episode is "Scene-Stealing 101," and you might make a case that Javi, the life-stealer, is indeed an occasional scene-stealer. However, if there's one thing that's become abundantly clear after four seasons of "Ozark," it's that people can watch the same show and have entirely different viewing experiences.
Another major new character introduced halfway through "Ozark" was Wendy's brother, Ben, played by Tom Pelphrey, in season 3. For some viewers, like yours truly, Pelphrey's performance and depiction of mental illness was heartbreaking. And it helped inject season 3 with a dose of something special, even "Godfather"-like. Others have referred to Ben less flatteringly as the Poochie of "Ozark."
Some Redditors, meanwhile, don't like Javi, and think he's the show's worst character. It just goes to show that you can never please everyone. In the end, ding "Ozark" for its writing, if you must, but the work of actors like Herrera and Pelphrey in bringing the show's late-breaking characters to life remains unimpeachable.