Ozark Season 4 Part 1 Spoiler Review: More Red, And Of Course, Blue, Comes To The Byrdes' Nest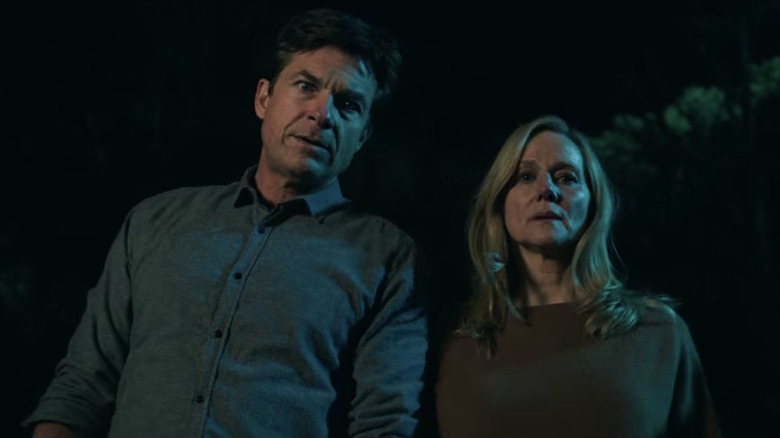 Netflix
The final season of "Ozark" is now underway, with Netflix splitting the usual 10 episodes into two 7-episode parts, to be released at separate times, with the series finale possibly even dropping later this year. In the meantime, "Ozark," Season 4: Part 1 hit the streaming service on Friday, and we've already taken an early look at it in our non-spoiler review.
If you're through with your weekend binge of "Ozark" on Netflix, join us in the minivan with the Byrde family as we drive straight into the heart of spoiler territory. Actually, you might want to buckle your seatbelt, as this particular van is about to go off-road.
The first episode of "Ozark," Season 4: Part 1 opens with the Byrdes cruising along the highway — kids in the backseat, Sam Cooke on the car stereo, singing, "Bring It on Home to Me." It's an on-the-nose song selection insofar as the series is bringing its narrative on home to the end. If there was ever any doubt that the Byrdes are barreling down a dark road (and really, why would there be, given all the terrible things the parents have done), what happens next suggests they are headed for a literal and figurative car crash.
Come for the Car Crash, Stay for the Greek Tragedy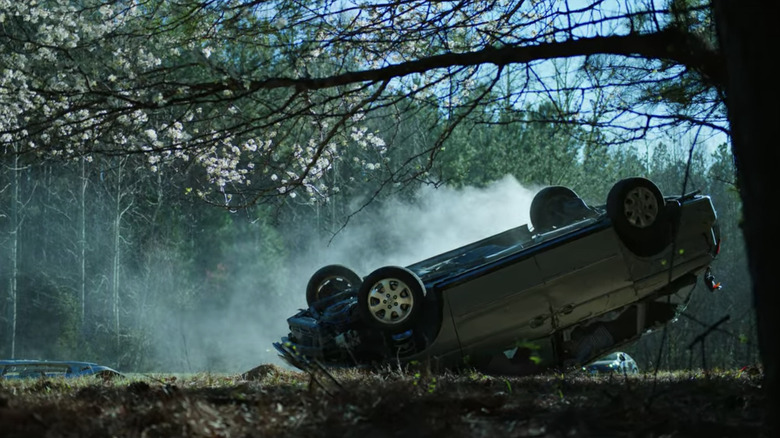 Netflix
In the van, Marty (Jason Bateman) says they're "all set for the FBI tomorrow," and Wendy (Laura Linney) alludes to something happening in 48 hours. She says she's "calling the moving company tomorrow," and Charlotte (Sofia Hublitz) says they're "already packed."
This seems to be a flash forward, less likely, a dream sequence, though that's always a possibility. Judging by Charlotte's follow-up comment ("Too soon?"), she seems to be making a double entendre that would imply she and/or Jonah (Skylar Gaertner) are now, or have been, packing heat, too. We know from the third season of "Ozark" that Jonah likes to wave rifles in people's faces.
Charlotte mentions that they found an old stack of hundred-dollar bills from the Blue Cat hotel wall. This takes us all the way back in memory to "Blue Cat," the second episode of the show's first season. Later, "Ozark" will employ actual flashbacks to the first season, as well. 
Jonah says they put the hundreds in a Bible for someone to find one day, and Wendy jokes that it "will go unfound for a long time." The Byrdes have always liked to tempt fate in a Greek tragedy sense, and here, it's as if Wendy has called down God's wrath right on her family.
In lieu of a lightning bolt, we get a semi-truck car hauler, coming straight at them. Marty swerves to avoid a head-on collision with it, and the van flips with his family in it. All of this happens during the cold open, before the "Ozark" title with its four crosshair symbols pops up. That auto wreck is an appropriate visual metaphor for the tale of the Byrdes.
Chaos Is a Revolving Door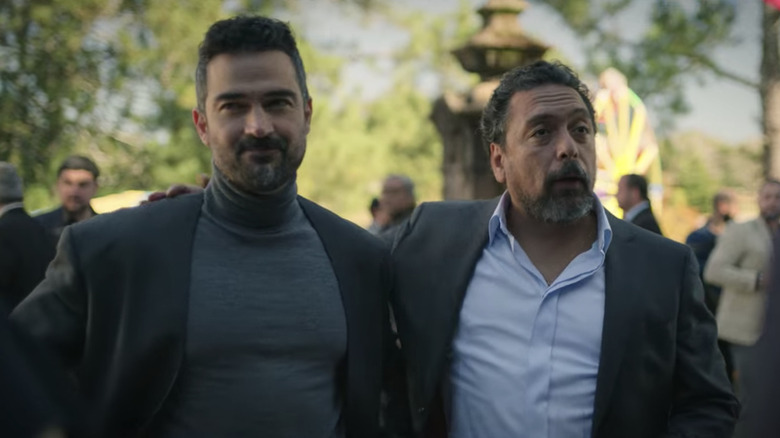 Netflix
"Ozark" Season 4: Part 1 doesn't return to the scene of the Byrdes' car crash again, so we won't know until Part 2 how it factors into the show's endgame. In a way, it would be fitting if Marty and Wendy survived everything, only to be felled by a deus-ex-machina truck. I'm thinking the crash might be a plot development that leaves one or more family members hospitalized and vulnerable at the worst possible time, just when it seemed like they were about to make a clean getaway. But we'll have to wait and see how it actually pans out in "Ozark" Season 4: Part 2.
In the meantime, "Part 1" doesn't waste any time in erecting the framework for its half-season arc. It picks up right where we left off last season, with Marty and Wendy at the estate of the cartel leader, Omar Navarro (Felix Solis), in Mexico. They wash the brains and blood of the late cartel lawyer, Helen (Janet McTeer), off of themselves and join Navarro in the party outside. There, we meet Navarro's nephew, Javi, played by Alfonso Herrera, an actor who might look familiar.
Javi, as Navarro tells Marty and Wendy behind closed doors, is looking for signs of weakness in his uncle, and Navarro expects him to make a power play soon. Just as Navarro eventually took the place of Camino "Del" Rio (Esai Morales) — the original cartel baddie from the first season — so, too, does Javi now begin to supplant Navarro as the next big threat that the low-flying Byrdes have to evade. "Ozark" seems to be making a point here about how chaos is not so much a ladder, per "Game of Thrones," but a revolving door that never stops swinging.
Gambling Lives on the Hellbound Riverboat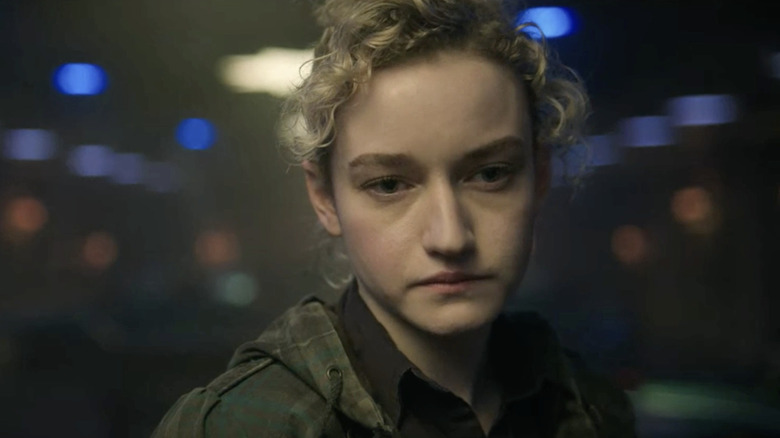 Netflix
Navarro wants Marty and Wendy to use their influence to feather a nice nest for him where he can walk away from his drug business and be "free of the threat of arrest or assassination ... able to move freely to the United States, back and forth." It's an impossible ask, but on a show where Wendy is not above going all "Godfather" and facilitating the death of her own brother, Ben (Tom Pelphrey, who exited last season), it's an offer the Byrdes can't refuse.
Ruth Langmore (Julia Garner) has come a long way since the first season of "Ozark," and seeing her back at the same Lazy-O Motel, where she once worked as a maid, brings this into sharp relief. Now, she's offering to buy the place. She fires her old boss and plans to use the motel as a money-laundering front for her, Wyatt (Charlie Tahan), and Darlene (Lisa Emery).
Jonah gives Ben's ashes to Ruth, and at home, he remarks to Wendy, "If Helen was going to die anyway, then there's no reason for Ben to be killed." That's a good point, one that might have gotten lost in the shuffle for some viewers. Ben went the way of Fredo Corleone, but with Helen dead, his death was all for nothing. It's rather absurd when Marty tries to play the sagacious father and tell Jonah, "The world doesn't work like that, pal."
What he means, as I take it, is the world of the show, in which the Byrdes continue their same casino boat ride down the River Styx, gambling lives and always conspiring to stay in the game just a little bit longer. "I'm not f***ing losing," Wendy says. "So, how do we not lose?"
An American Nightmare of Biblical Proportions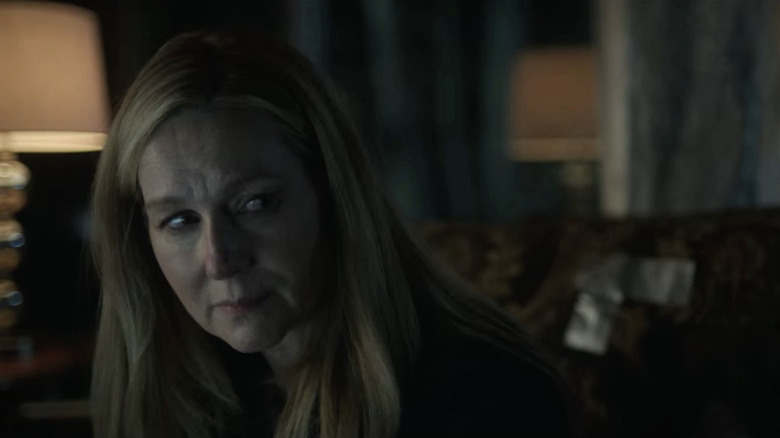 Netflix
Since Darlene is bent on continuing her own competing drug business, Javi wants her out of the way, which leads to a scene with the Byrdes seated across the blackjack table from Ruth, Wyatt, and Darlene, trying to warn them off. The end of Part 1 will make it clear that this is a warning that Wyatt and Darlene should have heeded.
"Ozark" Season 4: Part 1 is laced with a number of political and religious references, which together function as shading for an American nightmare of Biblical proportions. Wendy tells Jonah, "You need to grow up. This is America. People don't care where your fortune came from, and in two election cycles, it'll be just some ... some myth, some gossip."
Navarro gives his Catholic confession, while Ruth keeps Ben's ashes in a cookie jar that looks like the Sabbatic Goat. Darlene paraphrases scripture, telling Jonah, "No man can serve two masters," as he grows further estranged from Wendy and begins to side with Ruth's camp more. When the Byrdes become involved with Clare Shaw (Katrina Lenk), the CEO of a biopharmaceutical company, we get the following exchange:
Clare: How is this any better than what my brother did?

Wendy: The jobs you'll save, for one.

Clare: Jobs? Great American excuse.

Wendy: Bury it. Pile good on top of good.
This is Wendy's rationale for doing what she does. The Byrdes lie to themselves and tell themselves they're living a life of crime so they can have the power to do good later. They originally wanted to get free of the cartel, but now, Wendy has this whole other "great American excuse" of the charitable Byrde Family Foundation.
Horrible People Doing Horrible Things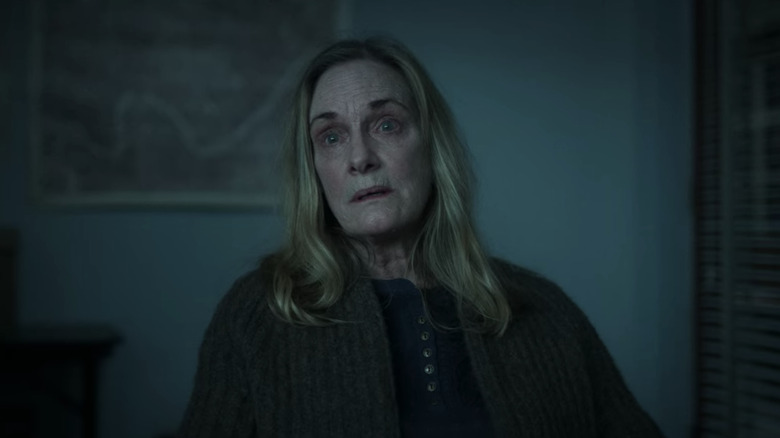 Netflix
The world of "Ozark" is already blue-drenched, and it has only gotten blacker and bluer in terms of human casualties as the series has worn on. This season, two recurring characters — Sheriff John Nix (Robert Treveiler) and Kansas City mob chief, Frank Cosgrove (John Bedford Lloyd) — get caught in Javi and Darlene's crosshairs, respectively. They both bite the bullet.
More than once, even just this season, we've seen Darlene blow someone away with a shotgun. It's become a recurring gag. She can now casually do the deed and then go right back to bed and sleep like a baby. She doesn't even see why shooting someone should impede her making nice with them later, as she tries to do with Frank Cosgrove Jr. (Joseph Sikora) this season, telling him, "I shot off your d**k. For that, I apologize."
Ultimately, the joke's on Darlene, and those who live by the gun die by the gun. Before she learns that lesson, though, even she is shocked to the point of a heart attack by how evil Wendy can be. She speaks of the Byrde matriarch in terms of a Satanic witch, saying: "I would burn her at the stake if I didn't think the devil himself would come up and save her."
As ever, "Ozark" draws us into an ugly world, filled with horrible people doing horrible things. Wendy tries to railroad her own son, getting his money-laundering activities for Ruth red-flagged. She talks about "draining one swamp at a time," only to realize she's become complicit in covering up machines that can suppress votes and throw elections. Marty, meanwhile, is haunted by flashbacks of his old partner in Chicago, talking about his place in Trump Tower.
Red Wedding on the Redneck Riviera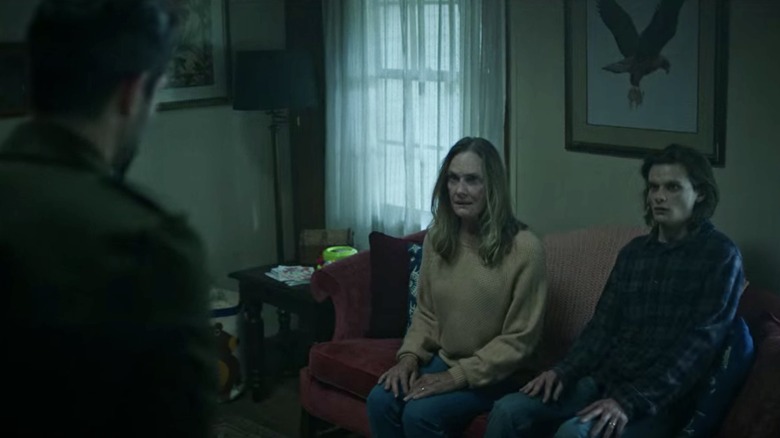 Netflix
As old characters shuffle off this mortal coil in "Ozark" Season 4: Part 1, we also meet Mel (Adam Rothenberg), an ex-cop with "a little coke problem that ended in the evidence room." He's now a private investigator snooping around in search of Helen.
When Javi gets paranoid and refuses to make his scheduled heroin delivery to the biopharmaceutical company, Marty suddenly finds himself in a position where he needs Ruth again. She needs him, too, after her celebrity chef buyer, Kerry Stone (Eric Ladin), ODs, and the deal falls through with him.
Having Ruth back in Marty's orbit allows her to act as a much-needed foil for him again. "Is every G.D. thing with you DEFCON 5?" she asks pointedly. The Byrdes excel at putting themselves in powder-keg situations. They're problem-solvers, but they're usually solving problems they themselves have created. In "Ozark" Season 4: Part 1, their ripples of pandemonium finally enfold Wyatt and Darlene, who meet the business end of Javi's gun right after they're married. It's a "Thrones"-style Red Wedding — on the so-called "Redneck Riviera" — and it gives the occasionally sluggish half-season an explosive end.
After they deliver Navarro to the FBI, the feds thank the Byrdes for their service to America. Earlier, Navarro said, "You don't win until I win, Marty. Don't forget that." He hasn't won, but game recognizes game, as he spots in Wendy the "fear of the quiet," the fear of going back to her normal life.
The Byrdes are seemingly free and clear of Navarro, who is in federal prison now, but as always, they've traded one problem for another and left too many loose ends — the biggest ones being Javi, Mel, and Ruth, the latter of whom is now on the warpath after Wyatt's death. Though Ruth may tell Marty, "I'm sure you'll tap-dance your way through whatever this is," she herself may make it harder for Marty and Wendy to keep dancing around the minefield of misery they've sown.