Sam Raimi Wouldn't Mind Making Another Low-Budget Horror Movie Or Thriller [Exclusive]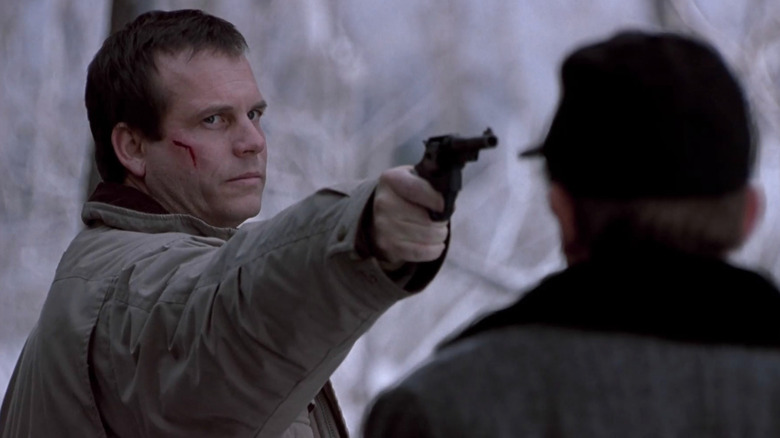 Paramount Pictures
Though he's become known in the 21st century for helming big-budget superhero films like Sony's original "Spider-Man" trilogy, starring Tobey Maguire, as well as the upcoming "Doctor Strange in the Multiverse of Madness" for Marvel Studios, Sam Raimi comes from much humbler directorial roots. As anyone worth their salt as a genre fan should know, Raimi got his start as an indie filmmaker specializing in horror. His 1981 breakthrough film, "The Evil Dead," was made on a $375,000 budget, but it went on to gross almost $30 million worldwide, according to The Numbers.
Since then, Raimi has shown that he is capable of alternating with ease between tentpoles and lower or mid-budget films. Before and after directing "For the Love of the Game," a $50 million baseball drama starring Kevin Costner, Raimi made two thrillers, "A Simple Plan" and "The Gift," on a $17 million and $10 million budget, respectively. The question is, will we ever see Raimi go back to making a smaller movie like those?
In Jacob Hall's interview with Raimi for /Film, the filmmaker discussed working on a wide range of movies, budget-wise, throughout his career. He said:
"I like them all actually. ... Each presents its own unique challenges to the filmmaker and each is incredibly satisfying. I wouldn't want to go back to the budget of the first 'Evil Dead.' I mean, that was brutal. That was extremely difficult. But I would like to make something the size of The Gift or A Simple Plan, those smaller budget movies that are just about the characters and thrills. An intense little horror movie would be great."
Another Simple Plan would hit the spot right about now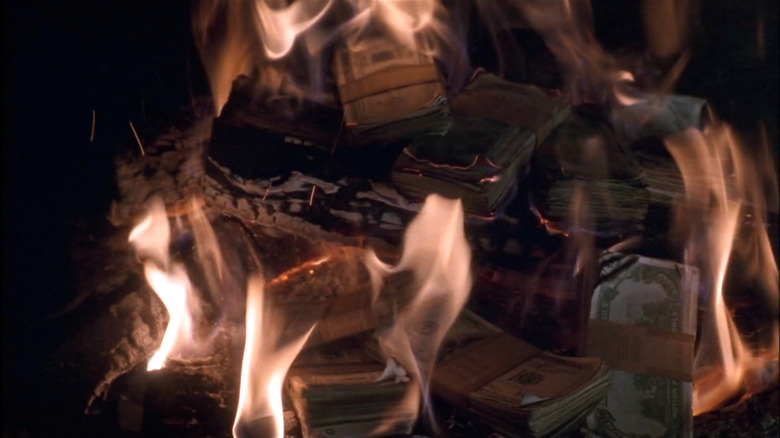 Paramount Pictures
In December of 2018, we took a look back at "A Simple Plan" on its 20th anniversary, and I wrote that it was, upon its 1998 release, perhaps Raimi's "most mature, meaningful film to date." Starring the late Bill Paxton, Bridget Fonda, and Billy Bob Thornton in an Oscar-nominated role, "A Simple Plan" traded special effects for character-driven crime drama and thrills. It showed what can happen when seemingly good people do a bad thing, and events spiral downward from there.
I enjoy Marvel movies just as much as the next person, but those are a dime a dozen now, and what we don't see as much anymore, from Raimi or anyone else, is films like "A Simple Plan." "Doctor Strange in the Multiverse of Madness" is Raimi's first directorial effort since "Oz the Great and Powerful" in 2013, and that film was another effects-driven fantasy adventure.
Sure, "A Simple Plan" involved the burning of money—as if to signify what would happen for the film's financiers if it hit theaters in the oversaturated media landscape of 2022. Nowadays, a movie like that might be better suited to a streaming platform. But if Raimi is fully back in the saddle now and is going to be directing again on a regular basis, I would love to see him make another film on the intimate scale of "A Simple Plan," be it a neo-noir thriller or anything other than superheroes (which we know he does quite well).
"Doctor Strange in the Multiverse of Madness" is in theaters on May 6, 2022.