'Aliens' And 'Twister' Star Bill Paxton Has Passed Away At 61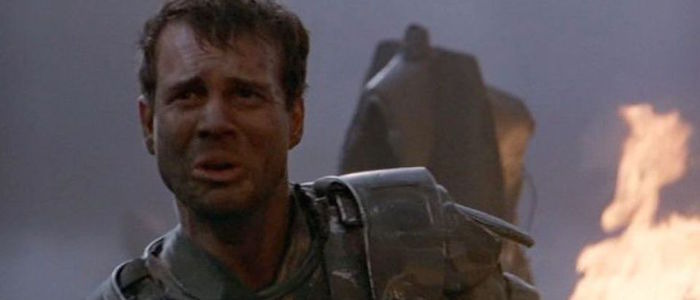 Bill Paxton, the charming and always reliable actor whose credits include everything from Twister to Titanic to Tombstone, has passed away following complications from surgery. He was 61 years old.
Born in 1955 in Fort Worth, Texas, Paxton's early credits are a parade of small parts for brilliant directors. He was a bartender for Walter Hill in Streets of Fire, a street punk (who gets impaled by Arnold Schwarzenegger) in James Cameron's The Terminator, and a soldier for Ivan Reitman in Stripes. The '80s are littered with Paxton popping up to steal the show: eagle-eyed fans will catch his small turn in Commando, while others know him best as Chet Donnelly in Weird Science.
However, Paxton is probably most beloved to movie fans as Private Hudson in Aliens, the wisecracking, nerve-wracked colonial marine who provides a welcome source of comic relief in James Cameron's intense masterpiece. His iconic deliver of "Game over, man!" became a catchphrase, one that he gleefully embraced. A year later, he played a villainous southern vampire in Kathryn Bigelow's Near Dark, continuing his trend of popping up brilliant genre movies directed by brilliant directors, using his pure Texan persona to brilliant effect.
Paxton worked continuously throughout the '90s, teaming up with Cameron again to play sleazy car salesman in True Lies, standing shoulder-to-shoulder with Kurt Russell in the great Tombstone, and feeling right at home with one of the best ensemble casts of the '90s in Ron Howard's Apollo 13. He had a proper brush with movie stardom in 1996's Twister. He worked with Cameron one more time as Brock Lovett in Titanic. He provided Sam Raimi's A Simple Plan with its singed, blackened soul. He was even killed by a Predator in Predator 2, making him the only actor to have been killed by a Terminator, a Predator, and a Xenomoprh.
In 2001, Paxton directed and starred in Frailty, a religious horror movie about a father who becomes convinced he's been tasked to hunt down demons by God himself. It's one of the most underrated genre movies of the '00s and evidence that Paxton should have worked behind the camera more often. He would direct only one more feature, 2005's The Greatest Game Ever Played.
Paxton never slowed down. He worked with Robert Rodriguez (Spy Kids 2) and Steven Soderberg (Haywire). He broke out his well-honed sleazebag persona for Nightcrawler and his old school Texas toughness for Edge of Tomorrow. He headlined the popular HBO series Big Love for five seasons. Recently, he played a scene-stealing baddie on Agents of S.H.I.E.L.D. and Randall McCoy in Hayfields and McCoys.
Paxton's family issued this statement via Variety:
A loving husband and father, Bill began his career in Hollywood working on films in the art department and went on to have an illustrious career spanning four decades as a beloved and prolific actor and filmmaker.  Bill's passion for the arts was felt by all who knew him, and his warmth and tireless energy were undeniable.  We ask to please respect the family's wish for privacy as they mourn the loss of their adored husband and father.
Bill Paxton may have passed away, but he'll live on forever. Being a damn good actor in a bunch of damn good movies makes you immortal.