Dexter Fletcher Talks Auditioning For David Lynch's Dune [Exclusive]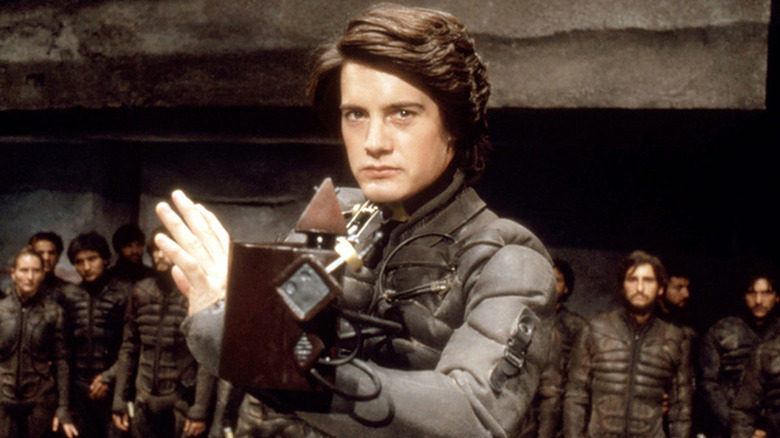 Universal Pictures
Before he became a world-class director of such projects as the Elton John biopic "Rocketman," Dexter Fletcher was a noted child actor in such high-profile films as "Bugsy Malone" and "The Long Good Friday." One of his most notable roles was as the young assistant to Freddie Jones' amoral Mr. Bytes in David Lynch's lauded 1980 biopic "The Elephant Man." Lynch was so taken by Fletcher's talents that he flew to England in 1982 to meet with the then-16-year-old about possibly playing the lead role of Paul Atreides in the big budget adaptation of Frank Herbert's "Dune." 
As we all know, that part eventually went to 24-year-old movie neophyte Kyle MacLachlan, who subsequently became Lynch's muse in "Blue Velvet" and "Twin Peaks." While Fletcher may have lost the part, he related the story of being in contention for the "Dune" role to us during the press day for the Paramount+ limited series "The Offer," which is now available on the streamer. Also be sure to check out our full interview with Fletcher for that series right here!
'Who's that actor? Remind me of his name?'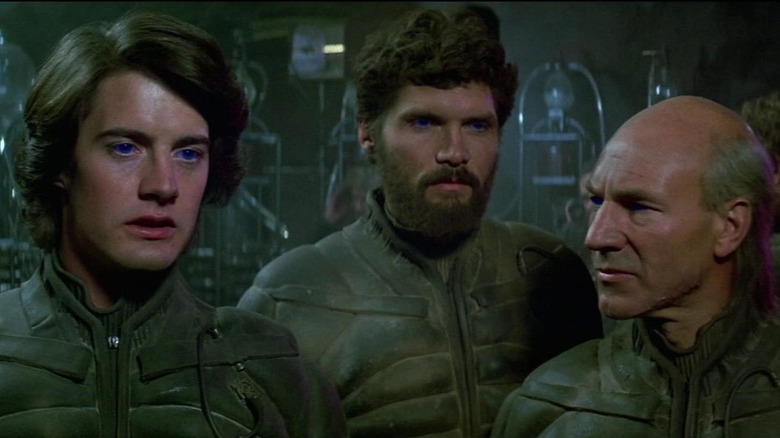 Universal Pictures
As Dexter Fletcher recounted to us, he may have blown his audition for David Lynch's "Dune" but wound up surreptitiously aiding a fellow thespian in getting a role. That actor would be Patrick Stewart, who went on to play the role of Gurney Halleck:
"I was working at the Royal Shakespeare Company when I was 16, so it was a couple years after 'Elephant Man.' David came to see me on a break and sit and chat with me and I was not particularly focused. I didn't really know what it was about, and so I was a little bit cocky, a bit of a 16-year-old, and wasn't really in the right place. Nevertheless, Patrick Stewart was playing Henry IV, and that was the production I was in. I was in 'Henry IV, Part 1 and 2,' and Patrick Stewart was in it. David Lynch looked over and Patrick was in the corner reading his lines. David said, 'Who's that actor? Remind me of his name?' I said, 'Oh, that's Patrick Stewart.' Anyway, it went away, it didn't happen. I didn't really hear from David again. It's one of those things, but then the film came out — which I was compelled to see — and there was Patrick Stewart. So I was like, 'Ahh, right.' So whenever I saw Patrick Stewart I reminded him of this and he said, 'Oh, yeah, yeah. I got the job in Dune because of you, Dexter. Sure.' Which we kinda laugh about. He's very generous."
As it were, the Dino De Laurentiis production of "Dune" in Mexico City was problematic, and resulted in a film that not only bombed at the box office but became something of a black mark on Lynch's career. However, Fletcher did wind up getting a role in another movie also produced by De Laurentiis that same year: "The Bounty" starring Mel Gibson and Fletcher's "Elephant Man" compatriot Anthony Hopkins.