Why David Lynch Decided To Adapt Dune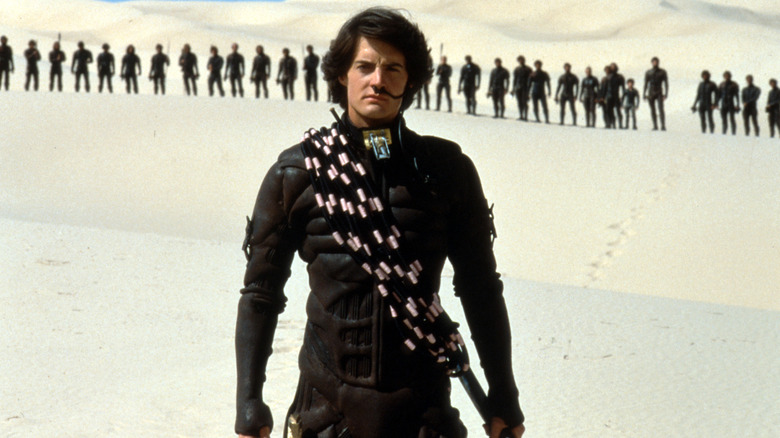 Universal Pictures
Denis Villeneuve's highly anticipated adaptation of Frank Herbert's "Dune" is almost here, which makes it the perfect time to revisit the other "Dune" film adaptation, directed by surrealist maestro David Lynch. Lynch's "Dune", released in 1984, is something of a mixed bag; it was a critical and commercial failure but has gained a small cult following over the years. So how did the man who directed the gonzo, avant-garde "Eraserhead" and then the heartwrenching "The Elephant Man" end up taking on a big-budget science fiction fantasy story riding on the success of "Star Wars"?
Keith Phipps at The Ringer did a deep dive into just how Lynch ended up in the director's chair for "Dune," and the reason? Well, it's complicated. 
Lynch Loved the 'Unadaptable' Novel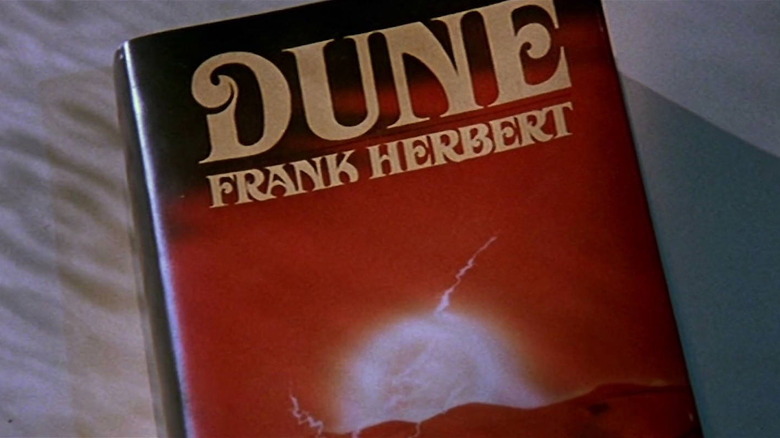 Universal Pictures
In the early 1980s, rising director David Lynch was just getting his career started. His first feature, "Eraserhead," was a grotesque and surreal tale that earned him a lot of love from cult movie fans. In 1980 he released "The Elephant Man," based on a pair of books about the life of Joseph Merrick, a British man in the late 1800s who suffered from severe deformities and was exhibited at a freak show before becoming well known in London society. "The Elephant Man" was nominated for eight Academy Awards, and even inspired them to create the "Best Makeup" category. 
The commercial and critical success of "The Elephant Man" set Lynch up to make something big. He was approached to direct "Return of the Jedi," but felt that he wouldn't have nearly enough control over it. In 1984, he told the Associated Press that Lucas had already designed "three quarters of it" by the time he was asked to come onboard. 
In 1981 producers Dino De Laurentiis and Raffaella De Laurentiis reached out to Lynch about possible making an adaptation of "Dune." The novel was already considered impossible to adapt, with Alejandro Jodorowsky, Ridley Scott, and "Planet of the Apes" producer Arthur P. Jacobs all previously taking a big swing at making the story work for the screen. Lynch read the novel and signed on almost immediately, because inspiration had struck:
"When I finished the novel. I was just knocked out. I'd seen Star Wars, of course; but to be honest, I wasn't all that crazy about it. For me, there was just too much on the surface in that film, and nothing else. Dune was different; it had believable characterizations and depth. In many ways, Herbert had created an internal adventure, one with a lot of emotional and physical textures. And I love textures."
An Opportunity for World-Building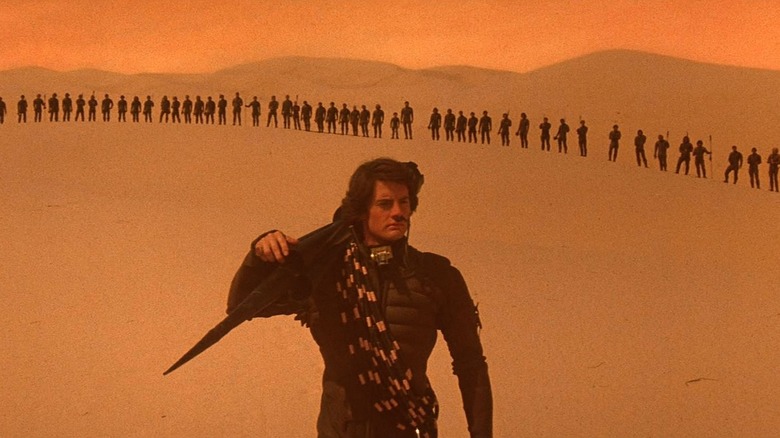 Universal Pictures
Not only did "Dune" give Lynch a chance to explore all of the textures of Herbert's novel, it also gave him the opportunity to do some serious world-building. He would be able to build not just one, but four worlds, which was pretty exciting. 
Via a Zoom call, film historian Paul Sammon, who was frequently on the "Dune" set while working at Universal Studios, told The Ringer: 
"I think David was primarily attracted to the fact that he was able to create four separate worlds with Dune ... and was able to sort of tell himself that he was satisfying the next career step up, while at the same time retaining enough artistic control where he would be able to impose his own viewpoint."
While "Dune" was a critical and commercial failure, Herbert was impressed by Lynch's vision. Production was difficult, with the budgetary restrictions causing serious slowdowns. Lynch's rough cut of the film was more than four hours long, and his intended version would be more than three. The De Laurentiises made heavy cuts, excising entire scenes and adding in new ones to explain things for the audience in an attempt to make it a two-hour, audience-pleasing blockbuster. Instead, almost no one was happy, and "Dune" bombed, hard. 
The Legacy of Lynch's Dune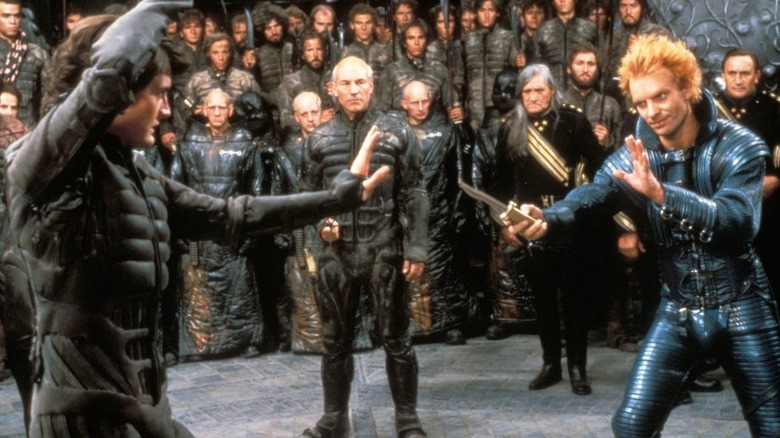 Universal Pictures
The good news is that the supposed failures of "Dune" didn't slow down Lynch's career. He went from the big-budget, epic scale of "Dune" to making "Blue Velvet," a much more intimate story about a college student, played by Kyle MacLachlan, who gets romantically involved with a troubled lounge singer (Isabella Rossellini). The film reunited Lynch with MacLachlan, who starred in the lead role in "Dune." It also reunited him with producer Dino De Laurentiis and actors Dean Stockwell and Brad Dourif. His career would continue steadily from there, delivering such greats as "Twin Peaks," "Lost Highway," and "Mulholland Drive." 
While Lynch almost never talks about his movies, and has been even more reticent to talk about "Dune," it's important to remember its place in the director's filmography. It's a bold attempt on taking on incredibly challenging subject matter, and he was doing it before we had the kinds of digital effects we have today. It's a convoluted mess of a movie, but there is so much potential within it that it's hard to hate. 
We have yet to see how Villeneuve's "Dune" will do by comparison, but we'll find out soon enough when "Dune" drops on HBO Max and in theaters nationwide on Thursday, October 21, 2021.