Watch The First Episode Of The Offer Right Now For Free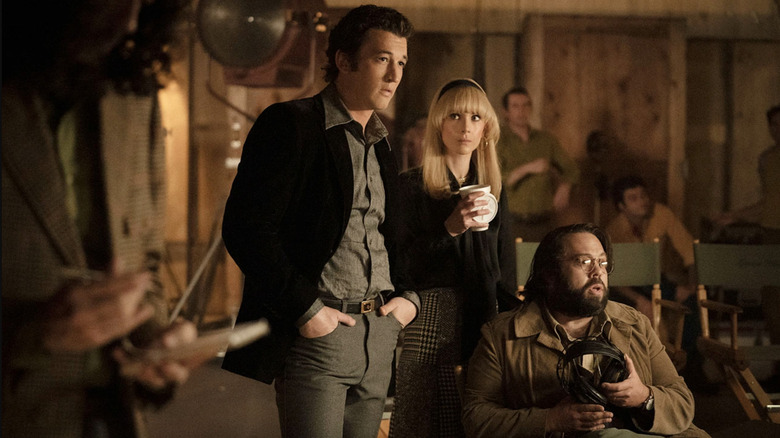 Paramount+
"The Godfather" is undoubtedly one of the greatest and most beloved films of all time. Just in time for the film's 50th anniversary, Paramount+ has debuted a ten-episode limited series called "The Offer," exploring the behind-the-scenes drama set from the perspective of producer Albert S. Ruddy (Miles Teller) as he adapts Mario Puzo's novel of the same name for the silver screen. Ruddy wrangles up a dream team to bring the movie to life, only to face production challenges thanks to tension on set, and a mob boss who declared war on the film's creation. The series runs longer than the entirety of "The Godfather" trilogy, but if you're the kind of person who likes behind-the-scenes stories about beloved films ala "Saving Mr. Banks," then "The Offer" is right up your mafia movie alley.
A star-studded cast joins to tell the tale featuring Dan Fogler as director Francis Ford Coppola, Matthew Goode as Paramount Studios executive Robert Evans, Juno Temple as talent agent Bettye McCartt, Justin Chambers as the iconic Marlon Brando, Anthony Ippolito as the legendary Al Pacino, Giovanni Ribisi as New York Mafioso Joe Colombo, Patrick Gallo as "The Godfather" author Mario Puzo, Colin Hanks as business tycoon Barry Lapidus, and Burn Gorman as industrialist Charles Bluhdorn.
The series was executive produced by the real-life Al Ruddy, and Paramount+ is providing an offer you can't refuse, by releasing the first episode of the series for free on YouTube.
The first episode of The Offer
"The Offer" delivers an energy that feels as if we're meant to believe that "The Godfather" is at risk of not actually coming to completion, but since we're dealing with one of the biggest movies ever made, we know how it's going to end. Given how many essays, documentary videos, books, critical analyses, and interviews have been made available over the last five decades, "The Offer" isn't telling us anything that isn't already readily available, but for lovers of all things "Godfather," seeing it all played out by a dynamite cast will be a Sicilian message worth receiving. It's hard to believe given the legacy of the trilogy, but the first film originally struggled to find funding, a director worth their salt and endured threats from the real mafia who were concerned about how the film would portray them.
The first three episodes of "The Offer" are available on Paramount+, with new episodes debuting weekly. In addition to the series, "The Godfather," "The Godfather Part II," and "The Godfather Coda: The Death of Michael Corleone," the recut version of 1990's "The Godfather: Part III," also all landed on the streaming service today.