Every Nancy Myers Screenplay Ranked Worst To Best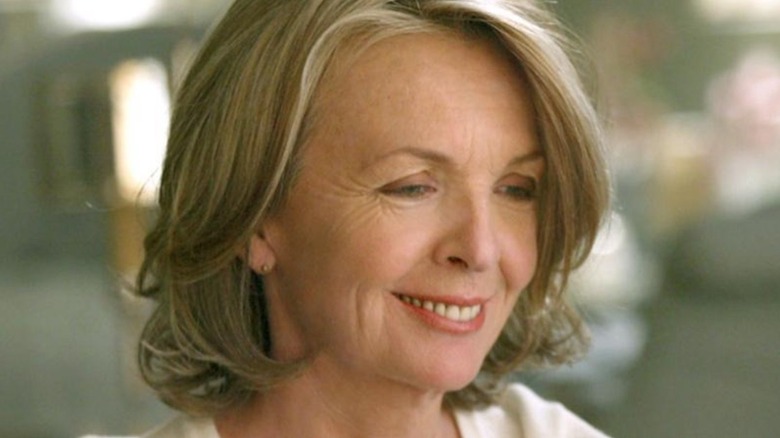 Waverly Films
Considered to be one of the queens of the romantic comedy, writer-director-producer Nancy Meyers has helped shape the arc of the genre over the course of her career with her singular voice and style. Much of Meyers' work focuses on her own perspective and identity as a Jewish woman and mother, featuring protagonists of the same orientation, and telling stories about sex, relationships, gender dynamics, and working women in a shifting modern landscape. In her early career, many of her scripts were co-written with her ex-husband and director Charles Shyer. 
As a result, Meyers often brought a much-needed feminine and feminist perspective to the gender essentialist films of the '80s and '90s. Outside of her well-known romantic comedies, Meyers also worked on action thrillers, and has written for and directed some of Hollywood's biggest stars, collaborating with actors Diane Keaton and Steve Martin across multiple films. With the rom-com auteur's recent announcement that she's writing, directing, and producing her first film in seven years for Netflix, we're taking the opportunity to revisit Meyers' work. Below, we've ranked every Nancy Myers screenplay ranked worst to best.
13. Once Upon a Crime...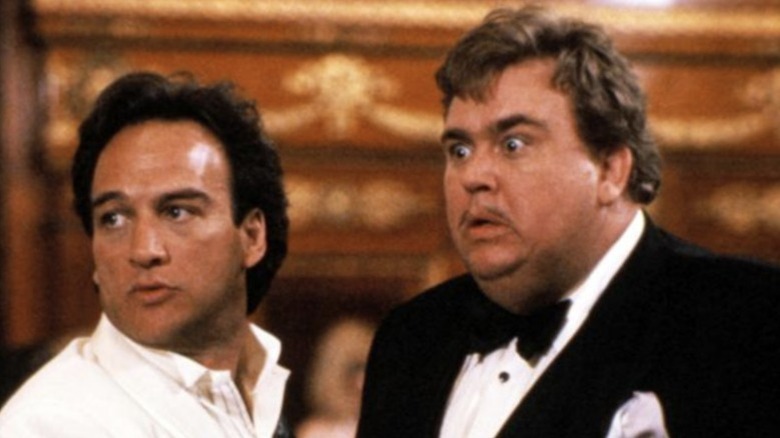 Dino De Laurentis Company
A sprawling ensemble comedy mystery in the style of "Clue" (1985) or "Murder by Death" (1976), "Once Upon a Crime... "(1992) follows Phoebe (Sean Young) and Julian (Richard Lewis), two Americans in Rome who find a missing dog and agree to split the reward for returning it to its owner. However, when they reach the dog's owner in Monte Carlo, they discover she's been murdered and end up on the run as suspects. Of course, they aren't the only potential killers. 
There's also Augie (John Candy) and Neil (Jim Belushi), two gambling addicts who get caught in the wrong place at the wrong time. Despite a strong ensemble cast and promising concept, "Once Upon a Crime..." lacks the propulsion and energy of similar comedies. The film also had a dream team behind the scenes, with Eugene Levy directing in his first and, so far, last feature, and Meyers co-writing with Shyer and Steve Kluger based on the 1960 film "...And Suddenly It's Murder!" by Rodolfo Sonego, Georgio Arlorio, Oreste Biancoli, Stefano Strucchi, and Luciano Vincenzoni. Unfortunately, the film's execution left much to be desired. 
12. I Love Trouble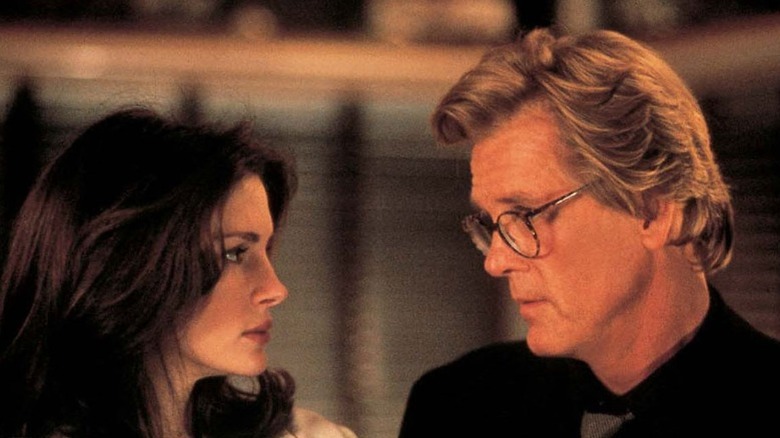 Touchstone Pictures
Similar to "Once Upon a Crime..." "I Love Trouble" (1994) seems to stand outside of the rest of Meyers' filmography. The movie stars Nick Nolte as veteran reporter and ladies man Peter Brackett. Peter is fresh off the success of his book and relishing in his newfound fame, leading to complacent writing. When he gets sent to report on a train crash, he crosses paths with Sabrina Petersen (Julia Roberts), an eager and hungry young reporter for his rival paper. The two are soon at odds as they compete to get the facts of the story before eventually teaming up. 
The film is a bit conventional and in the style of other romantic action thrillers of the era, many of which Roberts also starred in, like "Conspiracy Theory" (1997) and "Sleeping with the Enemy" (1991). However, "I Love Trouble" never quite balances its tone, never fully leaning into its comedic or romantic elements with the action feeling unwieldy and oddly paced. Unlike other Meyers and Shyer collaborations, the relationship doesn't feel as dynamic and genuine, instead relying more on archetypes and tropes of the era, which also makes the film feel more dated in a modern context.
11. Irreconcilable Differences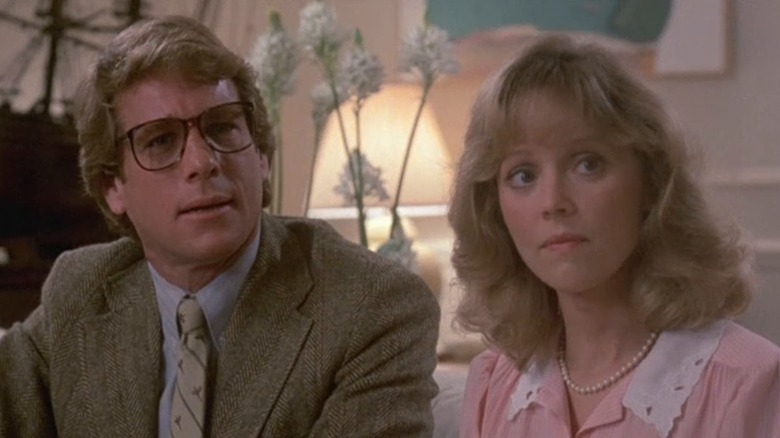 Warner Bros.
While still an early work in Meyers' canon, her second feature has many of the hallmark themes and emotional beats that she would later be known for. "Irreconcilable Differences" (1984) explores important familial issues through a satirical comedic premise. The film stars a young and adorable Drew Barrymore as Casey, an only child who decides to sue her parents for emancipation, effectively divorcing them. The narrative shifts back and forth between Casey's testimony at their trial and the past events that led to this pivotal moment. 
Through flashbacks, we learn that her father, Albert (Ryan O'Neal), is a famous director while her mother, Lucy (Shelley Long), is the scribe behind his success. As Albert's career takes off, and he begins to woo one of his stars, Lucy becomes more bitter, leading to a nasty divorce with Casey caught in the middle. "Irreconcilable Differences" is a bit preachy and heavy-handed at moments, but Meyers, co-writing with Shyer again, lends enormous empathy to all the characters. The film takes some risks, but ultimately has the courage to stick the landing, making for a unique family film that earned Long and Barrymore each a Golden Globe acting nomination.
10. Private Benjamin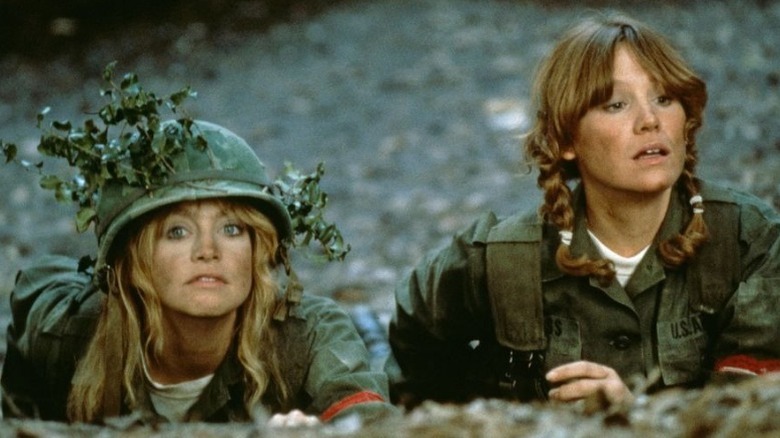 Warner Bros.
Like many of Meyers' films to come, her first screenplay, "Private Benjamin" (1980) is a domestic comedy/drama that explores the social pressures and expectations of young women and housewives. The film follows the eponymous Judy Benjamin (Goldie Hawn) on the eve of her wedding to Yale (Albert Brooks). Judy's life, wedding, and marriage appear to be picture-perfect, everything laid out according to plan, until her husband dies on their wedding night. At a loss as to what to do with the rest of her life, Judy falls sway to a persuasive — and misleading — Army recruiter and enlists, thinking she can take some time abroad to clear her head. 
Of course, the Army ends up being much more than Judy signed up for as she's pushed to the limits by the stern and mercurial Captain Lewis (Eileen Brennan). Hawn delivers a standout performance that earned her an Academy Award nomination for Best Actress in a film that smartly navigates sexism, sexual misconduct, and relationship dynamics. Meyers co-wrote the script with Shyer and TV writer Harvey Miller, earning the trio an Academy Award nomination for Best Screenplay.
9. The Intern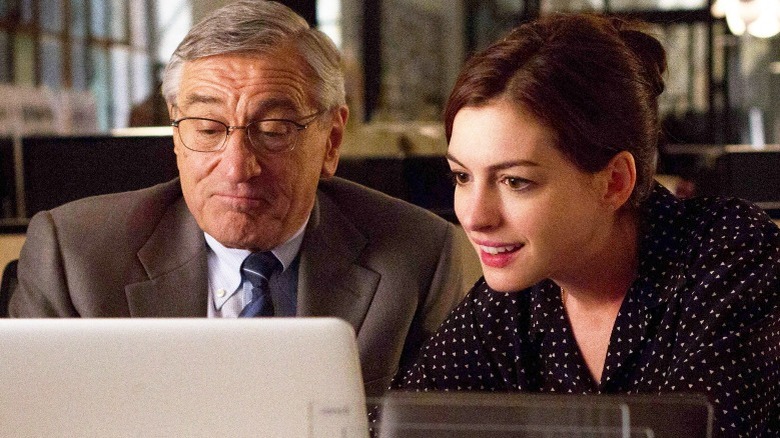 Waverly Films
Meyers' most recent feature is a slightly different take on her typical exploration of gender, relationships, and work in that it features a male protagonist. "The Intern" (2015) stars Robert DeNiro as Ben, a retired widower who decides to make use of his free time by reentering the workforce. However, when he's assigned as the personal intern of Jules (Anne Hathaway), the CEO and founder of an online retail startup, he finds it difficult to break through and contribute. Jules is withdrawn and reclusive, afraid to let people close personally or into her business that she's singlehandedly cultivated. 
While there are some stale, expected gags about generational divides and boomers versus millennials, Meyers also explores these topics with genuine thought and care, allowing Ben and Jules to form a friendship that feels true in terms of what they can offer to each other. The tone and pacing of the film is a bit off at times, but "The Intern" is nonetheless an enjoyable and deeply felt comedy that sets the tone for the next phase of Meyers' career in an exciting way.
8. Jumpin' Jack Flash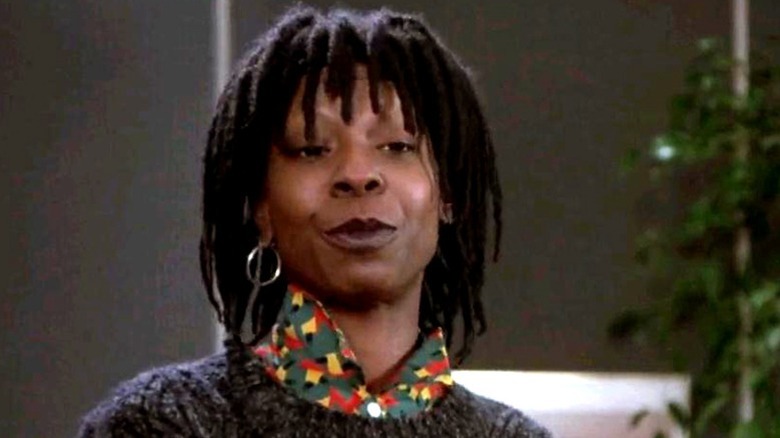 Twentieth Century Fox
Like "I Love Trouble," "Jumpin' Jack Flash" (1986) stands out from the rest of Meyers' career as a pure action comedy, less focused on domestic issues and relationships. Additionally, unlike Meyers' previous features and many collaborations with co-writer and director Shyer, "Jumpin' Jack Flash" was directed by a woman, Penny Marshall's directorial debut. The movie stars Whoopi Goldberg as Terry, a computer programmer for a bank who accidentally receives an encrypted message from a British spy. 
Terry soon becomes entangled in an international espionage conspiracy as she begins to communicate with the spy and unravel the mystery, leading to lots of hijinks as Terry who is incredibly smart, but ill-equipped for danger, tries to survive what's thrown at her. Fresh off her Oscar-nominated performance in "The Color Purple" (1986) and in her third feature ever, Goldberg shines in a charming and hilarious performance that showcases a different side of Meyers' comedy skills. Meyers' third feature script is another collaboration with Shyer, along with co-writers David Franzoni and Chris Thompson.
7. Father of the Bride Part II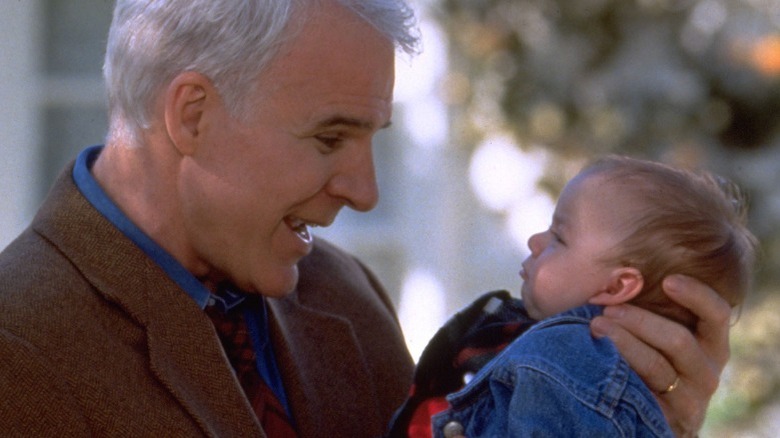 Touchstone Pictures
To date, "Father of the Bride Part II" (1995) is the only sequel Meyers has made. The premise is a logical enough spot to pick up with the Banks family, with Annie (Kimberly Williams-Paisley) expecting her first baby a few years into her marriage to Bryan (George Newbern). Yet while George (Steve Martin) was neurotic in the original, he's doubly so in the sequel, descending into an immediate midlife crisis upon hearing the news he'll become a grandparent. Things become more complicated when Nina (Diane Keaton), believing she's menopausal, instead discovers she's also pregnant, leading George to tend to his wife and daughter at the same time. 
"Father of the Bride Part II" is less grounded than the original, and by continuing to center George, it loses the opportunity to explore important issues around maternity and motherhood that would be rife material for Meyers. However, the film is nonetheless heartfelt and endearing and an appropriate close to the franchise — for now. Meyers once again co-wrote the script with Shyer, who also directed. The movie also earned Martin his fifth Golden Globe nomination for Best Actor in a Motion Picture Musical or Comedy.
6. Baby Boom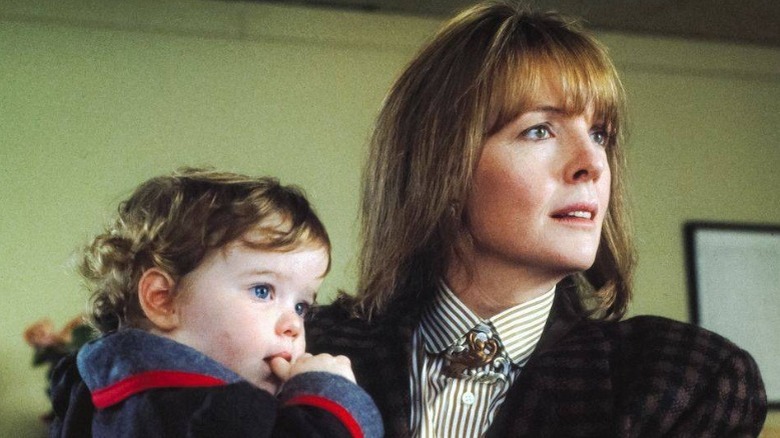 United Artists
Meyers' first collaboration with actress Diane Keaton deals with the workplace politics of the 1980s. Keaton stars as J.C. Wiatt, a high-powered, career-driven woman who is set to make partner in her company when a cousin dies and leaves their infant daughter, Elizabeth (Kristina Kennedy) in J.C.'s care. At first, J.C. is determined to stick with her original life plan and pursues giving up Elizabeth for adoption, but soon bonds with the baby and decides to find a way to have a career and family. 
"Baby Boom" (1987) is impressive in the way it grapples with big feminist concepts and largely sticks to them, compared to similar films of the era. Meyers' grappling with issues of women's private and public lives feels true to the writer and filmmaker she would become. The film's themes are also resonant to this day as the notion of the modern workplace is re-evaluated. "Baby Boom" is Meyers' fourth feature co-written with Shyer, which he also directed. The film earned a Golden Globe nomination for Best Motion Picture – Musical or Comedy.
5. It's Complicated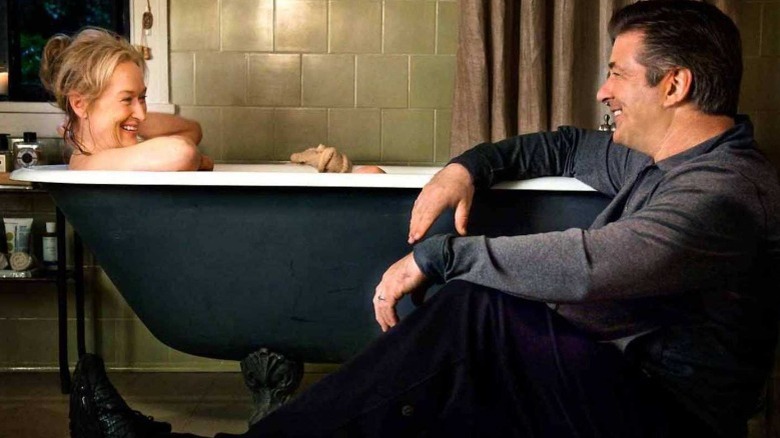 Waverly Films
Written and directed by Meyers, "It's Complicated" (2009) may be the filmmaker in her most quintessential form, and is certainly a film she could only have made after her divorce from Shyer. The movie stars Meryl Streep and Alec Baldwin as Jane and Jake, a couple who have been (mostly) amicably divorced for a decade. Jake is remarried to a younger woman, while Jane is focused on her bakery career. However, the two unexpectedly reconnect over their son's college graduation and begin a secret affair. While Jane is torn about lying to everyone, including their kids, Jake insists there's nothing wrong with what they're doing as he tries to find a way to please everyone in his life. 
As Jane attempts to cut him out and move on, she falls in love with her architect, Adam (Steve Martin), whose grounded approach to their relationship serves as a stark contrast to Jake's domineering swagger. While there are plenty of comedic hijinks, Streep delivers a raw performance of a woman torn between the life she could have had and the one she deserves. "It's Complicated" was nominated for three Golden Globes including Best Motion Picture – Musical or Comedy, a Best Screenplay nod for Meyers, and a Best Actress nomination for Meryl Streep.
4. Father of the Bride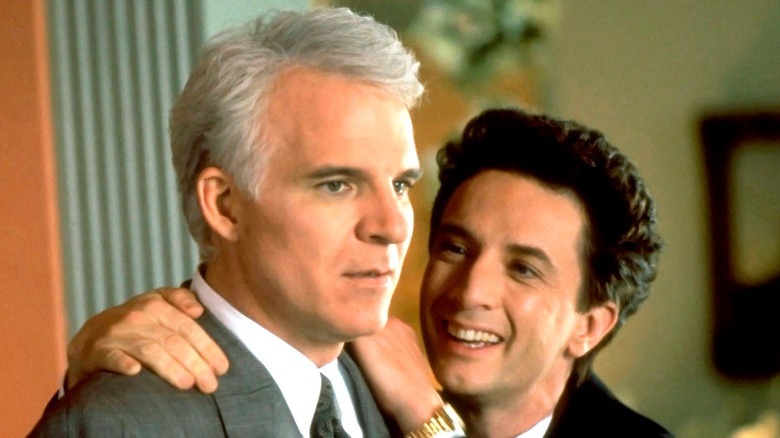 Touchstone Pictures
One of Meyers' best-known and most classic films, "Father of the Bride" (1991) is another co-written script with Shyer based on the original 1950 Frances Goodrich and Albert Hackett screenplay. The movie follows George Banks, a neurotic patriarch whose oldest child Annie comes home from a summer abroad and announces she's engaged. While his wife, Nina, is excited and jumps into wedding planning, George is unmoored, unsure of where he fits within his own family dynamic. 
Some of the jokes and politics are a bit dated, but the themes and emotions of what it means to grow up and leave the nest, both as a parent and child, are timeless. While Martin has plenty of comedic moments, alongside ridiculous and zany wedding planners Franck (Martin Short) and Howard (B.D. Wong), he delivers an emotionally grounded performance. "Father of the Bride"'s marriage of comedy and emotion is some of Meyer's best, making it the highest-grossing film of her collaborations with Shyer at $89.3 million worldwide.
3. The Holiday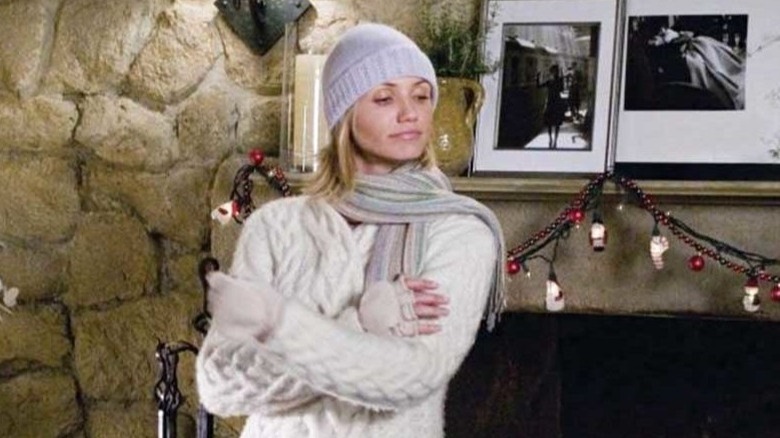 Waverly Films
Meyers may be one of the reigning queens of the romantic comedy, but "The Holiday" (2006) is, so far, her only entry in the holiday rom-com canon. Written and directed by Meyers, "The Holiday" follows two women whose love lives lead them to decide to swap houses over the winter holidays. Iris (Kate Winslet) lives in London and is in love with her boss, who also happens to be her ex-boyfriend. When he gets engaged and doesn't tell her, she's heartbroken to the point of fleeing England. Amanda (Cameron Diaz) discovers her longtime boyfriend has cheated on her and kicks him out, but can't even cry. 
When Amanda arrives at Iris's house in the English countryside, she's ready to leave men behind–until she meets Iris's charming brother Graham (Jude Law). Meanwhile, as Iris is getting over her heartbreak, she makes friends with Miles (Jack Black), Amanda's coworker, who is dealing with a toxic relationship of his own. "The Holiday"' has intersecting storylines that feel reminiscent of films like "Love, Actually" (2006), though in a more self-contained and grounded narrative. Once again, Meyers delivers a high-concept premise with incredibly charismatic performances that ground the film and make it a heartwarming and funny classic. Furthermore, it may also be Meyers' coziest film, a remarkable feat. 
2. The Parent Trap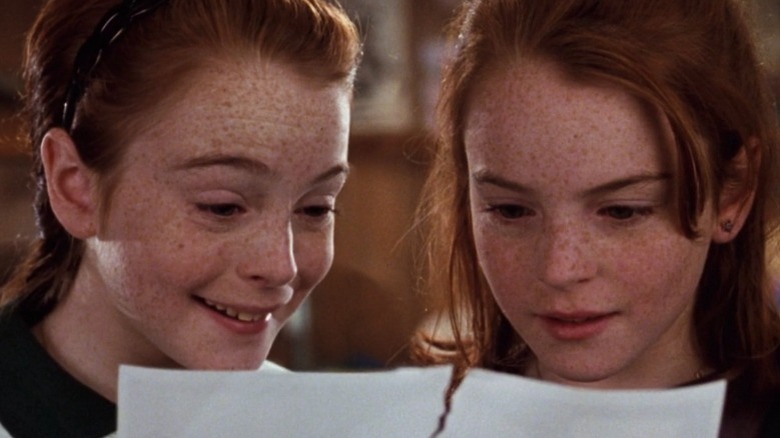 Walt Disney Pictures
Meyers' remake of the original 1961 Disney film has become a modern classic in its own right. "The Parent Trap" (1998) starred a young Lindsay Lohan in her debut feature role as twins Hallie and Annie. Their parents Nick (Dennis Quaid) and Elizabeth (Natasha Richardson) had an intense love affair before divorcing and parting ways, each taking one of the twins and never speaking again. Years later, the girls end up at the same summer camp where they meet and discover they're long-lost twins. The two decide to swap places and get to know the parent they don't live with. 
Hallie heads to London to live with her fashion designer mom while Annie goes to her dad's vineyard in California. Once they arrive, Hallie and Annie have to figure out how to avoid getting caught while setting up their next scheme: getting their parents back together. "The Parent Trap" is Meyers' last co-written script with Shyer and her directorial debut. The film strikes the perfect balance of humor and heart with an incredible introductory performance from Lohan. With a premise that's inherently high-concept, Meyers keeps her characters grounded, never losing sight of the family story, or the romance, that makes "The Parent Trap" such a special story.
1. Something's Gotta Give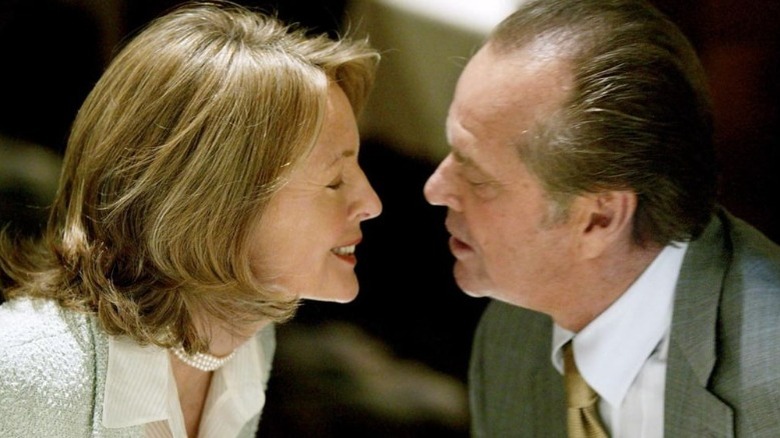 Waverly Films
Another turning point in Meyers' career, "Something's Gotta Give" (2003) marks Meyers' first solo screenplay credit for a film she also directed. While many of Meyers' previous films explored women in earlier stages of life exploring marriage and children, Meyers' later films naturally examine other complications of womanhood. Keaton stars again as Erica, a renowned playwright and divorcee who has been single for many years, feeling that most of the men her age would rather date younger women. When her daughter brings home a boyfriend, Harry (Jack Nicholson), who's closer to Erica's age than her own, Erica is immediately skeptical of him and their relationship. 
But the two are soon stuck together when he has a heart attack and has to convalesce in her home. As they get to know each other, they each have to reckon with their anxieties around relationships and decide whether what they have is worth overcoming decades of fear. "Something's Gotta Give" was incredibly successful and acclaimed, grossing over $265 million worldwide at the box office, the highest of her entire career so far. Additionally, Keaton earned an Academy Award nomination for Best Actress and won a Golden Globe for Best Actress. Nicholson was also nominated for a Golden Globe for Best Actor.