The 15 Best Christmas Rom-Coms You Can Stream Right Now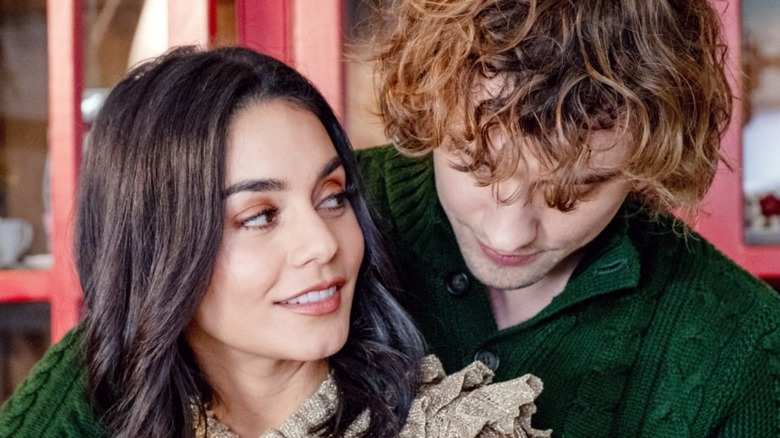 Netflix
While Christmas movies have been part of Hollywood almost since the very inception of cinema, the specific subgenre of holiday rom-coms iis currently more popular than ever. Although each one of these holiday movies has its own special way of bringing its characters together, as a whole they also reinforce the general idea of Christmas magic, using whimsy and yuletide cheer to freshen up a tried-and-true formula. Holiday rom-coms feel like they take place in their own special universe, often set in towns where snow is always on the ground, where the holidays are valued more than anything else, and where the spirit of Christmas can make anything happen. 
With so many difficulties unfolding in the real world, it's no wonder that people turn to escapist fantasies at Christmas. However, as Christmas rom-coms become increasingly popular, it's getting harder and harder to sift through the numerous options. As such, if you're looking for something festive, funny, and to watch while you're decorating the tree or filling stockings, we've compiled a list of the best holiday rom-coms you can stream right now. Happy holidays!
A Castle for Christmas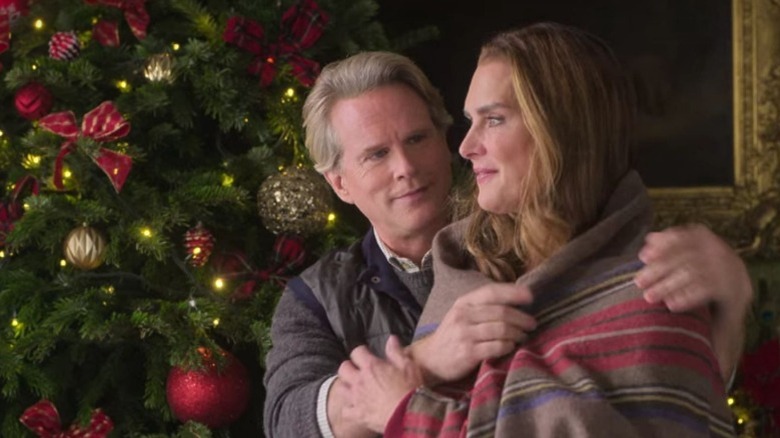 Netflix
Where to stream: Netflix
One of the most important parts of a romantic comedy is casting two actors who have great chemistry — extra points if they're already beloved by the audience. This works to wonderful effect in "A Castle for Christmas," a newer Netflix offering starring Cary Elwes and Brooke Shields. Shields stars as famous romance novelist Sophie, whose latest book upsets her fans after she kills off the romantic hero following own real-life breakup. In an effort to escape the bad press, Sophie flees to Scotland, where her father grew up, to reconnect with her heritage. Once there, she visits the castle where her father worked as a child and meets Elwes' Myles, who she initially believes to be the castle's caretaker. 
When she learns he's actually the duke who owns the castle, the two butt heads. Sophie takes an interest in buying the flailing property, but the stubborn Myles initially resists her help. When he does ultimately give in to Sophie's offer, his goal is to make her stay so unpleasant that she gives up and leaves. 
Of course, living in close quarters, their chemistry prevails, and Sophie's prevailing charm and genuine love for her new home begin to chip away at Myles' gruff exterior. "A Castle for Christmas" features beautiful scenery, a charming romance between two fantastic actors, and a winning cast of Scottish characters, making for a fun and whimsical Christmas romance.
Holiday in the Wild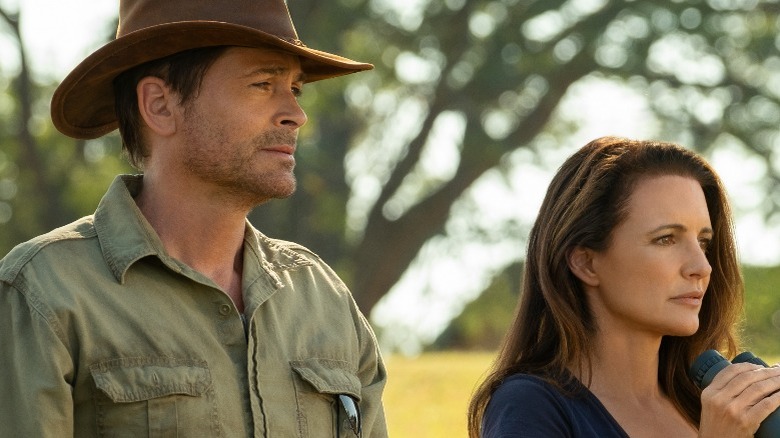 Netflix
Where to stream: Netflix
Unlike many of the other films on this list, "Holiday in the Wild" takes place in a unique setting, eschewing the trappings of a typical studio backlot. Instead, "Holiday in the Wild" follows Kate (Kristin Davis) to Africa, after she makes plans for a romantic getaway with her husband only to be left alone entirely. When her husband announces that he's leaving her following their son's departure for college, Kate decides to go on the trip anyway, embarking on a solo African safari in an attempt to rediscover what it means to be on her own. While there, she discovers a new purpose at a wild elephant sanctuary, where she puts her long-dormant veterinary skills to use. 
Of course, she also hits it off with the curmudgeonly but charming local pilot, Derek (Rob Lowe), leading her to extend her stay. As Kate and Derek grow closer, Kate has to choose whether to put down new roots far away from her home, or stay close to her son and old life. "Holiday in the Wild" is more of a traditional rom-com than a holiday story, but its distinct setting and beautiful scenery make it stand out from the pack.
The Knight Before Christmas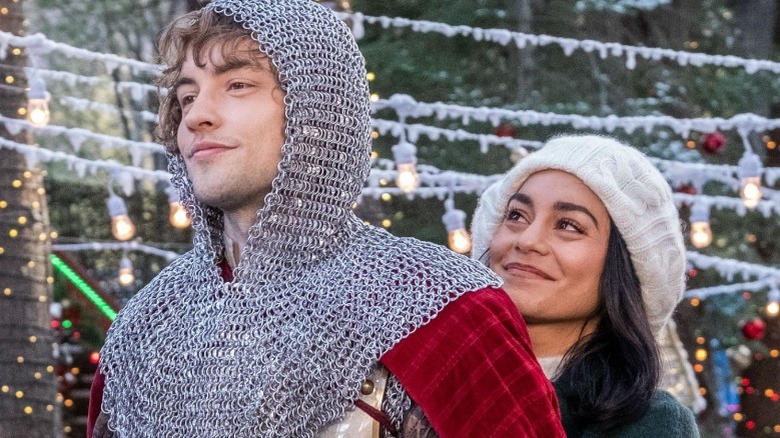 Netflix
Where to stream: Netflix
If you're looking for something light, fluffy, and a little bit silly, you might enjoy "The Knight Before Christmas." The film is about Sir Cole (Josh Whitehouse), a 14th-century knight on a quest who is magically transported to the modern day. There, he meets Brooke (Vanessa Hudgens), a heartbroken teacher who accidentally hits him with her car in the middle of a snowy night. Of course, Brooke doesn't believe Sir Cole's story, and assumes instead that he's lost his memory as a result of the accident. 
However, Cole's prevailing charm and their shared chemistry override the mysterious circumstances that bring them together. As the clock ticks down to Christmas, which happens to be the deadline by which Cole must complete his quest, he and Brooke grow closer, teaching each other about their Christmas traditions and their ways of life. Ultimately, each member of the couple must make their own decision: Brooke must let Cole into her heart, while Cole needs to decide which time period he truly wants to call home.
Single All the Way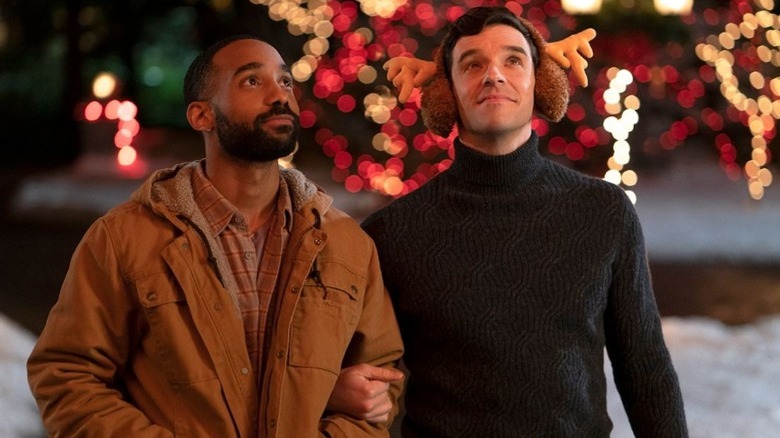 Netflix
Where to stream: Netflix
While most Christmas rom-coms involve two opposites who inevitably attract, there arecountless ways for people to come together. "Single All the Way" follows the perennially single-at-Christmas Peter (Michael Urie), who finally has a boyfriend to take home for the holidays, only to be dumped right before Christmas. Desperate to make his family happy, Peter asks his best friend and roommate, Nick (Philemon Chambers), to come home with him and pose as his boyfriend.
When they arrive in New Hampshire, Peter and Nick are greeted by Peter's overbearing mother Carole (Kathy Najimy), who has set him up on a blind date with a local ski instructor, James (Luke Macfarlane). While Peter and his mom are distracted by James, the rest of the family schemes to set him up with Nick, seeing that the two have always had a connection. "Single All the Way" is an incredibly charming and funny friends-to-lovers story filled with a stacked comedic ensemble that includes Barry Bostwick and Jennifer Coolidge. It's the perfect movie for those looking for a funny family film that's full of romance.
Happiest Season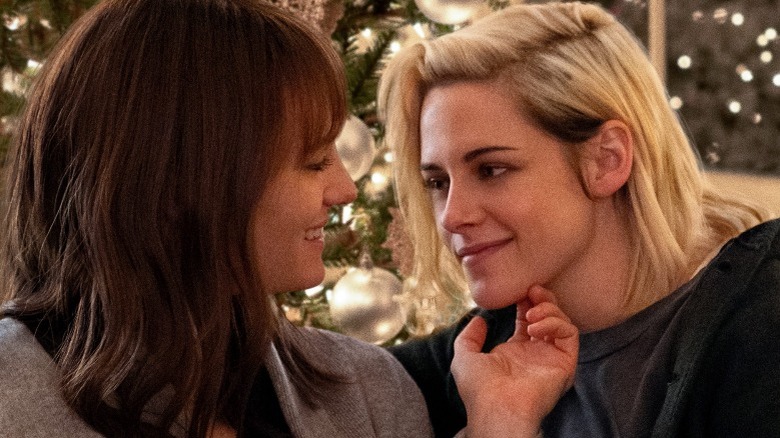 Hulu
Where to stream: Hulu
One of the first holiday rom-coms to center on an LGBTQ+ couple, "Happiest Season" stars Kristen Stewart as Abby, a quiet woman who doesn't really like the holidays now that both of her parents have died. When her girlfriend, Harper (Mackenzie Davis), invites her home for Christmas, Abby decides that it's the perfect opportunity to propose, until Harper confesses that she hasn't come out to her family yet, afraid the news will hurt her father's campaign for mayor. Instead, they plan for Harper to pose as Abby's roommate. 
Once they arrive, Abby is quickly cast aside as Harper falls back into her conservative family's regressive patterns, sending Abby out on her own. She meets Riley (Aubrey Plaza), who happens to be one of Harper's old friends, at a local gay bar. As Abby and Riley become closer, Abby begins to reexamine her relationship with Harper. With Christmas approaching, Abby must decide what she wants for herself, while Harper has to choose between her family's approval and living her truth. While "Happiest Season" is on the more dramatic side of the rom-com spectrum, it still tackles a lot of important and heartfelt themes that will stir up all of the feelings this holiday season.
While You Were Sleeping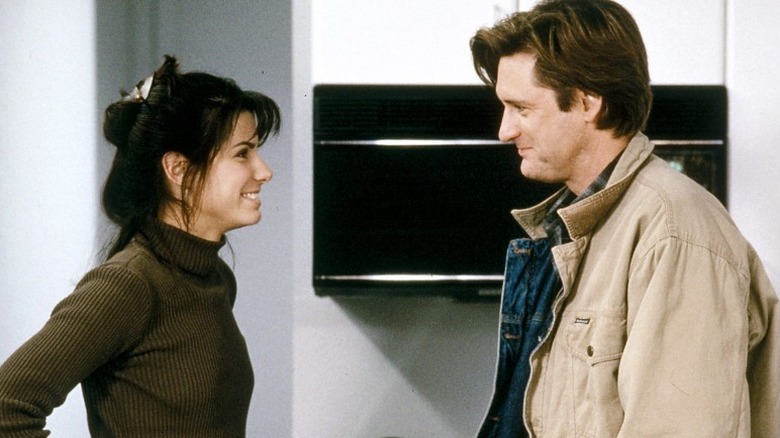 Buena Vista Pictures Distribution
Where to stream: Disney+
A classic Christmas rom-com, "While You Were Sleeping" stars Sandra Bullock as Lucy, a Chicago Transit Authority employee and lonely romantic who dreams of a bigger world after losing both of her parents. She also daydreams about Peter (Peter Gallagher), a handsome customer who regularly stops by her booth. One day, when Peter falls onto the platform, Lucy saves him and takes him to the hospital, where she ends up posing as his fiancée in a moment of chaos and miscommunication. Things only get worse from there, as Peter's loved ones show up at his bedside while he's comatose and quickly welcome Lucy into the family. 
While Lucy falls in love with Peter's family, the lie also gets deeper, and she risks losing them if she tells them the truth. Complicating matters further is Peter's brother, Jack (Bill Pullman). He and Lucy forge a strong connection, but Jack believes that she is engaged to his brother. "While You Were Sleeping" has a silly premise, but it's ultimately a heartfelt romantic comedy set full of seasonal spirit.
The Holiday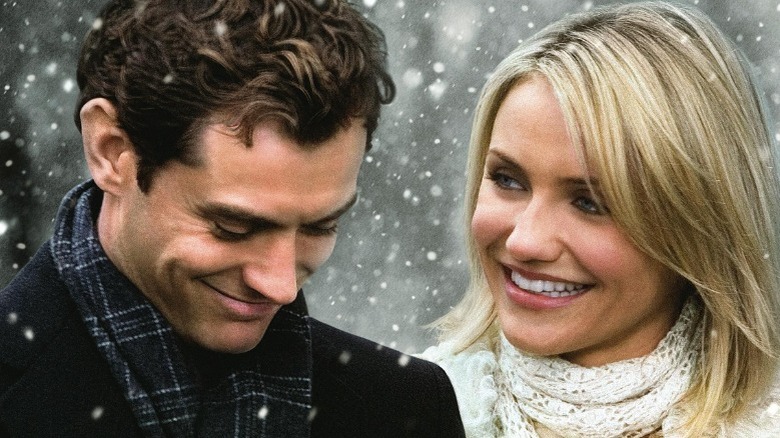 Columbia Pictures
Where to stream: Disney+
Nancy Myers, one of the reigning queens of romantic comedies, puts her own spin on Christmas in the beloved classic "The Holiday." The film follows two lovelorn women who meet through a house exchange website, as both want to escape their problems for the holidays. Iris (Kate Winslet) is a London-based journalist who is in love with her colleague and finds out he's engaged to someone else. In Hollywood, Amanda (Cameron Diaz) edits movie trailers and is recovering from a breakup with her cheating boyfriend. By virtue of staying in each other's homes, they each befriend each other's family and acquaintances. 
That's how Amanda meets Iris' handsome brother, Graham (Jude Law), and his adorable children. It's also how Iris meets Amanda's charming colleague Miles (Jack Black) and her neighbor, a legendary screenwriter named Arthur (Eli Wallach). While Amanda and Iris both leave their homes in an effort to recover from their romantic mishaps and spend some time alone, they end up finding what they least expect: the possibility of new love. "The Holiday" is a classic for a reason — it's the perfect blend of a romantic comedy and a holiday film.
Elf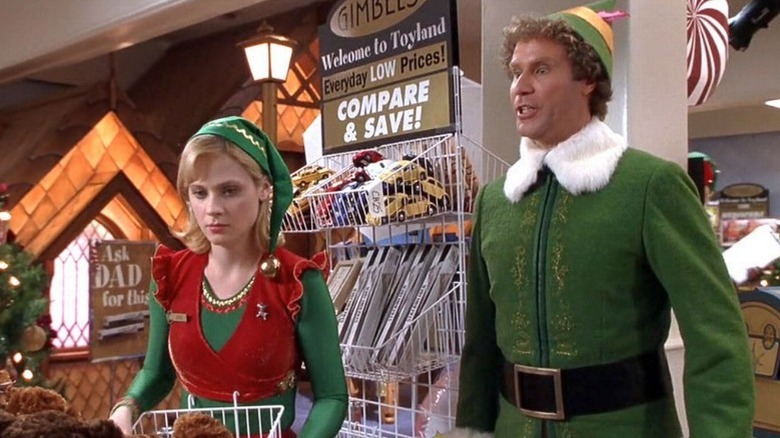 New Line Cinema
Where to stream: HBO Max
More comedy than rom-com, "Elf" has nonetheless become a timeless holiday classic. In the film, Will Ferrell stars as Buddy, an orphaned human who is raised by Santa (Ed Asner) and his elves at the North Pole. As a result, he naturally believes that he is an elf, too. When Buddy learns the truth about his heritage, he sets off on a quest to find his biological father, Walter (James Caan), in New York City. While Buddy is hoping for a heartwarming family reunion, he instead finds a grumpy and reticent man who doesn't understand why Buddy is the way he is or what has brought him to his door, leaving Buddy to fend for himself in an unknown and hostile environment.
On his journey, Buddy meets a department store elf named Jovie (Zooey Deschanel), and he falls in love at first sight. As Buddy begins to find his way in New York, he's also stricken by how many people don't believe in Santa or the spirit of Christmas, which causes problems when there's not enough Christmas spirit to power Santa's sleigh on the big night. "Elf" is a love story with multiple parts. It's not just about the bond between Buddy and Jovie, but also the ones between Buddy and Walter and Buddy and his family at the North Pole, making it a heartfelt family story for the holiday season.
It's a Wonderful Life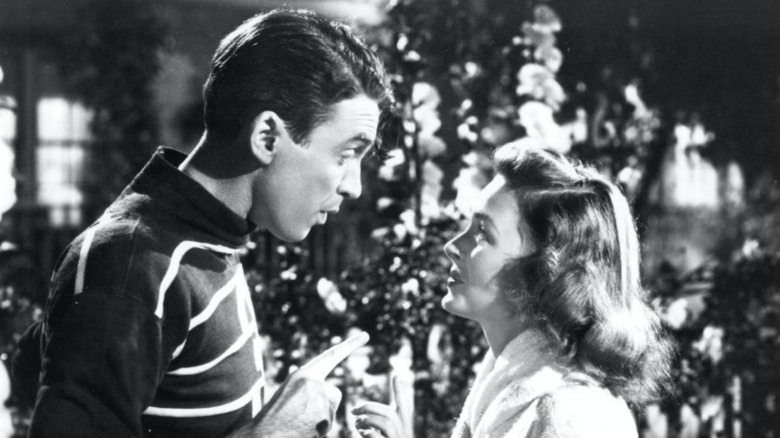 RKO Radio Pictures
Where to stream: Prime Video
Frank Capra's "It's a Wonderful Life," regarded by many as the greatest Christmas movie of all time, follows George Bailey (Jimmy Stewart), who wants a life beyond his small town of Bedford Falls but feels an overwhelming responsibility to his family, community, and the business he inherited. When he learns that his company is on the brink of financial ruin and will soon be overtaken by the town's reigning, corrupt overlord, Mr. Potter (Lionel Barrymore), George decides that his family and Bedford Falls would be better off without him. As he considers suicide, an angel named Clarence (Henry Travers) shows him what the world would be like if he had never existed. 
The film moves through George Bailey's life, depicting how George and his wife, Mary (Donna Reed), fell in love in what's still one of cinema's most romantic moments. "It's a Wonderful Life" has become a holiday mainstay due to its innovative narrative and wholesome and necessary message. George Bailey's journey towards realizing his own life's meaning is a romance of its own, one wholly unique to the spirit of Christmas.
Holiday Rush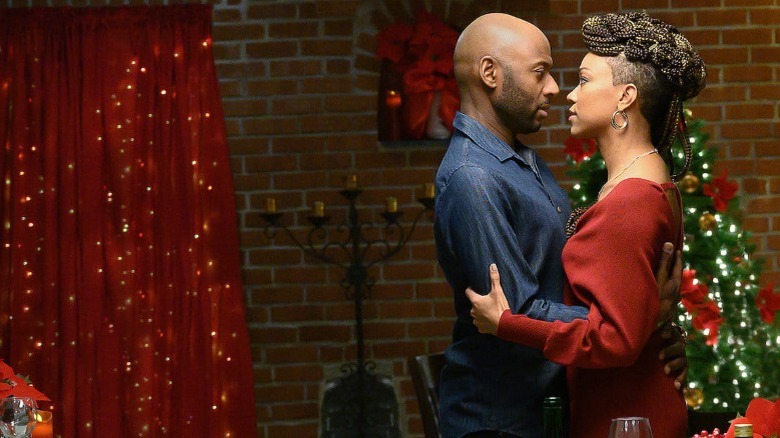 Netflix
Where to stream: Netflix
The holidays are a time for whimsy and magic, but also reflection and growth. "Holiday Rush" follows single dad and radio DJ Rush Williams (Romany Malco), who has a successful career on the radio alongside his friend and producer Roxy (Sonequa Martin-Green) until the sudden buyout of his station turns his life upside down. As Rush tightens his belt and tries to come up with a new game plan, his family moves in with his Aunt Jo (Darlene Love), where his spoiled children have to adjust to a new lifestyle.
Meanwhile, Roxy and Rush buy another station, where they can control their own show. As they go into business together, their friendship reveals itself to be something deeper, even as they battle their former station for ratings. Ultimately, Rush has to work with his family to rediscover the meaning of Christmas while finding a new path forward that makes everyone happy.
Love Hard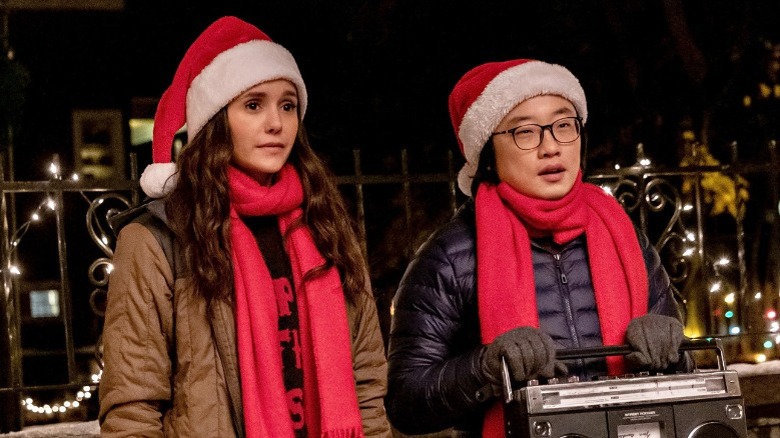 Netflix
Where to stream: Netflix
Those looking for a more grown-up holiday rom-com may enjoy "Love Hard," another one of Netflix's newest holiday movies. The film follows Natalie (Nina Dobrev), a dating columnist who finally meets her perfect match on a dating app. The only catch? He lives on the opposite coast. When he tells her he wishes they could spend Christmas together, Natalie decides to surprise him in person, only to discover that Josh (Jimmy O. Yang) isn't everything that he seems — he's been catfishing her, using the photos of a friend named Tag (Darren Barnet). Natalie heads to the local bar and finds Tag, deciding that fate has brought them together. 
A desperate Josh follows and asks Natalie to pretend to be her girlfriend for the holidays, offering to help her win over Tag in exchange. Natalie agrees. While Natalie hits it off with Tag and is initially (and justifiably) reluctant to trust Josh, their scheming brings them closer together, and she begins to understand why Josh catfished her in the first place. "Love Hard" uses its Christmas elements to fun effect, making for a wildly affecting movie.
The Holiday Calendar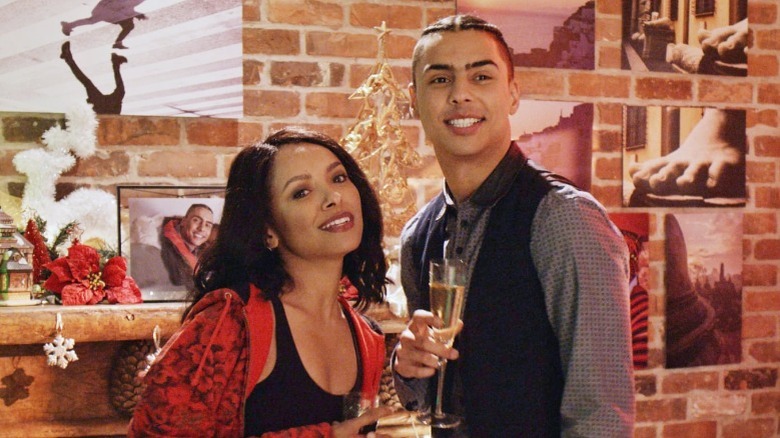 Netflix
Where to stream: Netflix
Some Christmas movies lean into the magic of the season a bit more than others, giving the audience room to explore the season's possibilities. "The Holiday Calendar" is about Abby (Kat Graham), a small-town photographer who dreams of spreading her wings as an artist, but who's stuck working taking pictures of kids at Santa's shop. 
When Abby's grandfather (Ron Cephas Jones) gives her an antique advent calendar, promising it will send miracles her way, she scoffs. However, the calendar begins to predict the future in subtle ways, especially after Abby crosses paths with Ty (Ethan Peck), a local doctor, leading her to question if the calendar really is magic after all — although her dormant feelings for her best friend, Josh (Quincy Brown), make real answers hard to come by.
"The Holiday Calendar" perfectly blends its central romance with Christmas iconography, resulting in a sweet and whimsical story that reinforces the magical notion that the best love stories might be found right under your nose.
Let It Snow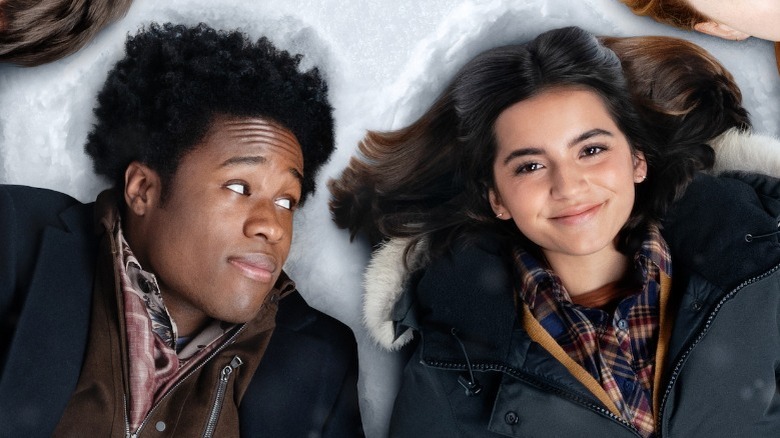 Netflix
Where to stream: Netflix
Based on the novel by popular young adult authors John Green, Lauren Myracle, and Maureen Johnson, "Let It Snow" is a holiday romance told from the point of view of multiple teenagers in rural Illinois. There's Julie (Isabela Merced), who hits it off with pop star Stuart (Shameik Moore), but feels like she needs to stay home and take care of her sick mother. Best friends Angie (Kiernan Shipka) and Tobin (Mitchell Hope) struggle to navigate the chemistry brewing between them, while, across town, Dorrie (Liv Hewson) develops feelings for a cheerleader who ignores her in public. 
In addition to its central stories, the film's supporting cast is full of eccentric and funny characters who make "Let It Snow" feel like it takes place in its own special universe. All of the stories converge on Christmas Eve, making for an incongruous but sweet rom-com centered on the teen experience, a perspective not often explored in these types of movies.
The Princess Switch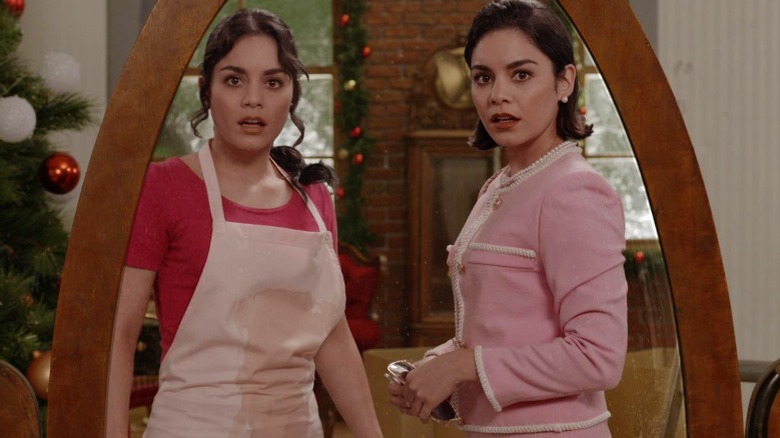 Netflix
Where to stream: Netflix
A Netflix dynasty in its own right, "The Princess Switch" takes all of "The Parent Trap" tropes and blends them into a delightful holiday rom-com in which Vanessa Hudgens plays both starring roles. Stacy is a professional baker and a perfectionist who reluctantly agrees to travel to Belgravia to compete in a prestigious competition alongside her best friend and sous chef, Kevin (Nick Sagar). Once there, she bumps into the Belgravian prince's fiancé, Margaret, who looks just like her, and who suggests that they switch places so that she can escape some of her royal duties. 
Stacy agrees, and soon finds herself charmed by Prince Edward (Sam Palladio), even as Margaret is swept away by Kevin. While the two struggle to maintain their secret, they also begin to question whether they can each have what they really want. "The Princess Switch" is a delightfully silly movie that's just as funny as it is romantic. The original film has also spawned two sequels, meaning that you can have your own Belgravian movie marathon this Christmas Eve.
White Christmas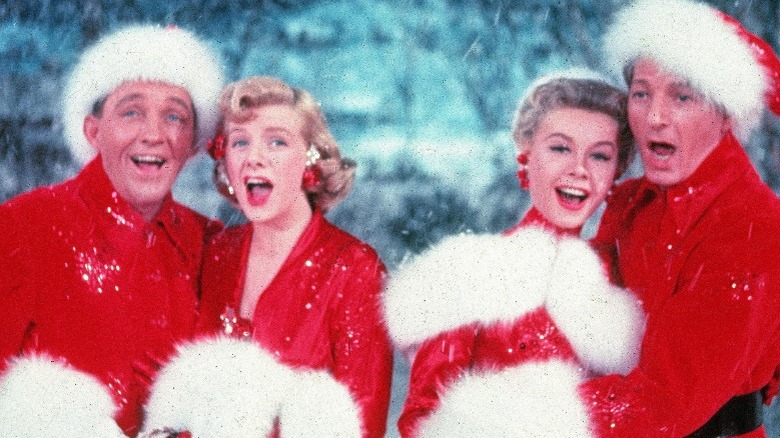 Paramount Pictures
Where to stream: Netflix
While many of the movies on this list have musical numbers, "White Christmas" is an actual musical. This holiday classic stars Bing Crosby and Danny Kaye as Bob and Phil, two war veterans who have since become a huge Broadway act. While traveling for a show, they meet the Haynes sisters, Betty (Rosemary Clooney) and Judy (Vera-Ellen), rising stars who the men soon become enamored with. However, while Phil is a romantic, Bob prefers to avoid women and stick to business. Still, they decide to follow the sisters to a struggling Vermont inn where they're performing for the holidays. 
When they arrive, Bob and Phil learn the inn is owned by their former general, and commit to doing whatever they can to help him save his business, including bringing their successful show from New York to Vermont. As Phil and Judy fall in love, they scheme to set up Bob and Betty, inadvertently threatening their future happiness altogether. "White Christmas" is a timeless holiday classic from the golden age of Hollywood that will sweep you off your feet and into the holiday season.