The Morning Watch: Jurassic Park Cast Retrospective, Behind Barry Season 3 & More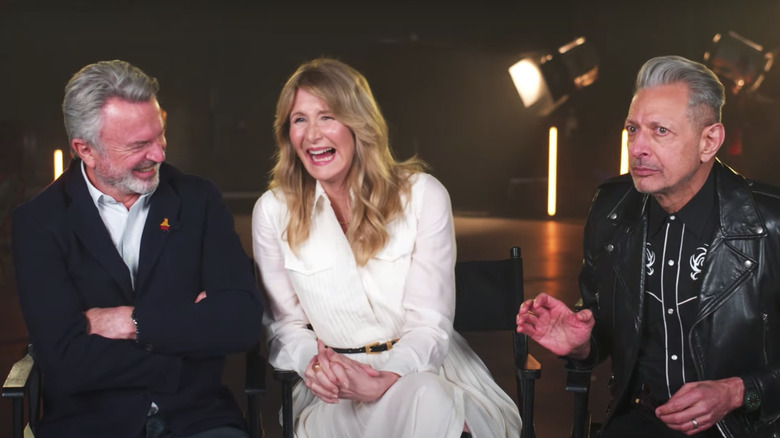 Vanity Fair
(The Morning Watch is a recurring feature that highlights a handful of noteworthy videos from around the web. They could be video essays, fanmade productions, featurettes, short films, hilarious sketches, or just anything that has to do with our favorite movies and TV shows.)
In this edition, prepare your emotions because Jeff Goldblum, Laura Dern, and Sam Neill have reunited to talk about the legacy of "Jurassic Park." Plus, HBO is giving us a behind-the-scenes look at what went into making the third season of "Barry." And finally, if you've ever wanted to learn how to make Ichiraku Ramen from "Naruto," we've found a video with step-by-step instructions on how to make it for yourself at home.
Friendship, uh, finds a way
We've known for quite some time that "Jurassic World Dominion" would find Jeff Goldblum, Laura Dern, and Sam Neill reprising their respective roles Dr. Ian Malcolm, Dr. Ellie Sattler, and Dr. Alan Grant from the original "Jurassic Park." But until the film hits theaters in June, and I can see them on screen for myself, I'm going to still believe this is just an elaborate prank set up by the universe to destroy our hopes and dreams. As the press tour for the film gears up, our favorite trio sat down with Vanity Fair to deliver an oral history of the film that brought them all together in the first place. They tell hilarious never-before-heard stories, reminisce about the experience on set, and yes, Goldblum finally addresses the infamous "naughty" open-shirt scene. Every second of this retelling is an absolute delight, and it's a great way to get hyped for "Jurassic World Dominion."
It's the return of Barry
"This is a season that is mindblowing," says Henry Winkler in this third season featurette for the series "Barry." If season 3 is anything like the first two seasons,we should take his word for it. After an agonizing wait of over three years, the series focused on Bill Hader's low-level hitman/wannabe actor Barry Berkman/Block is finally back and ready to go out with a bang. In this video from HBO, members of the cast give their take on what to expect. "This season is very unhinged," says Hader. Cristobal Sifuentes and NoHo Hank are dancing with danger as they continue their "Romeo & Juliet" style romance, Sally's got a new show, and Barry ...well, he's being Barry. The series just premiered the first episode of the new season last weekend, and new episodes release every Sunday.
'What I like is ramen, especially the kind at the Ichiraku Ramen shop'
The anime series "Naruto" is one of the most popular series in the entire world, and the fandom extends far beyond enjoying the plot and character development. Anime art style allows for a lot of creative adventure, but the so-called "food porn" in anime is truly on another level. The young ninja Naruto Uzumaki is known for his love of ramen, specifically, the large miso and char siu ramen from his favorite shop, Ichiraku Ramen. In an episode of "Anime with Alvin," as part of the popular Babish Culinary Universe YouTube channel, host Alvin Zhou provides an ingredient-by-ingredient, step-by-step instructional guide to making Naruto's favorite ramen. The surprisingly labor intensive dish looks absolutely exquisite and should hopefully instill a greater respect for the hard work that ramen shops all across the world put in to bring such delicious dishes to us all.