Superhero Bits: Another Decade Of Marvel Movies, An Encouraging Superman Movie Update & More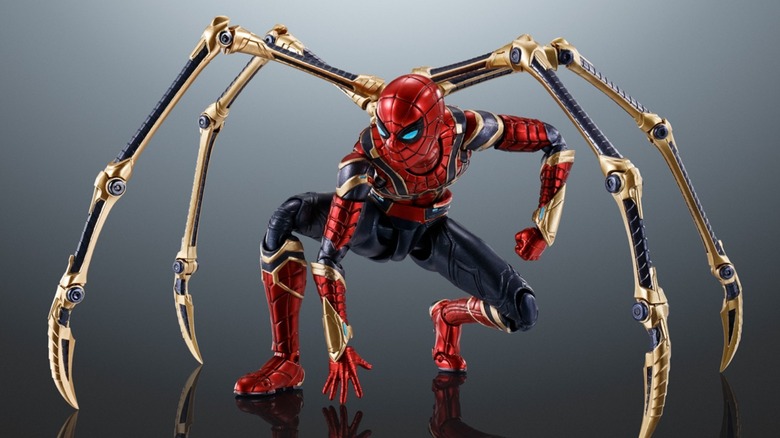 Marvel
(Superhero Bits is a collection of stories, updates, and videos about anything and everything inspired by the comics of Marvel, DC, and more. For comic book movies, TV shows, merchandise, events, and whatever catches our eye, this is the place to find anything that falls through the cracks.)
In this edition of Superhero Bits:
New "Aquaman and the Lost Kingdom" plot details.
An unexpected villain returns in "The Flash" movie.
The next decade of Marvel movies are being planned as we speak.
Image Comics is teasing something (with pancakes).
Image Comics, pancakes, and the number 2 ... what does it mean?
The folks at Image Comics are teasing ... something. What, precisely? Well, feel free to speculate as you will but the publisher revealed the above image of a stack of pancakes cut into the number two, with absolutely no help provided in the caption. We can probably expect an announcement of something or other sooner rather than late but, for now, discuss amongst yourselves and cook up any theories you like.
Superman & Lois Season 2 Truth and Consequences promo
Here is the official promo for the 11th episode of the second season of "Superman & Lois" on The CW:
We pick up right where we left off with Jon-El (Jordan Elsass) smirking at Lois (Elizabeth Tulloch), who is still standing on the porch with Jordan (Alex Garfin). Jon-El, catches sight of his doppelganger Jonathan (Jordan Elsass), standing not too far away. He lunges at him and Jordan tries to intervene but Jon-El appears to be stronger and faster than him.
The episode was directed by David Ramsey and written by Andrew N. Wong.
Doctor Strange gets a special Build-A-Bear for Multiverse of Madness
The folks at Build-A-Bear have teamed up with Marvel for a brand new bear modeled after the Sorcerer Supreme himself (glimpsed above). The bear is being released in honor of "Doctor Strange in the Multiverse of Madness," which is finally hitting theaters next week. This happens to be an online exclusive though so those who are interested will not be able to pick one up at a store. It retails for $45. Those who are interested can pick one up by clicking here.
Zod returns in The Flash movie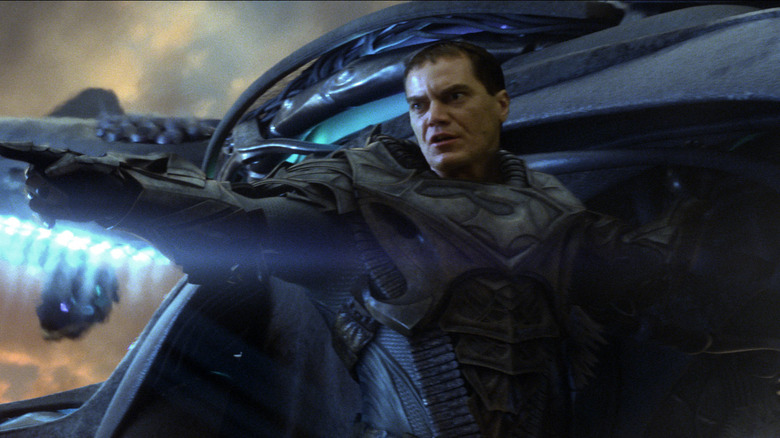 Warner Bros.
Warner Bros. brought a big showcase to CinemaCon yesterday and, as one might expect, it was pretty heavy on DC stuff. A bit of new footage from "The Flash" movie was showcased and it was pretty heavy on Michael Keaton's return as Batman. But one very quick, interesting detail that was included in the footage was an appearance by none other than Zod, specifically Michael Shannon's version of the character. Shannon played the part in "Man of Steel" and hasn't reprised the role since, save for his dead body in "Batman v Superman." So, is Shannon actually filming new scenes? Or was this repurposed, old footage? For now, we have more questions than answers but it's an intriguing development.
People want the Court of Owls in The Batman 2, and Scott Snyder knows it
Even though it was not much of a surprise, Warner Bros. went ahead and made it official yesterday by announcing a sequel to "The Batman" at CinemaCon. Quickly, the internet began doing its thing and suggesting villains for Robert Pattinson to go up against next time around. As we can see in the above tweet, the Court of Owls was a popular suggestion and Scott Snyder, who co-created the villains in his now-infamous run on "Batman," took notice. As for what Matt Reeves has planned? That remains to be seen but certain fans would seemingly be very happy to see this happen.
Aquaman and the Lost Kingdom plot details surface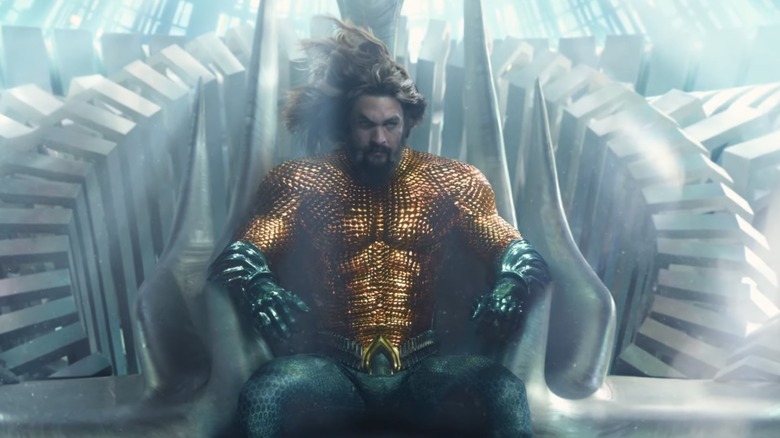 Warner Bros.
Another part of Warner Bros.' CinemaCon presentation involved a bit of footage from the upcoming "Aquaman and the Lost Kingdom." The movie's brief, official synopsis states that the movie will pick up when "an ancient power is unleashed, Aquaman must forge an uneasy alliance with an unlikely ally to protect Atlantis, and the world, from irreversible devastation." Well, the footage we saw at the event helped make that picture a little clearer. The uneasy alliance will be between Aquaman and his brother Orm, played by Patrick Wilson. The other element of importance here is that they will be working to stop Black Manta, who has raised an army and is far more dangerous than he was in the first film. So, while that still leaves many questions unanswered, that does offer some idea of what we're in for in a broad sense.
Some (possibly) good news for Superman fans
If you know me you know how much I love #superman. So when I saw @wbpictures Chairman Toby Emmerich tonight walked right up to him and asked about the next Superman movie. Won't say what he said to me since it might have been off the record. But progress is being made.#Cinemacon pic.twitter.com/bWRcc3rLLZ

— Steven Weintraub (@colliderfrosty) April 27, 2022
Circling back to CinemaCon happenings, something that happened in an off-the-books sort of way was a little bit of an update on the status of the next "Superman" movie. We don't know precisely what form it will take but we know J.J. Abrams and Ta-Nehisi Coates have one in the works. Collider's Steve Weintraub took to Twitter to reveal that he bumped into Warner Bros. Chairman Toby Emmerich outside of the studio's presentation and asked him about the status of the next film centered on the Man of Steel. Weintraub was tight-lipped but said he "won't say what he said to me since it might have been off the record. But progress is being made." As vague as that is, something is happening on the Superman front. So keep your ears to the ground.
Marvel Studios has the next decade of movies mapped out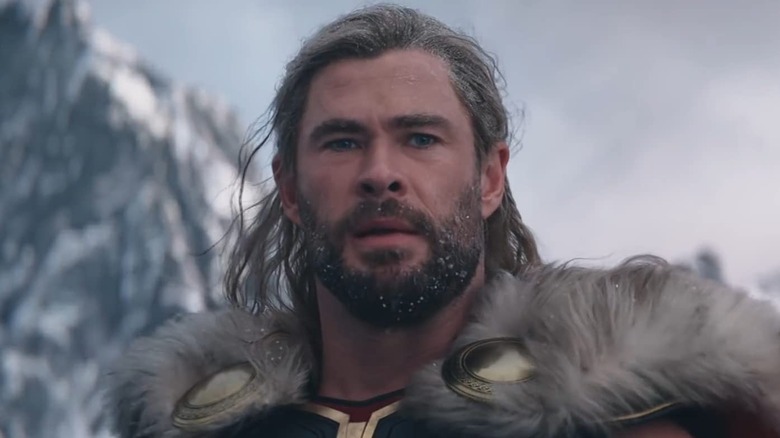 Marvel Studios
Heading back to CinemaCon for the Marvel side of things, Marvel Studios head Kevin Feige took the stage during Disney's presentation to discuss a little bit about the future of the MCU. Before launching into a huge preview of "Doctor Strange in the Multiverse of Madness," Feige revealed that he is currently on a retreat where they are planning out the next phases of the MCU. Per Feige, these movies will take "us through the next decade and they are unique and special and they are meant for your theaters." So it appears Disney has no plans on stopping this gravy train any time soon.
Spider-Man: No Way Home Iron Spider figure from S.H. Figuarts
Lastly, the folks at Tamashii Nations have revealed a brand new figure from "Spider-Man: No Way Home," cooked up by S.H. Figuaerts. The figure captures Peter Parker's Iron Spider armor that is seen in the earlier sequences in the film, particularly the massive bridge fight with Doc Ock just as the multiversal craziness is getting underway. The figure is expected to arrive in August of this year and goes for around $69 USD. Those interested in learning more of securing a pre-order can do so by clicking here.