Benedict Wong Had A Personal Reason For Wanting A Role In Doctor Strange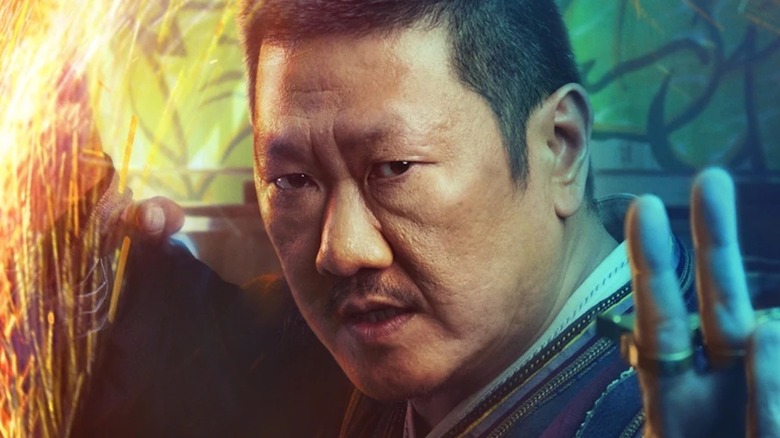 Marvel Studios
One of the best characters in the entire Marvel Cinematic Universe is Wong. This may sound like a weird thing to say, especially to long-time fans that know the character's comic book history, but it's true. With each appearance from "Doctor Strange" in early Phase Three to the recent hit "Spider-Man: No Way Home," Benedict Wong's Master of the Mystic Arts and current Sorcerer Supreme has carved out a very special place in our hearts as he kicks major ass, takes no guff from nobody (particularly Dr. Stephen Strange), and is one hell of a singer at the karaoke bar. Truly, we have entered Phase Wong in the MCU. 
Now a firm fixture in the beloved film and television franchise, Master Wong makes his next appearance in Sam Raimi's "Doctor Strange in the Multiverse of Madness." But before actor Wong was cast in Scott Derrickson's 2016 film, he was determined to earn the role for his ancestors.
Do you believe in magic?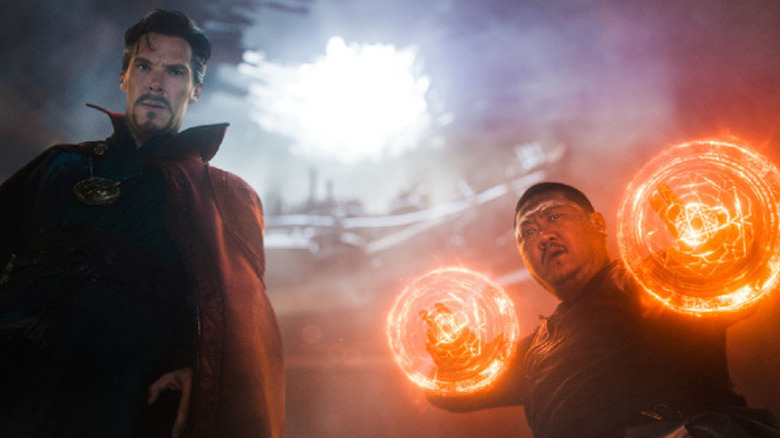 Marvel Studios
While speaking to Digital Spy to promote the home release of "Doctor Strange" in 2017, Benedict Wong revealed that he was a long-time comic reader. Growing up in Manchester, he would frequent a comic shop called Odyssey 7 and religiously pick up Spider-Man comics. So when the opportunity arose for him to play a character from Marvel Comics on the big screen, there was no hesitation on his part. And he didn't just take the part for him. Wong was ready to represent his culture.
"For this type of opportunity to arrive, yeah, I didn't have to think about it all. If anything, I was always a little crestfallen that there wasn't, in my mind, any East-Asian superheroes ... I was having lunch with Chiwetel [Ejiofor] one time, and he told me what he was up to with 'Doctor Strange.' I had a little look on the net, and then I saw this drawing of Strange, and then on the side was Wong. I just... you know, my jaw dropped. I thought, 'I've got to get this – for my ancestors, alone.'"
It's been said time and time again, but representation matters. Seeing yourself reflected in the media you consume is a powerful experience, especially for those that don't get to see it very often. And one of the reason's why Benedict Wong's jaw probably dropped upon finding Marvel's Wong in his search is because he wasn't necessarily the right kind of representation that Asians and the Asian diaspora were looking for.
When Wong first appeared in the pages of Marvel Comics in the April 1963 issue of "Strange Tales" (where he initially appeared as a nameless character until nine issues later), his mission in life, like the ten generations of first-born males in his family before him, was to serve a master sorcerer. After Wong came of age, the Ancient One assigned him to be Doctor Strange's manservant in America. So even though Wong trained in the martial and mystic arts during his time at the monastery, his sole purpose was to be a subservient valet and sidekick to a master who can oftentimes be the absolute worst. The optics weren't great, particularly since the majority of Asian characters in comics remained largely stereotypes that depended on white saviors for a long, long time. 
Thankfully, when Derrickson and MCU architect Kevin Feige set out to adapt the Doctor Strange story for the modern-day, they had enough sense to update the character of Wong before he made the jump from page to screen. No longer a servant, he was finally able to use the skills he learned in Kamar-Taj as a Master of the Mystic Arts himself that could stand on his own two feet against Thanos' forces or the Abomination. He even schooled Strange and put the egotistic surgeon in his place when needed. But more importantly, he became Strange's equal. A valued partner in the fight to protect the Earth dimension from whatever mystical threats are out there. And when they added Benedict Wong to the mix, it really created the perfect recipe for one of the most memorable characters in the MCU. If I had to guess, I'd say that the ancestors of the British actor also known for his roles in "The Dark Crystal: Age of Resistance," "Deadly Class," and "The Martian" are very proud.
"Doctor Strange in the Multiverse of Madness" hits theaters on May 6, 2022.