20 Movies Like The Conjuring That Will Surely Scare You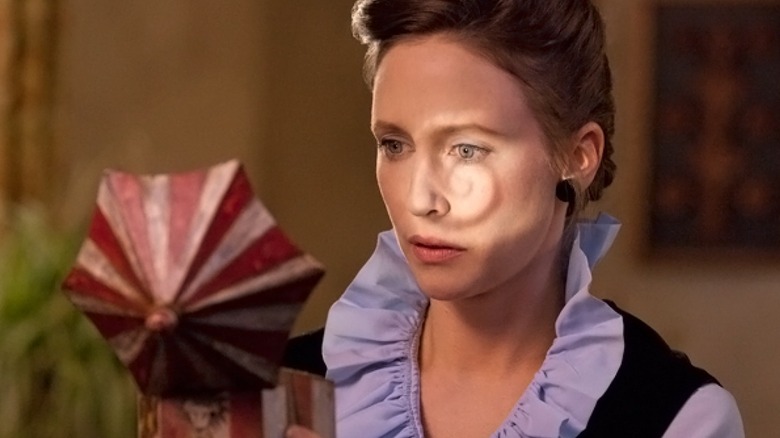 Warner Bros.
There's hardly a person on Earth who isn't at least familiar with James Wan's "The Conjuring." A perennially scary classic, it banked nearly $320 million worldwide, and in terms of 21st-century horror, its legacy remains unmatched. There are likely a few horror movies post-2013 that have been either directly or indirectly influenced by Wan's masterclass in gothic terror. It is the definitive haunted house movie for many, the perfect hybrid of classic structure featuring very distinct, contemporary scares.
Additionally, outside of the MCU, it's one of Hollywood's most reliable franchises, with a current tally of eight entries in "The Conjuring" universe (with seven of the features produced by the visionary filmmaker, who helmed the first two "Conjuring" movies). As audiences wait for the next entry in the franchise, we've managed to conjure 20 movies like "The Conjuring" absolutely guaranteed to scare you. A mix of classic horror shows and unsung gems, there's something here to summon serious terror for everyone.
Burnt Offerings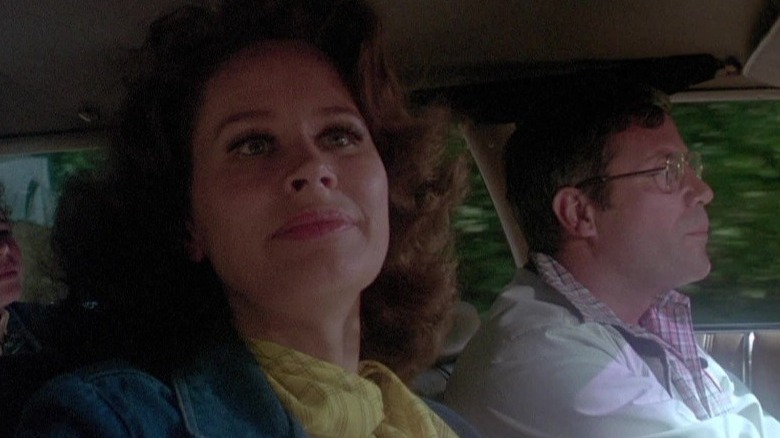 United Artists
Dan Curtis' "Burnt Offerings" takes slow burn to an entirely new level, which isn't a bad thing. Like James Wan did in "The Conjuring," Curtis takes his time unspooling the ever-increasing supernatural threat plaguing the Rolf family. Ben and Marian Wolf (Oliver Reed and Karen Black) pack Bette Davis and their son into their station wagon for a weekend away. Rather than a lakeside cabin or beachside cottage, they opt for a 19th-century mansion with an enviable rental price. The owners are odd, the property massive, and the low price comes with a small caveat — an 85-year-old woman will continue to live on the property during the Rolfs' stay.
Shortly after arriving, strange occurrences occur, including odd injuries, resurrected plant life, and malevolent visions of a deceased hearse driver. As the family is hurt by the house — a cut here or fall there — the house's condition seems to inexplicably improve, almost as if their pain and blood are responsible for the restoration. Soon, Curtis introduces possession, cryptic histories, and all the haunted house scares audiences could ask for. Released in 1976, "Burnt Offerings" climaxes in a flurry of violence and terror most current fare could only hope to match. 
The Haunted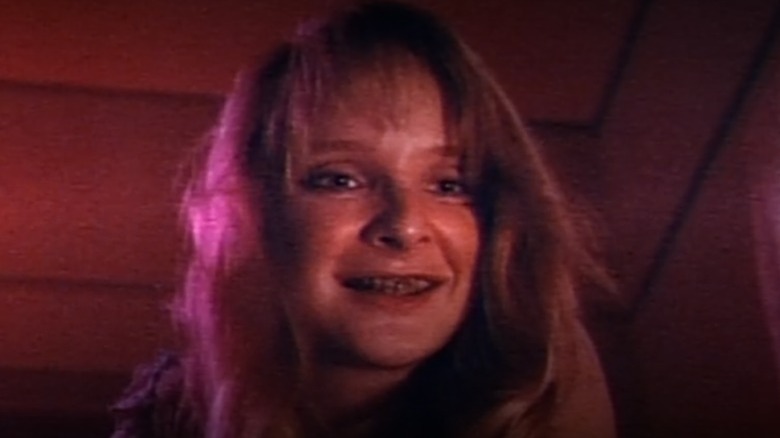 Fox Network
The inimitable Ed and Lorraine Warren didn't actually make their first on-screen appearance in James Wan's "The Conjuring." 22 years before, actors Stephen Markle and Diane Baker briefly portrayed them in Robert Mandel's "The Haunted." The made-for-TV horror movie depicted the Smurl haunting, one of the Warrens' most infamous cases. Sally Kirkland stars as Janet Smurl, the chief magnet for spirits after she and her family move into a new suburban home infested with spirits and one particularly nasty demon.
Considerably more tempered than Wan's approach to the material — and even Stuart Rosenberg's 1979 adaption of "The Amityville Horror" — "The Haunted" is very much a television movie. It's talky, competently directed at best, and replete with odd transitions where commercials would normally break the narrative flow. Still, in terms of sheer terror, "The Haunted" terrifies. Its scares are quieter than "The Conjuring," likely on account of both budget and decade of release, but they're suggestive in the best way. Odd noises and stellar dialogue accounts of what's going on work wonders to suggest an insidious presence in the house, even among more skeptical audience members. Kirkland, nominated for a Golden Globe for her performance, is especially strong in cultivating unease in the audience. For an early look at the Warrens, it doesn't get better than "The Haunted."
The Amityville Horror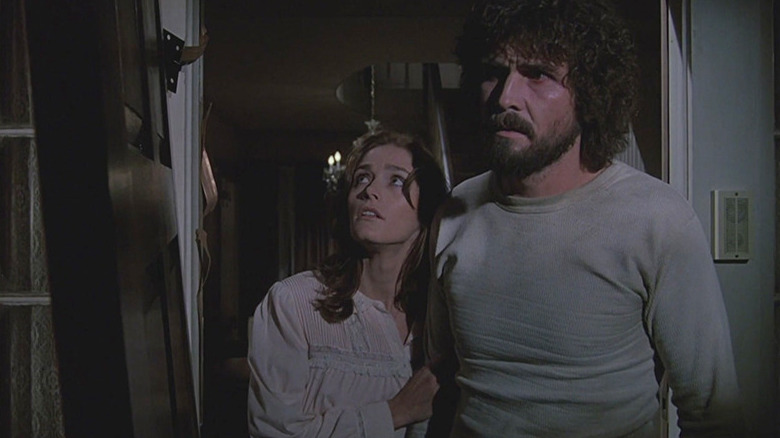 American International Pictures
Where "The Haunted" was disciplined in how it doled out its Warren-centric scares, Stuart Rosenberg's "The Amityville Horror" opted instead to drench its haunted walls in blood, viscera, and deafening terror. Based on Jay Anson's nonfiction (ostensibly, depending on one's beliefs) novel of the same name, "The Amityville Horror" follows the 28 days the Lutz family spent at 112 Ocean Avenue, a Dutch Colonial where the infamous DeFeo murders occurred. According to the Lutz family, those 28 days were replete with a series of horrifying occurrences, so much so the family ultimately fled the house. "The Amityville Horror" dramatizes their experience with all the late '70s horror gusto one would expect.
Margot Kidder and James Brolin are expectational as Kathy and George Lutz, the two parents at the center of a burgeoning supernatural phenomenon. While it certainly stretches credulity and arguably takes enormous liberties with the source material — Eric Walter's 2012 documentary "My Amityville Horror" is a sensational bookend to the story — it's hard to deny that it packs some seriously scary punches. The real-life Warrens were core to the investigation of Amityville, and while "The Conjuring 2" truncates the investigation for its prologue, Rosenberg's original remains the definitive adaptation of one of history's most famous haunted abodes.
Poltergeist II: The Other Side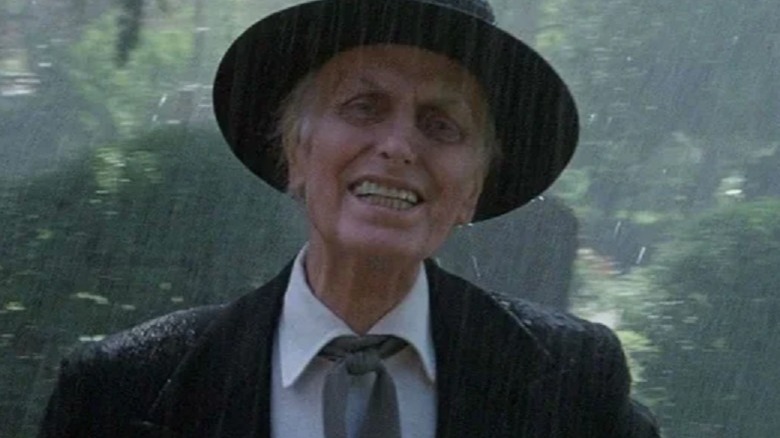 MGM
Brian Gibson's "Poltergeist II: The Other Side" suffers in comparison to its predecessor. Lightning rarely strikes twice, and given how subversive and influential Tobe Hooper's original "Poltergeist" was, its sequel was never going to capture the same cocktail of suburban ennui and supernatural terror. Still, in retrospect, "Poltergeist II: The Other Side" is arguably as successful as "The Conjuring 2" when it comes to expanding its cinematic world while replicating some of what made each respective first entry so successful — thanks to its combination of bombastic, practical scares, family love, and unbridled spirits.
The Freeling family, ostensibly free from the poltergeist activity of their old Cuesta Verde home, move to Phoenix, Arizona, hoping to leave the supernatural behind them. Unfortunately, new wrinkles are added to Carol Anne's (Heather O'Rourke) characterization, imbuing her with clairvoyance, a key component of the continued hauntings. After the first attack, the Freelings rightly flee, though returning player Tangina (Zelda Rubinstein) enlists the help of a shaman friend (Will Sampson) to inform the Freelings no matter where they go, the spirits will follow them.
Insidious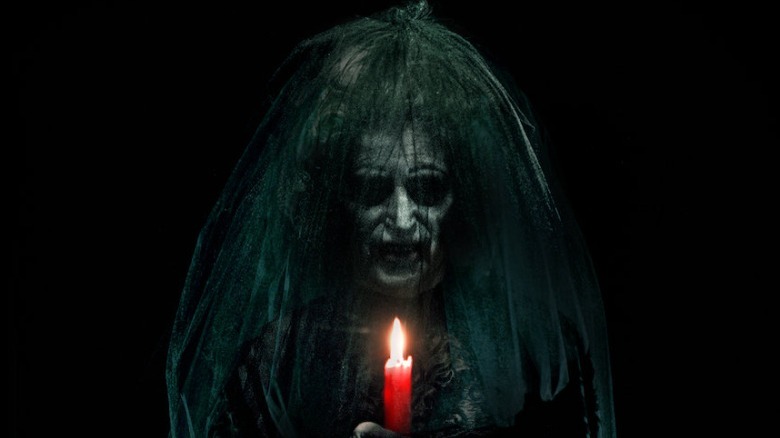 FilmDistrict
"Insidious" is seriously scary. Though James Wan had experienced genre success before, notably with the 2004 release of "Saw," "Insidious" is unequivocally the movie responsible for launching him to horror stardom. A low-budget haunted house outing, all of the tricks Wan would later deploy in "The Conjuring" are evident here. There are heaps of misdirection leading to pulse-pounding jumps, clairvoyants responsible for combatting the spirits (an excellent Lin Shaye here), and perhaps most notably, tangible, physical ghosts.
Adding tactile elements and including them as part of the physical world, Wan eschewed decades of suggestive precedent and put his ghoulish specters on screen in all their undead glory. While some iterations work better than others, it was unusual to see a haunted house movie so confidently physicalize its supernatural presence. Better still, the central Lambert family is considerably unlike the plagued families that came before them. At every available turn, they make the right call to protect their family, most notably when they swiftly move after the supernatural presence makes itself known. With a franchise of its own, "Insidious" is fun, scary, and devilishly playful.
Sinister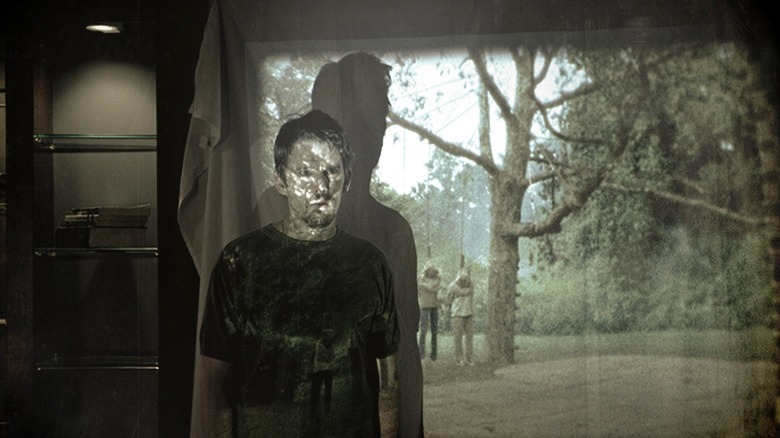 Lionsgate
"Sinister" isn't exactly the smartest movie, but in terms of sheer terror, it's one of the century's best. Ethan Hawke stars as Ellison Oswalt, a true-crime writer who incredulously, deeply irresponsibly moves his family to the site of a grisly homicide (unbeknownst to them, I should add) as he writes his latest book on the massacre. Once there and settled in one of the grimmest, darkest suburban horror houses to date, Ellison uncovers a mysterious creature known as Bughuul, linked not only to the crime he's investigating, but to several other unsolved murders stretching back decades.
A horror-tinged 8mm, Ellison reviews hidden Super 8 snuff films he finds in the house and endeavors to piece together the disparate homicides, an investigation that puts his family at risk from the supernatural forces responsible. Horror fans will have to stomach a lot of ridiculous behavior, including oblivious spouses and Ellison's increasingly erratic behavior. There are no fewer than three points where even the most steadfast person would have fled the home, yet Ellison remains nonplussed, refusing to so much as acknowledge the terrifying occurrences to anyone, even after his children are targeted. It's baffling, but it's inimitably terrifying, and that's worth a lot more than it might seem.
Hell House LLC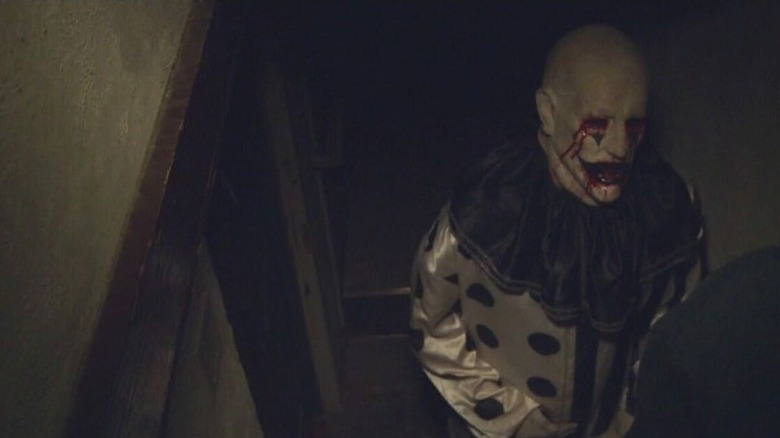 Terror Films
Found footage is the horror subgenre that will never die. For every movie like "The Devil Inside" that seemingly signals the end of found footage horror, another movie like "Hell House LLC" comes along to remind audiences just how much terrifying verve is left in horror's most accessible subgenre. Shot in documentary style, a group of haunted house creators prepare "Hell House," their newest property, for its inaugural opening. Set at the Abaddon Hotel, an ostensibly haunted property, the crew prepares for opening night as supernatural occurrences mount, leading to several deaths and disappearances, as revealed by the opening title card.
Director Stephen Cognetti makes adept use of found footage's best conceits, including limited fields of vision, obscured horrors, and frenetic camerawork. Its best scares are its simplest, including clown dolls in the basement or the sight of something in the background while an operator records a video diary. It's terrifying in its simplicity; so much so, "Hell House LLC" generated not just one, but two different sequels. While both are arguably cases of diminishing returns, it's a testament to how easily an assured hand and capable crew can make magic with familiar material. Not for nothing, but it's precisely what James Wan accomplished with "The Conjuring."
The Entity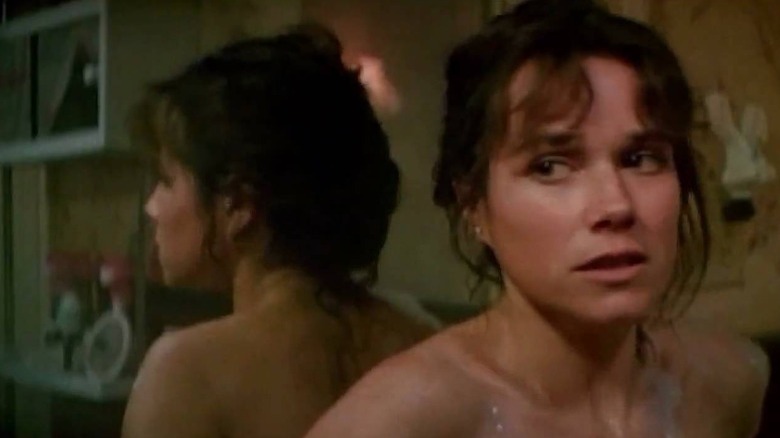 20th Century Fox
Barbara Hershey is an underappreciated horror star with a filmography replete with horror appearances, including "Black Swan," "Insidious," and 2021's "The Manor." She got an early start in Sidney J. Furie's 1982 haunter "The Entity," however, a ghost story quite unlike anything audiences had seen before or arguably since. Based on the true story of Doris Bither, Hershey stars as Carla Moran, a single mother living in Los Angeles who is repeatedly and violently sexually assaulted by an invisible entity. An infuriating and terrifying foray into gaslighting and toxic masculinity, none of the men in her sphere believe her, and Carla is left on her own to combat an increasingly violent poltergeist.
Luckily, Carla is able to enlist the aid of some renowned parapsychologists (the kind that only exists in movies) who have no qualms believing her, easily dismissing the erroneous claims that Carla's attacks are self-induced manifestations of her past sexual trauma. With bonafide scares, an unexpected sense of maturity, and genuine respect for the true story upon which it is based, "The Entity" more than earns its spot alongside "The Conjuring" as one of the preeminent, real-life based ghost stories.
If you or anyone you know has been a victim of sexual assault, help is available. Visit the Rape, Abuse & Incest National Network website or contact RAINN's National Helpline at 1-800-656-HOPE (4673).
Lights Out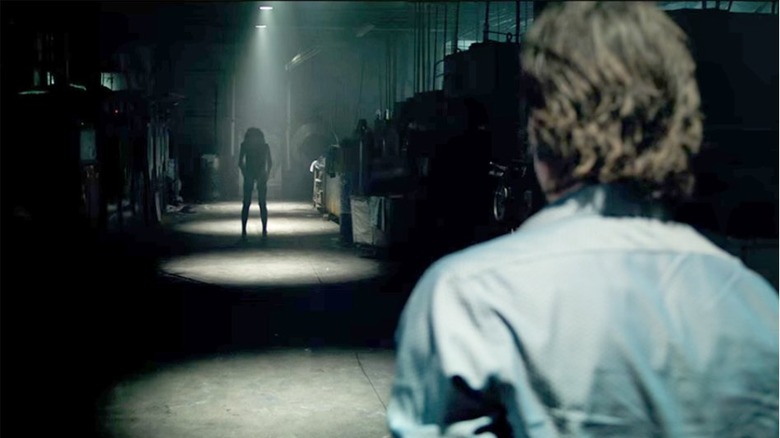 Warner Bros.
Shortly after its release in 2016, a sequel for David F. Sandberg's "Lights Out" was announced. As of this writing, there have been no subsequent updates. It's a shame since "Lights Out" was one of the last decade's most ingenious horror exercises. Trading in the perennial fear of the dark, Sandberg's feature-length adaptation of his own short follows a supernatural entity named "Diana," a ghost connected to Rebecca's (Teresa Palmer) family, hellbent on killing them all. Notably, however, Diana is enormously sensitive to light, and thus must stick to shadows and darkness to trap her prey.
Sandberg clearly had a blast playing with the boundaries between light and dark, having Diana pop up under beds or just out of frame, where the light doesn't reach. Better still, as the core protagonists endeavor to outwit her, they're left to rely on cell phones, headlights, flames, and even neon signs to keep Diana at bay. While its ending is woefully misguided, what precedes it is as fun and terrifying as a PG-13 horror movie has been in quite some time. No wonder James Wan of "The Conjuring" chose to serve as a producer.
The Haunting (1999)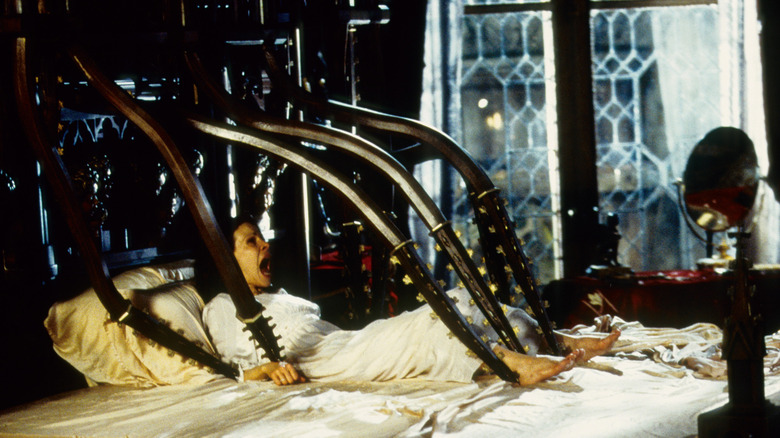 DreamWorks Distribution
This is likely the only time readers will see Jan de Bont's 1999 remake of "The Haunting" in place of Robert Wise's far superior 1963 original. Yes, Wise's adaptation of Shirley Jackson's "The Haunting of Hill House" is the definitive movie adaptation of Jackson's gothic horror classic, but in terms of spiritual DNA shared with "The Conjuring," it's actually de Bont's big-budget interpretation that wins out.
When de Bont's $80 million haunted house blockbuster debuted in the summer of 1999, it was lambasted by critics. Dazzling special effects weren't enough to compensate for what many considered a loud, over-the-top, misguided approach to a classic horror story. Yet, in retrospect (likely on account of repeated HBO airings that persist today), "The Haunting" isn't nearly as bad as critics made it out to be at the time of release. 
Catherine Zeta-Jones is an early example of positive queer representation in mainstream horror, and both Liam Neeson and Lili Taylor ease into their unconventional roles with aplomb. The basic structure remains — strangers visit a haunted house for an experiment and discover it's truly haunted — but de Bont is almost giddy to inundate the audience with digital mayhem. Not all of it works, though it's a refreshing approach to tactile horror. With all the ghosts and baddies explicitly seen on screen, it's arguable that James Wan borrowed a thing or two from its approach to haunted house tales.
The Changeling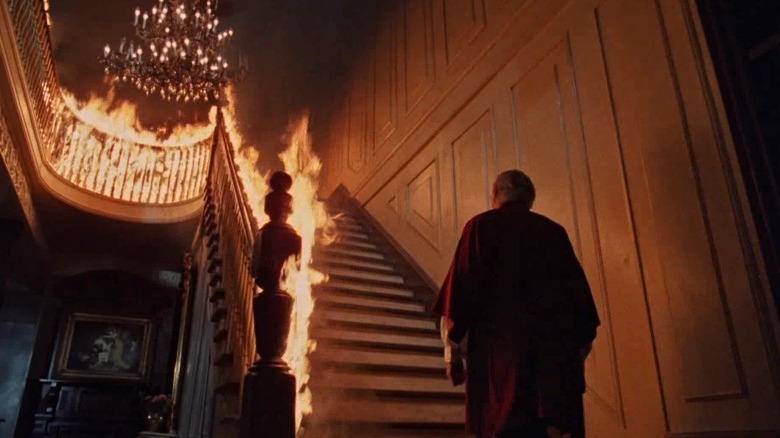 Associated Film Distribution
"The Changeling" is one of the greatest horror movies of all time, sitting alongside "The Conjuring" as classic horror movies whose titles start with articles. Peter Medak's gothic haunter is anchored by a stellar performance from George C. Scott, steadily escalating tension, and serious scares when everything comes together and climaxes in the third act. It's a considerably slower burn than "The Conjuring," though some of the latter's best beats are clear riffs on Medak's distinctly contemporary approach to haunted houses.
Scott stars as John Russell, a composer relocating from New York City to Seattle after his wife and daughter are killed in an auto accident. He rents a vacant mansion, though soon finds himself plagued by a supernatural phenomenon. Like the Warrens of "The Conjuring," John opts not to flee, instead choosing to investigate the spirits in his rental to hopefully put them to rest. It's a committed endeavor, and Scott wonderfully balances the terror and determination John feels, especially considering his character's own connection to death and grief. For as humanistic as the approach is, however, Medak is still more than willing to leverage some serious scares, including a wheelchair scene that ranks among the best of the best.
The Innocents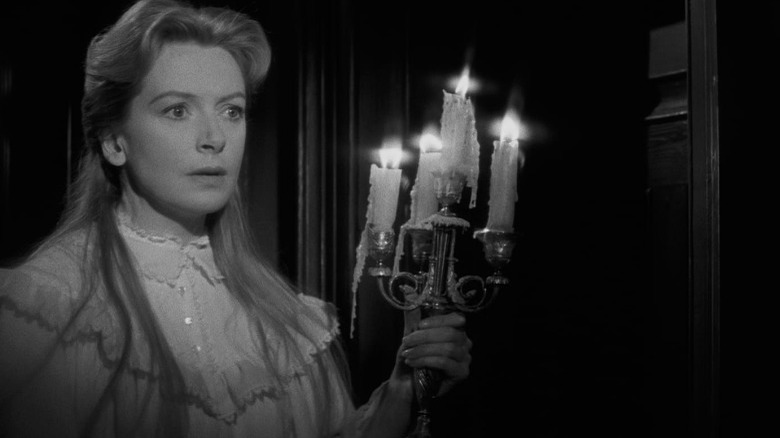 20th Century Fox
"The Innocents" is by far the best adaptation of Henry James' 1898 novella "The Turn of the Screw" to have been produced. While Mike Flanagan's "The Haunting of Bly Manor" series comes pretty close, it's director Jack Clayton's work with star Deborah Kerr that does James' source material true justice. Every star was aligned for the production, including screenplay work from Truman Capote and William Archibald, Clayton's assured direction, and Kerr turning in a groundbreaking performance as the haunted governess at its center.
For those unfamiliar, "The Innocents" follows Kerr's governess to her new role at Bly, a rural estate where a previous governess died unexpectedly. Kerr is tasked to care for Flora (Pamela Franklin) and, unexpectedly, Miles (Martin Stephens) after he unceremoniously returns from boarding school. In her care, Kerr's governess, Miss Giddens, suspects the children have been communicating with both the deceased governess and deceased driver, Peter Quint (Peter Wyngarde), whose spirits remain on the property. A bonafide psychological chiller, the terror is more suggestive than abrasive, though it's thoroughly, enduringly haunting. Open to interpretation, the one thing that's certain is "The Innocents" remains one of the scariest ghost stories ever made.
Ghost Stories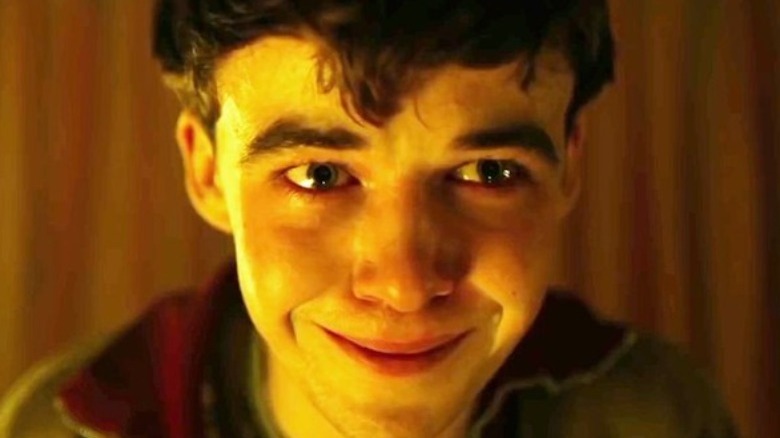 IFC Midnight
"Ghost Stories" is one of the best horror anthologies released in recent years, going head-to-head with "Southbound" as one of last decade's most subversive and consistently frightening iterations of an old horror trend. More so than any other genre, horror is replete with examples of bundled tales, from classics like "Dead of Night" to unsung gems like "Asylum." Writer-directors Jeremy Dyson and Andy Nyman tried their hand at it in 2017 when they adapted their stage play of the same name.
Nyman, reprising his role, plays Philip Goodman in the movie's wraparound segment. Philip is a famous skeptic, one committed to exposing frauds and con artists alleging to be psychic. At the start of the film, he is tasked with hearing three distinct ghost stories and endeavoring to debunk them. Of course, the wraparound is more than just context — it soon reveals itself to play a pivotal role in the stories being told — and better still, the three tales of terror are exceptionally terrifying. Special credit must go to the Simon Rifkind (Alex Lawther) segment tracking a teenager who encounters a strange creature in the woods. Fans of classic horror anthologies are unlikely to find better ghost stories than these.
The Night House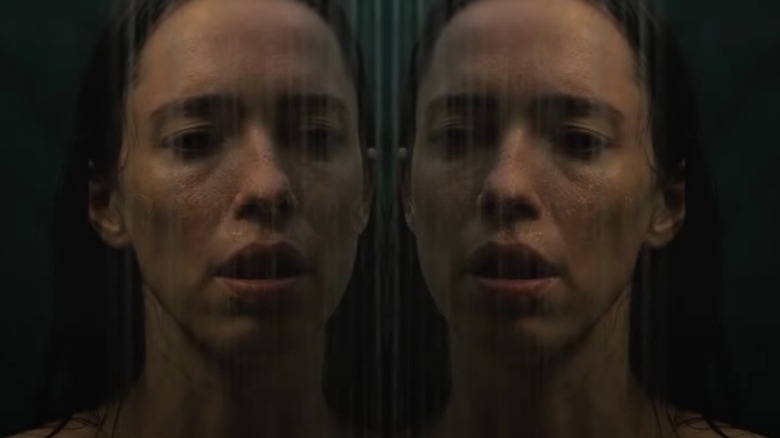 Searchlight Pictures
"The Night House" does not want audiences to feel comfortable. If anything, it wants audiences to hurt, which is fitting given its director will be helming the new "Hellraiser" entry. Directed by David Bruckner and written by both Ben Collins and Luke Piotrowski, "The Night House" stars a sensational Rebecca Hall as Beth, a woman whose husband (Evan Jonigkeit) recently died by suicide. In the aftermath of his death, Beth suspects his presence lingers in their home, though the more she investigates, the more she suspects that what's there isn't her husband.
Steeped in metaphysics and grief, "The Night House" goes to considerably stranger places than mainstream horror fans might expect. It also hits harder than most mainstream fare, burrowing deep into the recesses of death, regret, and suicide in ways that linger more than any frightening visage or jump scare could (though have no fear, "The Night House" has plenty of those, too). It's a bonafide adult horror outing, one that augments the brand of scares in "The Conjuring" with a deeply felt emotional arc.
If you or anyone you know is having suicidal thoughts, please call the National Suicide Prevention Lifeline​ at​ 1-800-273-TALK (8255)​.
The Sentinel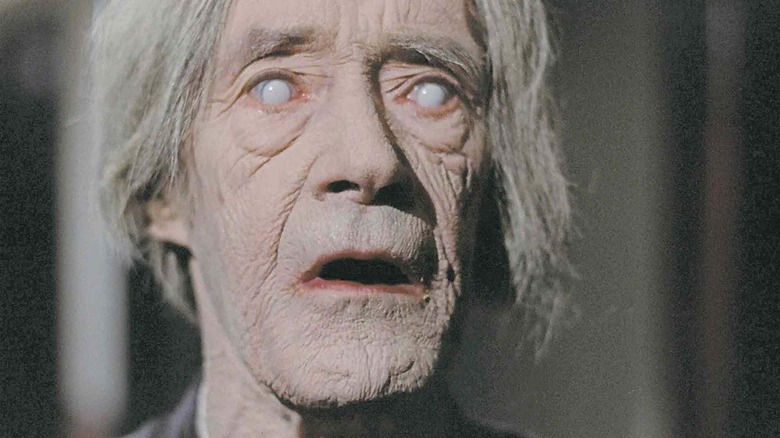 Universal Pictures
"The Sentinel" is strange, y'all. That isn't a bad thing; if anything, it's a very, very good thing, though audiences expecting a conventional, straightforward narrative in director Michael Winner's 1977 haunted brownstone tale might walk away sorely disappointed. What it lacks in cohesion or narrative grounding, however, it more than makes up for in atmosphere and bold, brazen supernatural swings.
Cristina Raines stars as Alison Parker alongside Chris Sarandon, Martin Balsam, Ava Gardner, and an early Jeff Goldblum. A fashion model with a history of mental illness and suicide attempts moves into a historic New York brownstone that has since been divided into several smaller apartments. Fans of Jeffrey Konvitz's source novel know what happens next. 
Unfortunately, this brownstone is owned by the Catholic Diocese and just so happens to guard the gateway to hell. Picture "As Above, So Below" supplanted from the Paris Catacombs to Brooklyn. It's all kind of hooey, with the cast luckily aware of just how silly some developments are. Still, it's an early progenitor for the likes of "The Conjuring," especially the early half as Alison is assailed by tangible spirits, unaware of where they're originating from. It isn't the scariest movie listed here, but it more than makes up for that by steadfastly wielding a spirit all its own.
If you or anyone you know is having suicidal thoughts, please call the National Suicide Prevention Lifeline​ at​ 1-800-273-TALK (8255)​.
The Innkeepers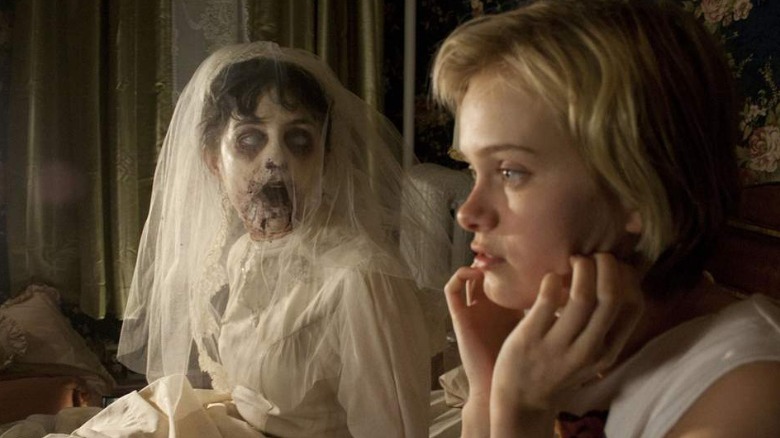 Magnet Releasing
"The Innkeepers" is like "The Conjuring" on a low budget. Produced for a relatively meager $750,000, Ti West's homage to classic ghost stories certainly doesn't look or feel the part of a horror cheapie. Though indebted to the haunted house movies of the past, it respects its inspirations while carving a terrifying, new path all its own. Much like West did with "X" and "The House of the Devil," he adroitly identified why the horror classics of years past deserve the reverence they currently have. Trading in classic scares through a contemporary lens, "The Innkeepers," like "The Conjuring," feels like the best of both worlds.
Sara Paxton and Pat Healy star as Claire and Luke, respectively, two young employees of the Yankee Pedlar Inn on the eve of its closure. With few guests and nothing to do during their protracted, 12-hour shifts, they decide to relaunch their investigation into the legend of Madeline O'Malley before the Inn closes for good. O'Malley, they alleged, died by suicide in the hotel after being jilted by her lover, and her spirit has remained there ever since. 
With an EVP recording device that would make Ed and Lorraine Warren blush, Claire and Luke set about investigating the various nooks and crannies of the Yankee Pedlar, desperate to confirm that Madeline truly does exist. With suggestive scares, heaps of atmosphere, and a fantastic Sara Paxton at its center, "The Innkeepers" could easily pass as an entry in "The Conjuring" franchise on its own.
If you or anyone you know is having suicidal thoughts, please call the National Suicide Prevention Lifeline​ at​ 1-800-273-TALK (8255)​.
13 Ghosts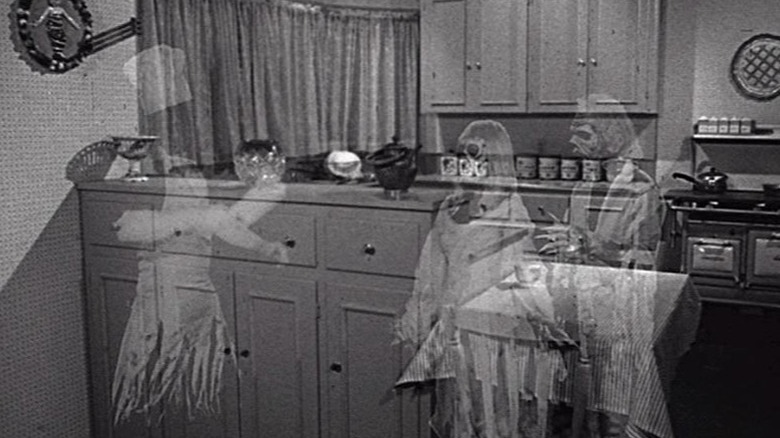 Columbia Pictures
Where the remake of "The Haunting" bears more in common with "The Conjuring" than its forebear, William Castle's original "13 Ghosts" conversely serves as a better parallel than Steve Beck's uber-violent, distinctly early-aughts remake (there's a lot of cyberpunk techno-wizardry at play there). While both are good in their own way, Castle's original might as well pass for the 1960 entry of "Annabelle Comes Home," a "The Conjuring" spin-off that sees all the demons and specters captured by the Warrens unleashed for a night of mayhem, a sort of horrifying riff on "Night at the Museum"
Dr. Plato Zorba is a renowned occultist who leaves his nephew Cyrus (Donald Woods) and his family a large rural estate, one that just so happens to house the 12 ghosts Zorba has spent years collecting as if they were ceramic Pyrex bowls or Pokémon cards. The family is incredulous at first, though upon arriving at the house, quickly discover Zorba wasn't fooling. There are ghosts in the house, and complicating matters, also rumors of a large fortune hidden away somewhere. 
With a suite of frighting ghosts, including floating heads, Zorba himself, and a wailing lady, "13 Ghosts" has a great deal of fun unleashing one devilish surprise after another. The current trajectory of "The Conjuring" universe can no doubt be traced in some part to Castle's work here.
The Legend of Hell House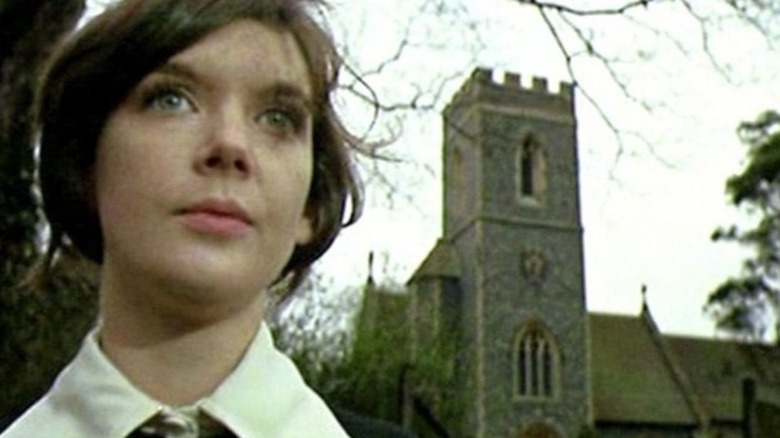 20th Century Fox
The Warrens might be able to manage Amityville or the Enfield Poltergeist, though they'd have a difficult time enduring John Hough's "The Legend of Hell House," the feature adaptation of Richard Matheson's novel of the same name. In both the book and movie, a group of paranormal researchers spend a week in the home of a sadistic billionaire, suspected of a violent massacre before inexplicably disappearing.
The cast includes the likes of Pamela Franklin and Roddy McDowall as the poor saps tasked with investigating the house's supposed supernatural spectacle. Like every other movie on this list, skeptics become believers as they discover the house truly is haunted. Distinct insofar as it's fairly vicious, a Giallo by way of haunted houses, "The Legend of Hell House" is a frightening lark of psychics and clairvoyants finding themselves in trouble as recognition shows their unique abilities aren't enough to combat a lineage of violent, homicidal spirits.
Satan's Slaves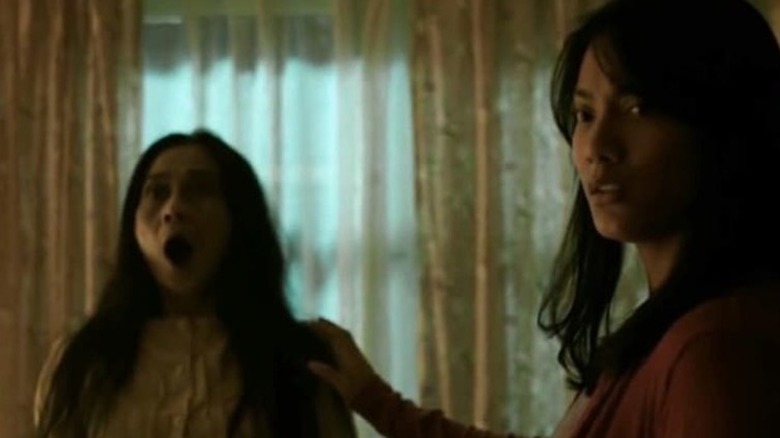 CJ E&M International Sales
Joko Anwar's "Satan's Slaves" is sensational, and destined to be the last decade's most underappreciated horror outing. "The Conjuring" is an unsurprising point of context for the current era of horror. Few critics or fans would deny that James Wan's work there will likely emerge as the decade's "Halloween" or "Poltergeist," the movie that inspired and influenced all others. While most are pale imitations, borrowing Wan's sleight of hand or heavily-made-up baddies without the heart or craftsmanship, a few manage to not only draw from what made "The Conjuring" so successful, but successfully create something new altogether.
Anwar's remake of the 1980 Indonesian horror film of the same name is arguably the most successful "Conjuring" riff there's been. After family matriarch Mawarni (Ayu Laksmi) dies, the eldest daughter, Rini (Tara Basro) begins to suspect their mother's spirit has returned to their home, desperate to convey an urgent message no one is capable of understanding. Replete with sensational jump scares, suffocating tension, fantastic effects, and an eye for danger that most mainstream Hollywood haunted houses avoid, "Satan's Slaves" is what "The Conjuring: The Devil Made Me Do It" wishes it was.
Hereditary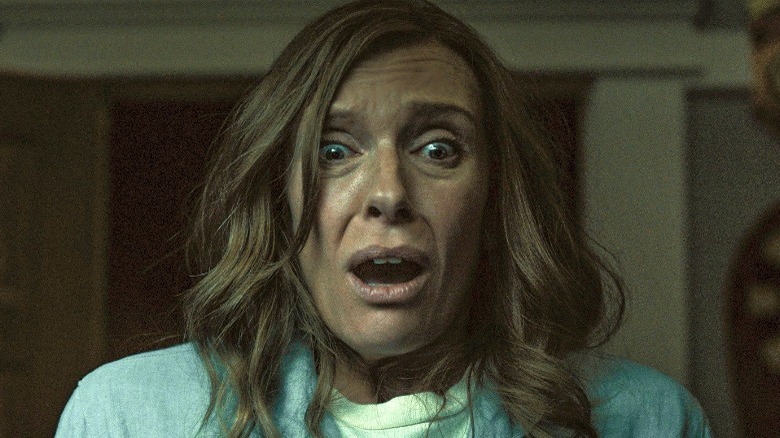 A24
Though it might seem strange to say for audiences familiar with Ari Aster's "Hereditary," it's arguably A24's most accessible horror movie. Granted, the D+ CinemaScore doesn't inspire a great deal of confidence, but as A24's most successful distribution ever, there was clearly something that resonated with audiences more than their other genre outings. Chief among them is Aster's use of very distinct, "Conjuring"-like scares. While Aster never goes full James Wan homage, the structure, pacing, and deployment of his most successful jolts are arguably modeled from Wan's own template.
Steeped in the zeitgeist of "elevated horror," A24 horror movies rarely, if ever, resemble anything their mainstream peers are doing. Aster, however — in telling what amounts to a simple haunted house movie — finds the perfect balance between art house mood and audience expectations. Troubling, traumatic, yet also accessibly scary, "Hereditary" is guaranteed to appeal to fans of "The Conjuring" wishing the latter was just a little bit darker (or, let's be honest, considerably darker).