A 'Lights Out' Sequel Is Already In The Works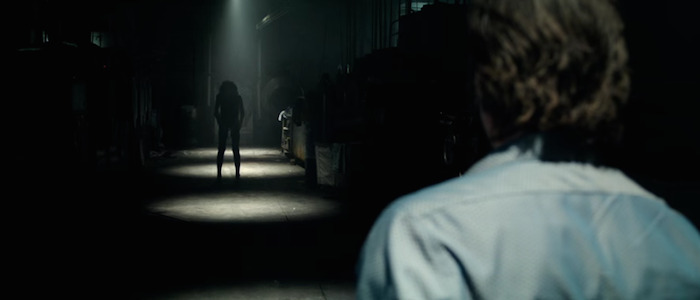 Say what you want about the Saw series (and you can saw many things about the Saw series), but I always appreciated how they kept the horror movie sequel tradition alive. If a horror movie can't be allowed to exist solely on its own, if it must have a sequel, then it needs to to have five sequels. Ten sequels. There needs to be enough sequels to create continuous chatter and constant rankings. When a horror series is allowed to sprawl, to get bad, to get good again, to explore bizarre avenues, it becomes a true object of curiosity, something to get invested in, even if that investment can be an abusive relationship.
So I greet the news of a Lights Out sequel with open arms. Bring it on. And bring on six more. Why the hell not?
The news comes to us via The Hollywood Reporter, who say that Lights Out director David F. Sandberg would return to helm the follow-up, with James Wan and Lawrence Grey once again acting as producers. Screenwriter Eric Heisserer is currently in talks to pen the sequel. Right now, everyone is "mulling concepts," which is a nice way of saying that they have no idea what they want to do with the sequel yet because they just sat down to talk about it Jesus Christ give us a five minutes, okay?
Lights Out cost only $5 million to produce and opened to $21.6 million this past weekend. It may not have topped the box office, but it's one of the few major releases this summer that feels like an instant and unqualified financial success right out of the gate. The film could stop making money tomorrow and it would still be a sizable hit. Like The Purge: Election Year, Lights Out is a example of what happens when a great genre hook, a small financial investment, and strong marketing collide.
The first film, which stars Teresa Palmer, Maria Bello, Gabriel Bateman and Alexander DiPersia, follows a family who is haunted by a supernatural entity that only manifests itself in darkness. This means a lot of flickering lights and a lot of jump scares and so on. The film is actually based on an incredibly brief but very effective short film directed by Sandberg and I highly recommend watching it alone in a dark room.
We'll probably learn more about Lights Out 2 soon enough...and don't be surprised to see it get arrive as early as next year.
Update: This post has been corrected to reflect that Peter Safran is not producing the Lights Out sequel.