Hero Has More In Common With Kill Bill Than Just Martial Arts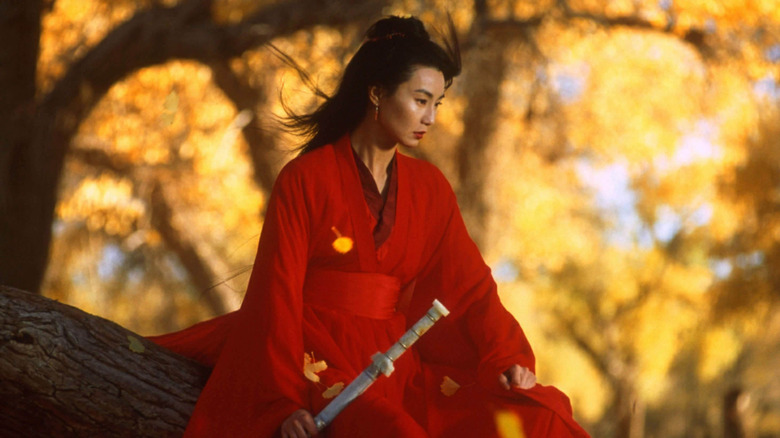 Miramax
Despite being released nearly 20 years ago "Hero" (Ying xiong) remains as visually stunning and soul-stirring as it did when it was first released. It's hard to believe there was a time when the film was out of reach for U.S. audiences, owed to Miramax's decision to keep it on the shelf two long years after its initial Chinese premiere.
Oddly enough, lovers of the film's vibrantly colored scenes and breathtaking action sequences have Quentin Tarantino to thank for not having to buy or view "Hero" through a bootlegged DVD. Turns out it was Tarantino who pushed Miramax to give director Zhang Yimou's wuxia film a much desired American release. At the time, the "Pulp Fiction" director had just wrapped filming on his own martial arts story about revenge with "Kill Bill" and was understandably smitten by the Zhang's story. Especially in the much hyped rematch between Jet Li and Donnie Yen as the unnamed Narrator and the assassin Sky. But that's far from where the entanglement ends for these two films.
Tarantino thinks of Hero and Kill Bill as sister productions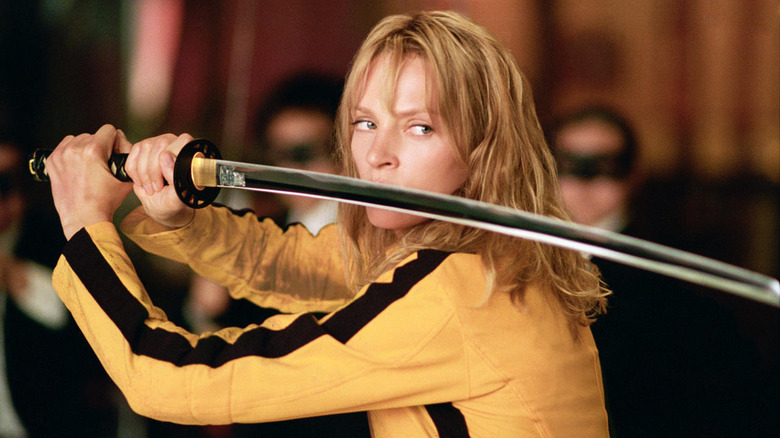 Miramax
"Kill Bill," which was released in 2003 during Miramax's shelving of "Hero," filmed scenes in China. Obviously so was Zhang's film as evidenced by its gorgeous shots of the country's landscape such as the lake fight scene, shot in Jiuzhaigou national park, and the awe-inspiring desert vistas filmed near the Kazakhastan border. In behind-the-scenes footage for "Kill Bill," Tarantino revealed that because of the timing there was overlap in the filming of both "Hero" and "Kill Bill." This led to quite the behind-the-scenes crossover between the cinematic and martial arts realms of Zhang's and Tarantino's films.
"I'd heard about it for a long, long time. And when we moved to China to do Kill Bill, they were actually just finishing it up. And, about a good quarter of the crew of Kill Bill worked on Hero. We almost felt like we were part of the Hero 'thing'. And Zhang Yimou came down to the set of Kill Bill, and it was almost like a sister production."
It was probably a boost to morale on set and for Tarantino as a lover of martial arts cinema to get such a stamp of approval as a visit from Zhang. Whatever logistical reasons there were for the two films to share crew members the coincidental link between the two points to their similarities. For one, both films feature nameless protagonists (though eventually Thurman's The Bride is given back her name) intent on using their martial arts talents to exact revenge on each film's respective supposed antagonists. One wonders if Uma Thurman got any martial arts pointers from anyone involved with "Hero."
With Tarantino considering giving his only sequel a trilogy in "Kill Bill 3" and a return to his martial arts infatuation I solemnly hope he returns to shooting on location in China and maybe even taps a few of the incredible actors in "Hero" for roles. Now would be the ideal time, especially given that Tony Chiu-Wai Leung, who played assassin Broken Sword, just got his MCU debut as Xu Wenwu in "Shang-Chi and the Legend of the Ten Rings" and Yen, a legend in his own right for the "IP Man" series, not long ago appeared in "Rogue One: A Star Wars Story."