5 Tony Leung Movies To Stream After Shang-Chi And The Legend Of The Ten Rings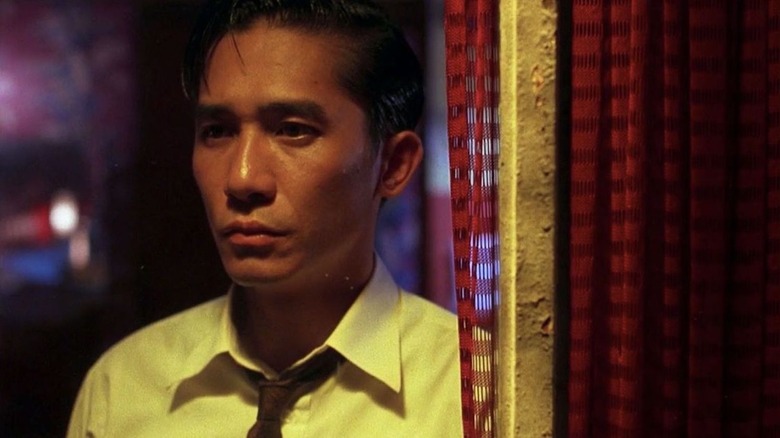 Block 2 Pictures
"Shang-Chi and the Legend of the Ten Rings," is a colossal achievement for Marvel Studios, not least because it's the movie that finally brought Tony Leung to Hollywood. Not that he needed Western audiences to become embraced as one of the greatest actors of our time. A Hong Kong cinema legend and longtime heartthrob, Leung gave depth to a problematic villain and arguably ran away with the entire movie. But if "Shang-Chi and the Legend of the Ten Rings" has you hungering (or thirsting) for more Leung — as you should — here are some of his movies that you can stream right now.
In the Mood for Love – HBO Max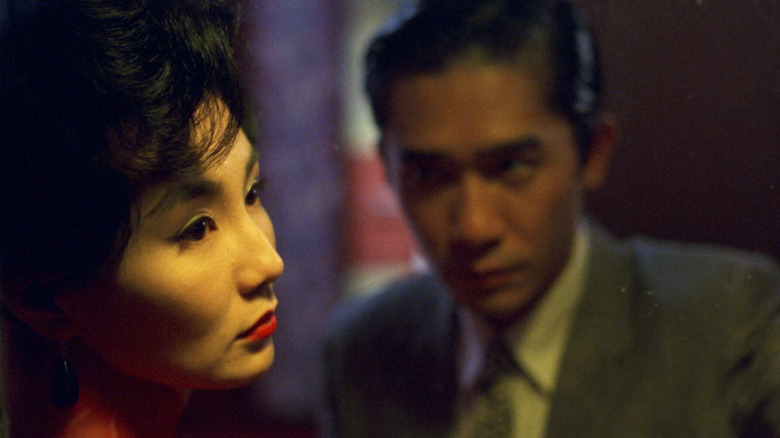 Block 2 Pictures
Leung's most beloved collaboration with his longtime director Wong Kar-wai, the 2000 romantic masterpiece is a sensuous display of restraint, and a visual flex from a master of his craft. The use of color so striking. The smallest gestures so delicate. Set in 1962 Hong Kong, "In the Mood for Love" follows the relationship of a married woman and a married man who move in next door to each other and slowly realize that their spouses are having affairs with each other. Rather than confront their significant others, they try to come to terms with the infidelity by re-enacting how they think the affair began, the film slowly drifting in and out of their play-acted imagination and their actual growing bond. Watching "In the Mood for Love" is like having a handsome man croon to you in the world's tiniest café. (That handsome man being Tony Leung.) Leung's Mr. Chow and Maggie Cheung's Mrs. Li-zhen are two inhumanly beautiful people whose sexual chemistry is palpable, and yet they never allow themselves to act on their urges. Thus, the entire melancholic film is a series of yearning glances and missed connections, all enveloped in Wong's warm, sumptuous visuals.
Chungking Express – Criterion Channel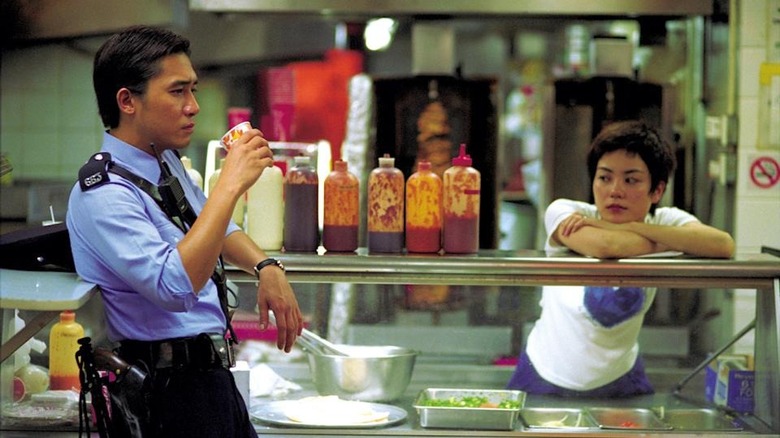 Ocean Shores Video
Wong Kar-wai's breakthrough 1994 film is his wildest and most "Gen-X" of his catalogue. Full of electricity, color, and repeats of the song "California Dreamin'" by The Mamas & the Papas, "Chungking Express" finds both the excitement and ennui of being young and in love in your twenties. The film follows two separate love stories unfold amid the bustling noise of Hong Kong. At night, a cop (Takeshi Kaneshiro) mourns his break-up with a woman named May when he runs into a beautiful blonde woman (Brigitte Lin) who happens to be a drug smuggler. During the day, Tony Leung is a police officer also nursing his wounds over a break-up with his flight attendant girlfriend (Valerie Chow) when a manic pixie snack bar worker (Faye Wong) gains an obsession with him. Leung gets only gets a quarter of the screentime and barely gets a name (he's officially called Cop 663), but he's easily the standout character thanks to the sweet and tender relationship he strikes up with Wong's Faye and that lovely final scene that captures exactly why Leung is such a star.
2046 – Tubi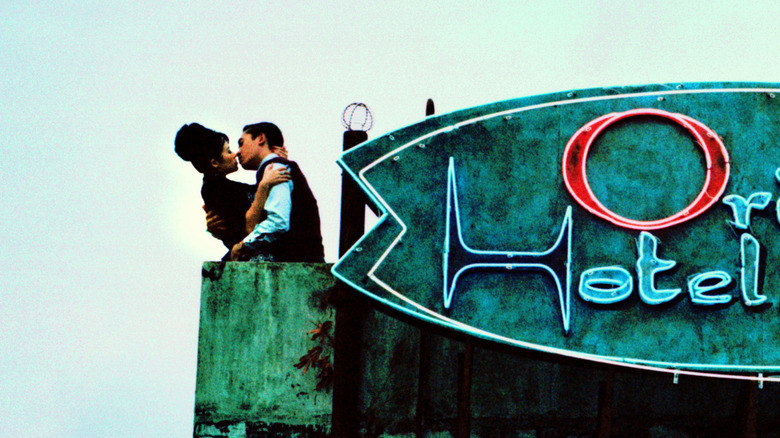 Mei Ah Entertainment
The loose "sequel" to "In the Mood for Love," Tony Leung reprises his role as Chow Mo-wan, the journalist and writer who struck up the unrequited relationship with Maggie Cheung's Su Li-zhen. Except this time, it's a sci-fi film that follows the character through vaguely connected vignettes as he meets various women and tries to get over the love of his life. Arguably even more of a mood piece than, well "In the Mood for Love," "2046" bucks any traditional storytelling form and movies spontaneously through time and space. The only connecting thread? Love, and the intense, melancholy gaze of Tony Leung.
Hero – Amazon Prime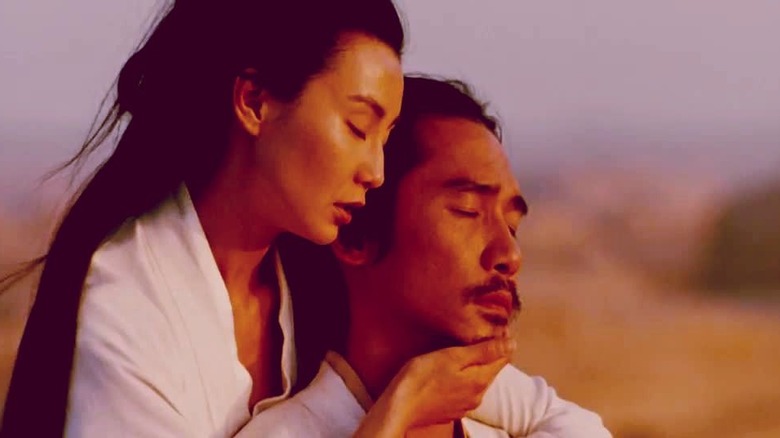 Beijing New Picture Film
Very loosely based on the real-life assassination attempt on the King of Qin in 227 BC, "Hero" is a sensory masterpiece and one of the most beautiful movies of all time. The balletic wuxia sequences alone defy belief (and gravity), and the entire story is a classic case of an unreliable narrator. Directed by Zhang Yimou, the movie opens upon Jet Li's nameless assassin requesting an audience with the King, who has locked himself in isolation from visitors following an attempt on his life by the assassins Sky (Donnie Yen), Flying Snow (Maggie Cheung), and Broken Sword (Tony Leung). But Nameless wins an audience when he claims he has killed the legendary assassins, earning a spot 10 feet closer with every story that he recounts of their deaths. Each telling of the story is given a striking color palette — black, white, red, green, blue — and a slight twist on the version of the deaths that we have come to know. Leung is only a supporting player in this, but he is reunited with Cheung and playing a tragic romantic character once again. What more could you want?
The Grandmaster – Netflix, Tubi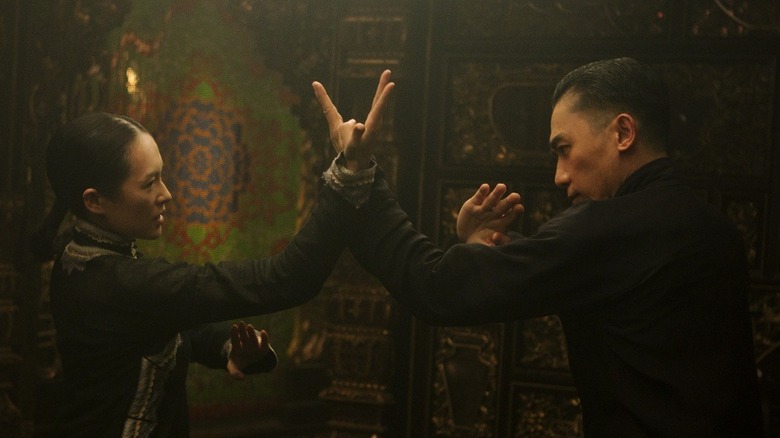 Lark Films Distribution
"The Grandmaster" is an epic romance meets revenge flick with some small biographical moments sprinkled in between. Thanks to the martial arts action series starring Donnie Yen as the Wing Chun master, Ip Man has become something of a national icon crossed with a superhero. But "The Grandmaster" isn't that interested in Ip Man (a stoic, smoldering Tony Leung) as it is Zhang Ziyi's Gong Er, a daughter of a grandmaster who seeks to regains her family's honor and crosses paths with Ip Man several times across the decades. The film's weird plot structure can be forgiven on account of Wong Kar-wai's magnificently staged fight scenes. Operatic, fantastical, and downright sensual, "The Grandmaster" is a martial arts movie as made by the director of such prestige films like "In the Mood for Love" and "Chungking Express." You've got to hand it to Wong for not sacrificing his arthouse aesthetic for even a second — plus it makes for some breathtaking sequences like an opening martial arts battle in the rain that is as transcendent as a scene in any of Wong's most acclaimed films.