Kicking Butt At Bullet Train Director David Leitch's New Hollywood Stunt Training Facility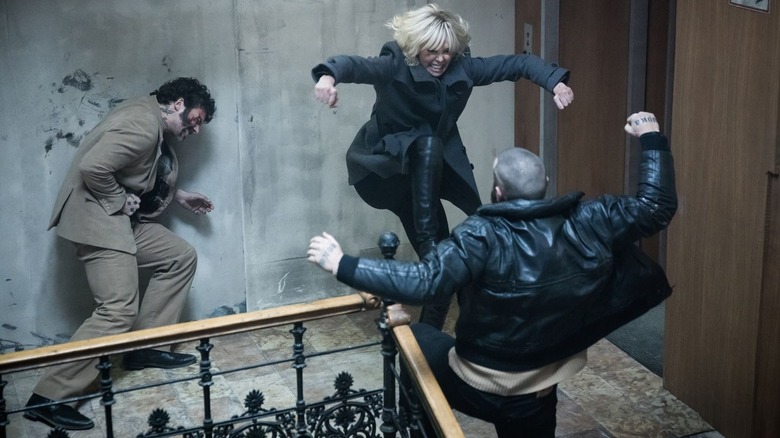 Focus Features
Last night I got a chance to attend the launch of David Leitch and his producing partner Kelly McCormick's ("John Wick," "Deadpool 2," "Atomic Blonde") new Hollywood stunt training/production facility, 87North. Though Leitch is a director and producer now, he started off as a stunt guy, doubling for people like Brad Pitt and Jean-Claude Van Damme. The new facility is in a converted church, and is set up for some pretty wild workouts. They put on an intense stunt show for the launch, which you can see below. They even showed off their 360 camera set up, which I had to try out. After my experience working out with Alexander Skarsgård's "The Northman" trainer, Magnus Lygdbäck, I figured I could hack it. Shame I couldn't stop grinning the entire time.
Kicking ass and taking names at the #87North stunt training facility launch! I'm terrifying, no? 🤣 @slashfilm @87northaction pic.twitter.com/TdTpGEi8l8

— Jenna Busch (@JennaBusch) April 22, 2022
I got a few moments to speak to Leitch about the facility. He said that the other location he has with Chad Stahelski (with whom he directed "John Wick"), called 87eleven, is more about stunts and less about production. He explained the need for the new one:
"When I started my production company for our films at 87North, we wanted our own space and our own facility on this side of town. It's a little different approach. It's not just stunt-focused. We're also producing our film and television projects out of here with our creative staff. And it's all really been supported by our deal at Universal."
He also said that this studio was hard to find. He and his wife and creative partner McCormick searched for a place during Covid for quite a while, and finally found this converted church. It previously belonged to a video game company which decided, with their staff working remotely, that they didn't need the space anymore. It was a stroke of luck for Leitch and McCormick. "It's hard to find this type of place in the city," he said.
Not only was the space huge, but it has production offices on the second floor balcony and several rooms in the back. According to Leitch, "This space is pretty flexible. There's a lot of stuff we can do in here. Obviously fights, light stuff, gymnastics, wire work, we can put rigs in. We needed to find a place that had enough volume where you can actually do stunts."
Speaking of that Universal deal, one of the forthcoming projects linked to that deal is a stuntman film called "The Fall Guy," which stars Ryan Gosling. When asked if there was a stunt he's always wanted to do but hasn't been able to yet, Leitch teased that the stunt in question happens in that movie. But he wouldn't spill details about what it entails. For now, "it's a secret."
Everything you want is on the other side of fear
Leitch and McCormick have produced some great action-heavy films, with Leitch directing a number of them. Their team worked on the "John Wick" franchise, "Atomic Blonde" (which is getting a sequel), "Deadpool 2," "Fast & Furious: Hobbes & Shaw," "Nobody," "Bullet Train," and the upcoming "Violent Night," which we got a quick advance glimpse of. It wasn't much footage, but it did involve David Harbour in a Santa suit, which really should be enough for anyone. Several of his actor collaborators attended the opening, including Bob Odenkirk, Samara Weaving, and Sebastian Stan (pictured below with Leitch).
As far as what they can actually shoot at 87North, the filmmaker said they'll be shooting stunt visuals and pre-viz, and kept the possibility open of actually using it as a location in a movie or TV project. "I mean, it's got cinematic value, why not, right? We can film it here."
87North has quite a number of films coming out, including "Violent Night," "The Fall Guy," "Nobody 2," "Kung-Fu," "Friday Black," "Versus," and Sony's "Bullet Train," in which former Brad Pitt stunt double Leitch is actually directing Pitt this time around. That film also stars Joey King, Aaron Taylor-Johnson, Brian Tyree Henry, Zazie Beetz, Michael Shannon, Logan Lerman, Masi Oka, Andrew Koji, and Bad Bunny, and it will be released on July 29, 2022.
The space itself was really beautiful, with incredibly high ceilings, a workout facility with heavy bags and equipment on the side, a convertible workout floor in the center where we saw the show, and places to hang rigging. The sign in neon on the wall in the back says, "Everything you want is on the other side of fear." All of this made me want to go punch and kick some people. I do promise that I didn't do it on the way back to my car. I'm still sore from the "Northman" workout, so no one has to fear me for a while.