Better Call Saul's Season 6 Opening Was An Homage To Hollywood History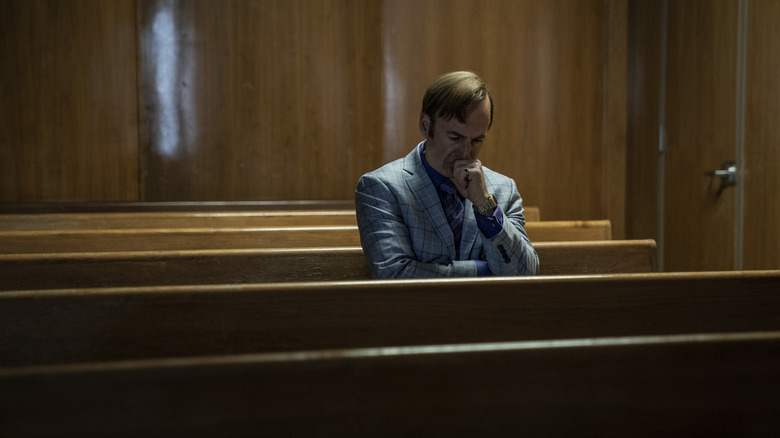 AMC
One of the greatest joys of watching a show like "Better Call Saul" comes from the creative team's deeply ingrained knowledge of television and film. This is readily apparent from aspects such as the overall structure of these tragic downfalls (both Walter White from "Breaking Bad" and Jimmy McGill/Saul Goodman come loaded with Shakespearean parallels), the visuals and aesthetics (especially the black-and-white season openers common in both shows, hearkening back to classic film noir), and even specific camera movements and shot selections, all of which combine to add deeper layers of meaning. Savvy viewers who are clued in enough to pick up on these details undoubtedly find the show to be an even more rewarding experience.
With this week's season 6 premiere of "Better Call Saul," even the most casual of audience members likely noted the stark change that greeted them in the opening moments. Rather than flashing forward to "Gene Takovic," who is secretly Jimmy in hiding after the explosive events documented at the end of "Breaking Bad" and whose story has been told in bite-sized prologues with each season premiere to this point, we instead find ourselves in the middle of Saul's infamous office building that featured regularly throughout "Breaking Bad." The mostly dialogue-free prologue shows Saul's monument to gaudiness (complete with a golden toilet!) systematically torn apart in his absence, culminating in his massive desk being loaded onto a moving truck ... though not before a certain inauspicious bottle stopper falls out.
As it turns out, even this scene owed much to Hollywood classics in decades past. Those who read Chris Evangelista's insightful recap of the two-part opener after watching the episodes were treated to this exact information earlier than most others, as he observed:
The whole clearout scene reminded me of the final moments of "Citizen Kane," as Charles Foster Kane's precious antiques were loaded up and hauled away from the Xanadu mansion.
None other than "Better Call Saul" co-creator Peter Gould agrees, as he told THR in a recent interview.
"It's a little bit 'Sunset Boulevard' and it's a little bit 'Citizen Kane.'"
Far from existing merely as an empty reference, however, this scene immediately set the stage for key questions regarding the ultimate fate of Jimmy McGill.
'We've always wondered what was Saul's life like outside the office'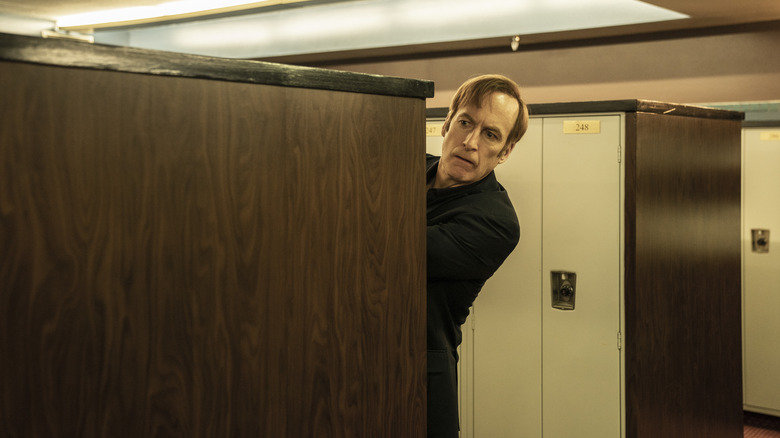 AMC
Originally conceived as a colorful supporting character to help fill out the criminal world of "Breaking Bad," Saul Goodman arrives on the scene in season 2 as a flashy, wildly unethical, and purposefully shallow caricature to help Bryan Cranston's Walter White and Jesse Pinkman (Aaron Paul) get themselves out of sticky situations. What the creators of "Better Call Saul" imagined, apparently, was whether there was much more going on beneath his surface all along. According to Gould,
"We've always wondered what was Saul's life like outside the office. At some points, we thought maybe he just took the Saul Goodman disguise off at the end of the day. He goes home and puts on a black turtleneck and cooks himself some organic food and sits down to a family dinner. Who knows?
I think what this teaser tells you is that this guy lives as Saul Goodman 24-7 and, in fact, the mask becomes the man. There's an old saying to be careful what you pretend to be, because you become it. Is that the fate of this guy? He's pretended to be a scum-wad and that's definitely what he becomes, but is there any hope for him?"
That's where the lingering focus on the Zafiro Añejo tequila stopper comes in. Whether it be Saul's ring, his travel mug, or any other item, "Better Call Saul" has made great use of symbolic objects to represent the roller coaster arcs of either Saul or his relationship with Kim Wexler (Rhea Seehorn). Gould goes on to answer his own question, saying:
"And ... maybe? That's the punchline or the end of the teaser. You see that Zafiro stopper, which was so important to Jimmy and Kim and was sort of an in-joke between them. So that tells you, or it at least tells me, that even when Saul Goodman was at his lowest and he's advising Walter White to kill people, he still has that Zafiro stopper, so there's still some soul left in there somewhere. Maybe. That's a big part of our story."
Sunset Boulevard, Citizen Kane, and Days of Wine and Roses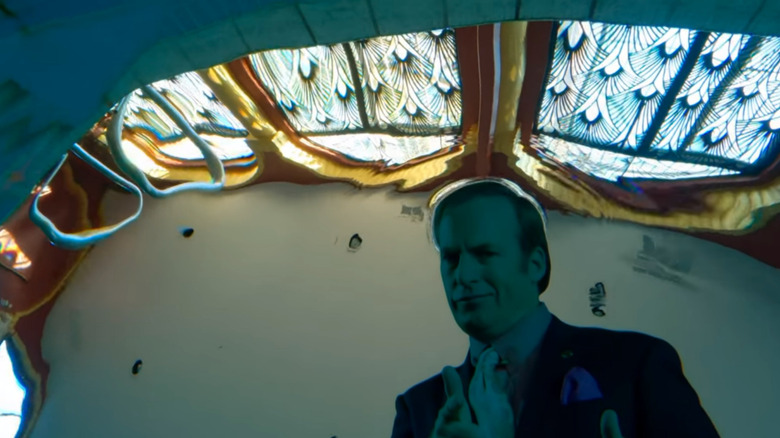 AMC
Many classic Hollywood movies of yesteryear tend to focus on nostalgia: for bygone success, for innocence, for good times gone by, and anything in between. The opening of "Better Call Saul" intentionally leans into this feeling of days gone by, chronicling the last days of the Saul Goodman "empire" that brought him such wealth, notoriety, and all the eager clientele that Slippin' Jimmy could ever have possibly dreamed of. In the same interview with THR, Gould namedrops the 1962 romance film "Days of Wine and Roses," which is evoked through the stirring Jackie Gleason Orchestra piece playing in the background of the scene. As he puts it,
"I had a feeling that we wanted to put in 'Days of Wine and Roses.' That's a film that we've talked about a lot in the writers room. It's a tragic love story and so that felt right. Thomas Golubic is our music supervisor, but I think I found that, actually, and I would play it on my way to work every day. It just felt right, that giant orchestra. That's the very beginning of easy listening music. I've been told that Jackie Gleason more or less invented easy listening music.

Maybe you might call it kitsch. I forget what the formulation is, but there is real emotion in kitsch.
Elsewhere, in an interview with Vulture, Gould and episode director Michael Morris mentioned the idea of nostalgia and their intention for each soft editing dissolve to feel of a piece with "Citizen Kane" and the famous Rosebud reveal. In reference to "Sunset Boulevard," Gould goes on to mention,
"The house we chose to be Saul Goodman's house in the future turned out to have a swimming pool. We ended up with the facedown Saul standee in the swimming pool, which I think reminds everybody of 'Sunset Boulevard.' We're all film nuts here. You can't throw a rock without hitting a reference to something in this show, for better or for worse."
Most "Better Call Saul" fans would certainly agree that such deep pulls and intentional riffs on Hollywood classics easily make the show worthwhile ... even as the trajectories of Jimmy, Kim, Mike Ehrmantraut (Jonathan Banks), Nacho Varga (Michael Mando), and the rest inevitably take a darker turn.