The Bottle Stopper In Better Call Saul Explained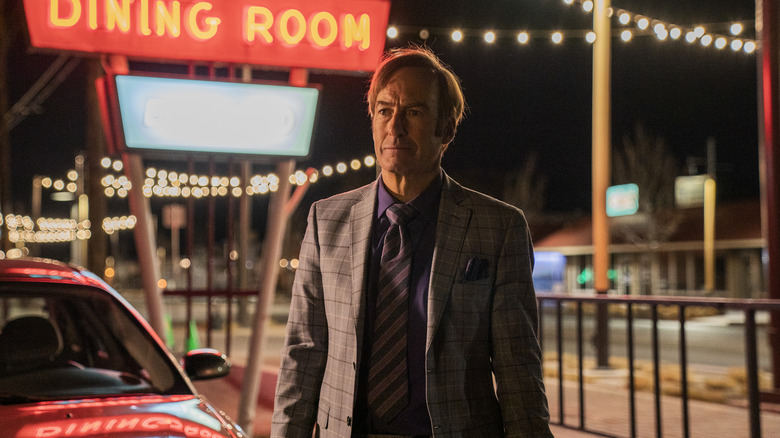 AMC
One of the best shows on television, "Better Call Saul," is finally back and it feels so good. Well, it feels good to feel bad, at least. Having spun off from the successful parent series "Breaking Bad," the Albuquerque, New Mexico-set prequel derives much of its tension, storytelling prowess, and character development from the knowledge that, eventually, our lovable main characters are destined to break bad in heartbreaking ways. This remains tragically true of Jimmy McGill (Bob Odenkirk) and Mike Ehrmantraut (Jonathan Banks), though the future is certainly not set in stone for Rhea Seehorn's Kim Wexler, Jimmy's confidant, long-term love interest, and now wife.
In any case, the season 6 premiere only confirmed what we were all afraid of in the aftermath of last season's finale (which originally aired a mind-melting 2 years ago and only made its debut on Netflix earlier this month). When last we checked in on our favorite characters, Kim had come up with a devastating and rather disturbing scheme — which she has proven to harbor guilty pleasures for time and time again with Slippin' Jimmy in past seasons — to irreparably damage longtime nemesis and fellow attorney Howard Hamlin (Patrick Fabian) for good. But it's precisely those nostalgic feelings for the good ol' days that have viewers worried about Kim's potential to contribute to Jimmy's inevitable fall and, even more worrisome, her own downfall as well.
More to the point, Vince Gilligan, Peter Gould, and their team of writers are well aware of this fact. That's precisely why, in lieu of a traditional black-and-white cold open that focuses on "Gene" (in actuality, Jimmy/Saul in hiding post-"Breaking Bad"), the season 6 premiere begins at Saul Goodman's future stomping grounds, as seen many times throughout "Breaking Bad." But the truly eye-catching takeaway is less about the flamboyant criminal lawyer's belongings being removed from his garish law practice, but the focus on a certain tequila bottle stopper that he's apparently kept all along — one that you may have forgotten has played an important symbolic role throughout "Better Call Saul."
Symbolic shots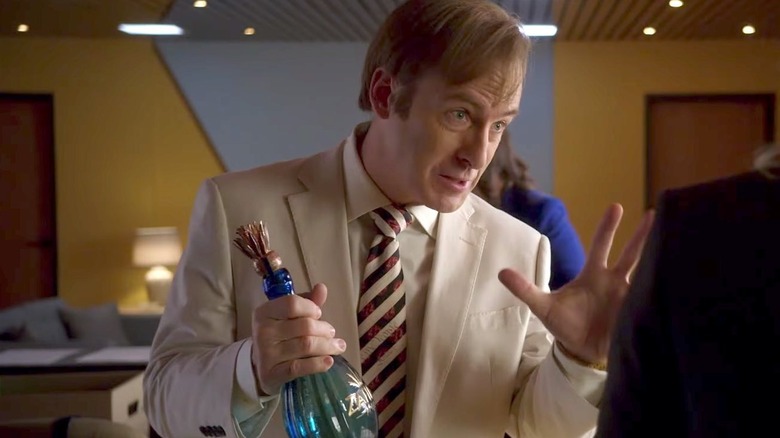 AMC
Given the fact that an entire pandemic has taken place in the time since "Better Call Saul" first dropped season 5 on us well over 2 years ago, you'd be forgiven for having some small (but significant) details pass you by. That certainly explains why the marketing team has gone full-throttle with providing fans some sorely needed story recaps, though those can only go so far.
In that light, it was somewhat surprising to see "Better Call Saul" make its grand return with an almost shockingly understated first few minutes. We watch a moving company tirelessly shuttle Saul Goodman's belongings out of his office, systematically dismantling everything he'd built by the time we met him in season 2 of "Breaking Bad." It takes no time at all for his monument to criminality (which includes a gold toilet and his own life-sized cardboard cutout) to be torn apart ... but one key item escapes their notice. A spiky little object falling out of his desk (made out of cocobolo wood, perhaps?) draws both our eye and the camera's — the shot suddenly zooms in on this forlorn bottle stopper that may feel vaguely familiar.
For clarity, viewers will have to think back to season 2 of "Better Call Saul," when Jimmy invited Kim on a little con-artist binge that saw them set their sights squarely on the obnoxious "Ken Wins." Under the pretense of seeking financial advice, the scheming pair instead plied Ken for incredibly expensive drinks — namely, Zafiro Añejo tequila — before making a quick escape and leaving him with the exorbitant bill. The next time this particular brand of alcohol reappears, it comes at a particularly fraught moment for Kim. Though Jimmy buys a new bottle to celebrate the massive Sandpiper retirement home case settlement, the ever-hustling Kim only agrees to drinks after she meets another client. On the way to reconnect with Jimmy, however, fatigue catches up with her and she gets into a horrific car crash. Already, this tequila feels associated with nothing more than deception and pain.
Most tellingly, Jimmy and Kim only ever get around to actually drinking that bottle after Jimmy's overbearing and cruel brother, Chuck (Michael McKean), dies by suicide at a brutal low point in his life, and the two console themselves.
A taste of tequila?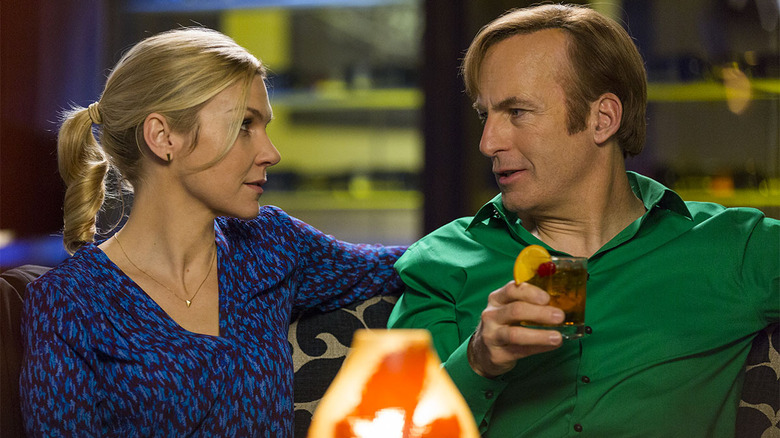 AMC
Most recently, it was revealed that Kim actually saved a souvenir of that bottle and everything it represents in season 5. When Jimmy's partner in (hopefully not literal) crime makes the shocking decision to leave her comfy partnership at the law practice of Schweikart & Cokely — partially motivated by Jimmy himself disappearing in the harsh New Mexico desert after the pickup of Lalo Salamanca's (Tony Dalton) bail money goes terribly awry and Kim believes him dead — we see Kim clearing out her office and, just before walking out the door, going back to retrieve one final object. That turns out to be the tequila bottle stopper, presumably the same one that we eventually see drop from Jimmy's (now working under the portentous name of Saul Goodman) desk in the season 6 opener.
That's one long and tortured path for a seemingly inconsequential item, but the history behind it is everything. In fact, future episodes in the weeks ahead will undoubtedly provide even more troubling hints and teases as to Jimmy's continued slip towards becoming Saul Goodman. Of course, the fact that both Jimmy and Kim are noticeably absent from the season 6 cold open brings its own set of worries as well. We know that Jimmy has become fully subsumed by Saul Goodman at this point in the timeline (taking place close to the end of "Breaking Bad") and is now on the run, but Kim's whereabouts during the events of "Breaking Bad" remain unknown. The very fact that Jimmy apparently comes into possession of that little memento at some point is nerve-wracking enough, hinting at Kim either leaving him entirely or ... perhaps something altogether darker. But let's not even speak of that just yet.
The stressful tension inherent within "Better Call Saul" isn't likely to ease up as we enter the home stretch in this final season of the series. One thing's for sure, though: as co-creator Peter Gould once ominously stated soon after season 5 concluded: "Keep your eye on the bottle stopper."