Better Call Saul Season 5 Is (Finally) Coming To Netflix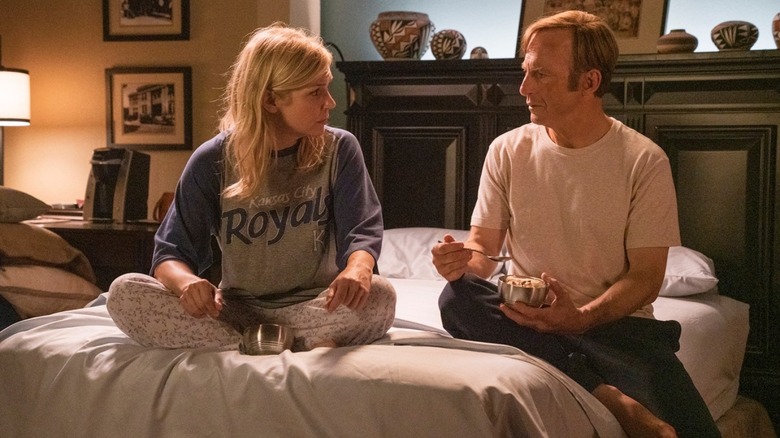 AMC
"Pew, pew!" Not too many shows out there would be able to take a character emoting such a silly sound effect like that and turn it into yet another downright chilling example of incredible character work. Then again, "Better Call Saul" simply isn't like most other shows. While the sixth and final season of the "Breaking Bad" spin-off/prequel series is set to air on AMC in just a few weeks, fans of the series — forced to wait quite a long time since "Better Call Saul" last aired and under a constant deluge of countless other shows fighting for our attention in the meantime — would be forgiven for needing to jog their memories about all the game-changing events that happened in the previous season.
Unfortunately, the long months that have passed since the dramatic season 5 finale aired on April 20, 2020, have gone by without any of those episodes being made available on Netflix. To this point, only seasons 1-4 of "Better Call Saul" have been streaming on the digital platform, making it quite difficult for any of us to remind ourselves about the finer points of season 5. Allow me to take a quick moment to extol the virtues of physical media, giving us filthy consumers the power to dictate when we want to watch our favorite media — not simply relying on the various streaming and distribution deals that streaming services are required to abide by. Well, for the rest of us who can't afford buying each season or are simply too lazy to, there's finally some good news on the streaming side of the equation.
The official Netflix account on Twitter has released a "new" teaser, obviously comprised entirely of footage we've seen from episodes in the prior season, to announce exactly when we can expect to see season 5 of "Better Call Saul" finally make its grand arrival on Netflix. Check it out below!
Better Call Saul Season 5 Teaser
It's alllllll good, man. After years of waiting, season 5 of "Better Call Saul" will join the previous 4 seasons on Netflix on April 4, 2022. Depending on the binge-watching capabilities of the larger audience, that should give eager fans just enough time to revisit the entirety of the last season and prepare themselves accordingly for the final season that's set to premiere just a few scant weeks later in April. Like all the previous seasons, season 5 is comprised of 10 total episodes and remains chock-full of incredibly adept writing that further plunges Jimmy McGill down the dark and tragic path to becoming the heartless criminal lawyer known as Saul Goodman.
Set in 2004 (4 years before Saul Goodman would eventually cross paths with Bryan Cranston's Walter White in "Breaking Bad"), season 5 of the hit series largely dealt with Jimmy's continued fall from grace, juxtaposed against the rise of the fearsome Lalo Salamanca (Tony Dalton) as he established a greater presence in the Albuquerque, New Mexico area. The various threads involving Mike Ehrmantraut (Jonathan Banks), Nacho Varga (Michael Mando), cartel drug lord Gus Fring (Giancarlo Esposito), and Jimmy and on-again/off-again romantic partner (and fellow attorney) Kim Wexler (Rhea Seehorn) all converged and came to a head. This culminated in Jimmy and Kim narrowly fending off a suspicious Lalo, Nacho's attempted assassination of Lalo, and the shocking final moments where it seemed as if Kim herself was coming closer to breaking bad — a devastating development for all of us who primarily want this lovable character, one who doesn't appear at all in "Breaking Bad," to survive the carnage of the final season unscathed.
"Better Call Saul" is created by "Breaking Bad" veterans created by Vince Gilligan and Peter Gould. The show stars Bob Odenkirk, Rhea Seehorn, Jonathan Banks, Patrick Fabian (as Howard Hamlin), Michael Mando, Tony Dalton, Giancarlo Esposito, and more. The first half of the final season is scheduled to air on AMC on April 18, 2022.