Prehistoric Planet Trailer: Affectionate Dinosaurs In A Five-Night Event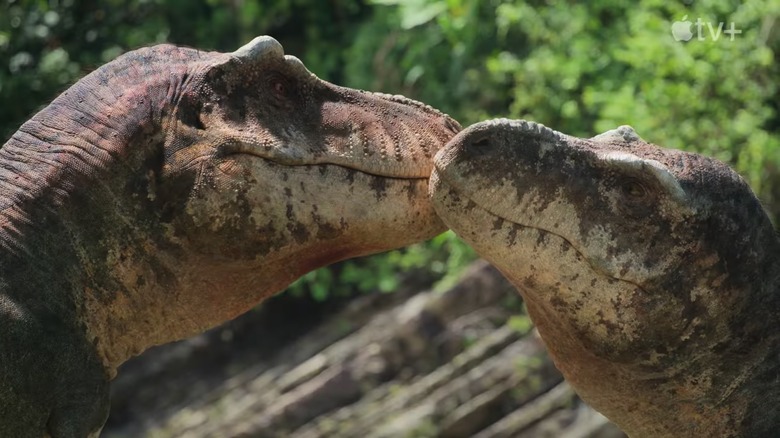 Apple TV+
If you are a human being, there is a strong likelihood that you loved dinosaurs at one point in your childhood. Maybe you stood under giant fossilized skeletons at a museum and marveled at their size. Perhaps you are a fan of the "Jurassic Park" franchise. Maybe you, like Wash in "Firefly," played with dinosaur toys when you were supposed to be working. If you still feel the same way about them, or your inner child has been banging at your brain to go "play dinosaurs" again, you're going to want to check out the five night event on Apple TV+ called "Prehistoric Planet." 
The event is narrated by Sir David Attenborough, as all good nature events should be, and gives us our best look yet at what the life of the dinosaurs was like. There are some surprising moments in this trailer — as there have been in a lot of recent documentaries about dinosaurs — as our understanding of their lives grows. What really stood out to me here were the affectionate moments, the ones with the creatures swimming with their kids, or rubbing their faces on each other like affectionate cats. There are little ones, big ones, dinosaurs with very colorful teensy arms waving about in a way that I only think of when I imagine a T. Rex. Speaking of those, the series even goes into their parenting, which you can see a moment of in the trailer. I thought I knew everything about dinosaurs for a non-scientist. I was wrong.
Now I want to hug a dinosaur
"Prehistoric Planet" comes to us from executive producers Jon Favreau and Mike Gunton, as well as BBC Studios Natural History Unit who brought us "Planet Earth," which I loved. Academy Award-winner Hans Zimmer and Andrew Christie for Bleeding Fingers Music did the theme, and Zimmer, Anže Rozman and Kara Talve for Bleeding Fingers Music did the score.
I just cannot begin to tell you how excited I am for this event. When I was a kid, no one was even really talking about the feathers we now know were on many dinosaurs. Today there is so much more knowledge out there, particularly about how they parent from what I understand, which is fascinating. Now excuse me while I go stomp around my house and roar, because who says kids should have all the dinosaur fun?
Here are a few images from "Prehistoric Planet."
Here is the synopsis for the event:
Rolling out with one new episode per day, "Prehistoric Planet" combines award-winning wildlife filmmaking, the latest paleontology learnings and state-of-the-art technology to unveil the spectacular habitats and inhabitants of ancient Earth for a one-of-a-kind immersive experience. This series is produced by the world-renowned team at BBC Studios Natural History Unit with support from the photorealistic visual effects of MPC ("The Lion King," "The Jungle Book"). "Prehistoric Planet" presents little-known and surprising facts of dinosaur life set against the backdrop of the environments of Cretaceous times, including coasts, deserts, freshwater, ice worlds and forests. From revealing eye-opening parenting techniques of Tyrannosaurus rex to exploring the mysterious depths of the oceans and the deadly dangers in the sky, "Prehistoric Planet" brings Earth's history to life like never before.
"Prehistoric Planet" will air each night on Apple TV+ from May 23 through May 27, 2022.