Tell Your Mom The Letterkenny Spin-Off Shoresy Is Coming To Hulu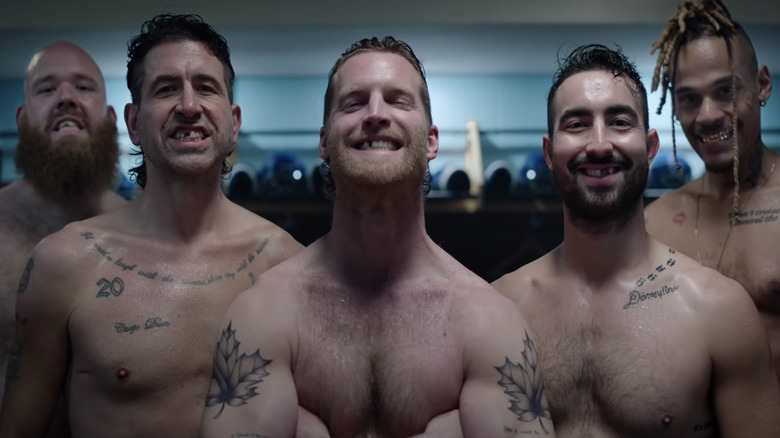 Hulu
Give yer balls a tug, tell your moms, and get ready to fight because the "Letterkenny" spin-off "Shoresy" is heading to Hulu faster than Jonesy's mom liking Shorey's Instagram post from two years ago in Puerto Vallarta. The whip-smart Canadian comedy series "Letterkenny" has become one of the flagship programs for Hulu, set to expand their quick witted, pro-fighting, Puppers drinking empire with the arrival of "Shoresy."
The spin-off series will consist of six, half-hour episodes centered on the titular f-bomb dropping hockey menace after he joins a senior AAA hockey team in Sudbury, Ontario on a mission to never lose again. On "Letterkenny," Shoresy was exclusively seen from behind as he is played and voiced by the series star and creator Jared Keeso, but he will be on proud display as a fully visible character played by Keeso ... with a tooth or two missing.
To celebrate the premiere of the new series, Hulu released a teaser clip of the new show, featuring Shoresy in his element–taking a massive s*** in the locker room after a hockey game. "This team is so f***** bad, I've lost control of my bodily functions," he yelps from the toilet. His team coach Michaels' (Ryan McDonell) is doing his best to keep his team's spirits high after an embarrassing loss, as is team player Sanguinet (Harlan Blayne Kytwayhat), but Shoresy isn't having it. They lost. They deserve to be embarrassed. If Coach isn't going to bring the pain, Shoresy sure as hell will.
Shoresy teaser trailer
Joining Keeso, Kytwayhat, and McDonell are Tasya Teles ("The 100") as Nat, Blair Lamora ("Paranormal Nightshift") as Ziigwan, and Keilani Rose ("Flimsy") as Miigwan. Rapper Jonathan-Ismael Diaby also appears as Dolo, with former Montréal Canadien, author, and actor Terry Ryan as Hitch. Max Bouffard appears as his "Letterkenny" character JJ Frankie JJ, and former Kahnawake Condor and MMA fighter Andrew "The Canon" Antsanen joins the cast as Goody. As Hulu puts it, the cast is also joined by "Legendary all-time tough guy Jon "Nasty" Mirasty, former 'Canes centre Brandon Nolan, and three time Stanley Cup winner, Jordan Nolan star as Jim, Jim, and Jim, respectively, with Listowel's Keegan Long as Liam, and North Bay's Bourke Cazabon as Cory."
The show is also due to feature guest stars like Laurence Leboeuf ("Transplant"), Scott Thompson ("Kids in the Hall"), Jonathan Torrens ("Trailer Park Boys"), Camille Sullivan ("Trigger Me"), Eliana Jones ("Northern Rescue"), Michala Brasseur ("Grand Army," "The Handmaid's Tale") in addition to social media star and podcaster Lysandre Nadeau. Jacob Tierney who plays Glenn and Kim Cloutier who plays Anik on "Letterkenny" are also set to appear, but there's not yet been any confirmation on whether or not their characters would reappear or if they'd pull a Jared Keeso and play entirely different people.
"Shoresy" skates onto Hulu on May 27, 2022.