Here's Where You Can Stream Or Buy Every Season Of Letterkenny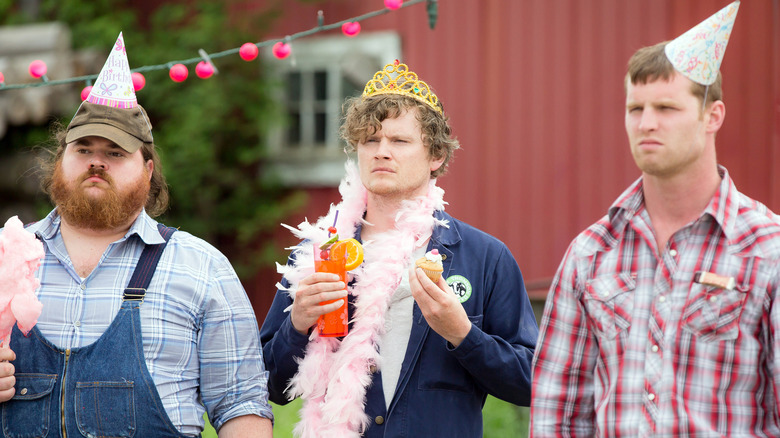 Hulu
(Welcome to Where to Watch, which provides a clear and simple answer to the question, "Hey, where can I watch this thing?")
Admittedly, I was late to the "Letterkenny" game, but only because someone told me that the show was basically "Trailer Park Boys," and I still have a personal vendetta against the person who said that because it meant I was a good four years late to the super soft party. 
Since the show's debut in 2016, "Letterkenny" has been cranking out about two seasons per year, and thanks to the pandemic giving everyone an excuse to binge-watch all of the shows they never got around to watching, it's developed a die-hard fanbase chomping at the bit for more adventures with the hicks, the skids, and the hockey players. While we wait for Season 11, now is the perfect time to catch up (or, let's be honest, rewatch) all of the Canadian comedy series. Pitter patter, let's get at 'er, here's where you can stream or buy every season of "Letterkenny."
Where You Can Stream Letterkenny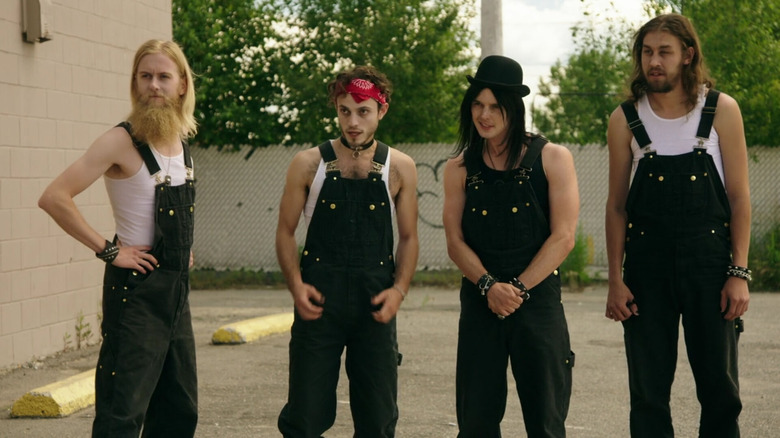 Hulu
If you're in the United States, Hulu is the home for all things "Letterkenny." The platform acquired the exclusive U.S. rights to all future seasons of the show back in 2019, beginning with Season 7. Created by Jared Keeso, who also developed and wrote it with Jacob Tierney, originated on CraveTV in Canada, but the show is released in the U.S. under the Hulu Originals banner.
CraveTV has claimed that the debut of "Letterkenny" was the biggest of any series on their platform since it launched in 2014, and that as of March 10, 2016, nearly one in three subscribers to the service have watched "Letterkenny."
The "Letterkenny" spin-off, "Shoresy," based on the faceless antagonist of the hockey players of the same name (and played by Keeso in a cheap wig), is also available on Hulu.
Where You Can Buy Letterkenny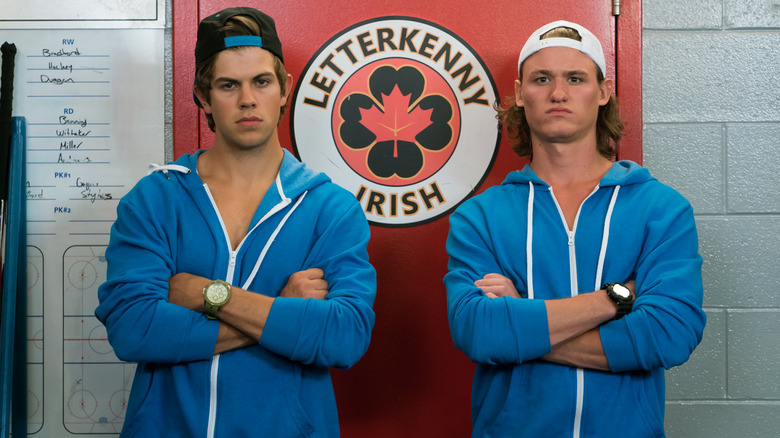 Hulu
The first seven seasons are currently available for purchase on Apple iTunes, ranging between $15.99 and $16.99 per season. Individual episodes from the seasons are available for $1.99 and $2.99 a pop, depending on whether or not you want standard definition or high-definition. Similarly, the first five seasons are available on Amazon Prime, and costs as little as $0.99 per episode. Amazon also has the first eight seasons available on DVD for purchase at fluctuating prices. The ninth season's physical release, according to Blu-Ray.com, became available on December 14, 2021.
When it comes to the right choice for you, what can we say except, "Figure it out!"