Why Denzel Washington Didn't Want An Oscar For Malcolm X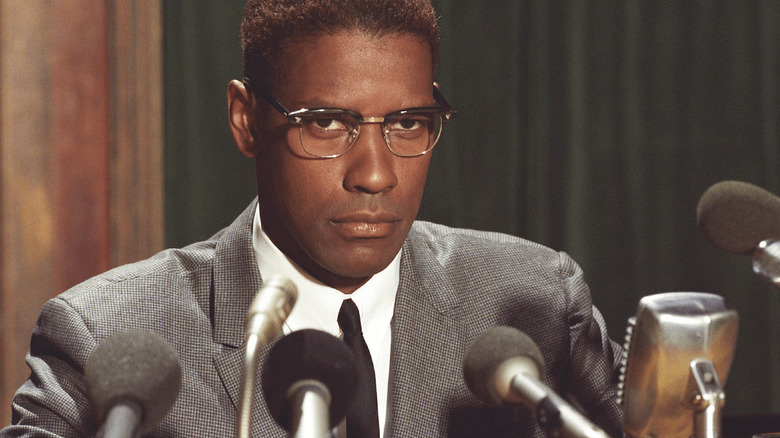 Warner Bros.
How often are Oscars awarded to the actors who gave the actual best performances in a specific year? It depends on who you ask (artistic quality being subjective and all), but I'm willing to go out on a limb and say that a lot of people would reply with some variation of, "Not as often as you'd think." So what is the Academy of Motion Picture Arts and Sciences even celebrating then when it bestows its highest honor upon an actor?
To answer that question, let's begin by asking another one: why do so few actors seem to win Oscars for what are generally regarded as their best roles? Take, for example, Denzel Washington, a lauded veteran of the stage and screen who's so far taken home a pair of Oscars, first as a Supporting Actor in 1989's "Glory" and then as a lead in 2001's "Training Day." Did he deserve to win for both? Well, sure, he's Denzel Washington, he can recite greeting cards out loud and make it sound like he's baring his soul. In his hands, a character like "Training Day" lead Alonzo Harris becomes a force of nature, delivering lines like "King Kong ain't got s*** on me!" with an intensity that could make mountains tremble in his wake.
Why, then, did Washington win the Oscar for "Training Day" and not 1992's "Malcolm X," a classic Spike Lee Joint that many film enthusiasts would argue has the actor doing career-best work? It's certainly not for a lack of effort. As brought to life by Washington, Malcolm X is as fiery and righteously angry yet focused in his quest for racial equality as Harris is boastful and outspoken about his wicked ways. Come Oscar night, however, Washington would go home empty-handed for Lee's movie, with Al Pacino beating him out in the Best Leading Actor race for his own turn in Martin Brest's 1992 drama, "Scent of a Woman."
Hoo-ah!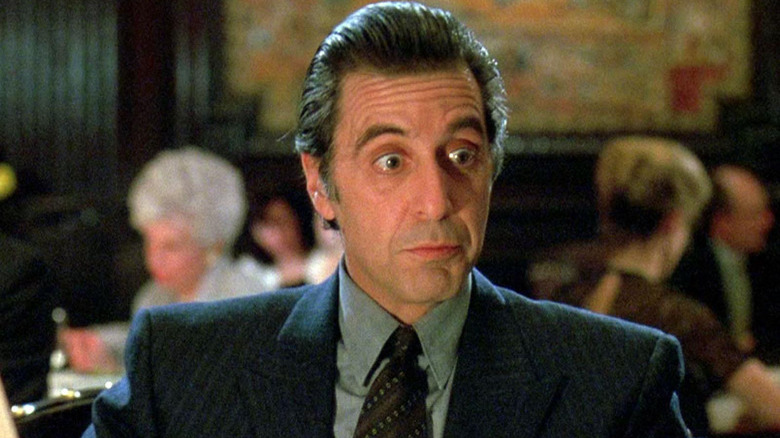 Universal
"Scent of a Woman," a remake of the 1974 Italian film "Profumo di donna," casts Pacino as Frank Slade, a blind, retired Lt. Col. in the U.S. army who becomes an unlikely mentor to his assistant, a wide-eyed young man named Charlie Simms (Chris O'Donnell). As Frank, Pacino gets to be very irritable, yell a lot, spout his own catchphrase ("Hoo-ah!"), and even tango at one point, all while alluding to the character's self-loathing and inner turmoil. It's an enjoyable but undeniably showy performance by the actor, much like "Training Day" gives Washington a chance to chew the scenery with relish.
In a 2013 interview with Playboy, Washington revealed that he's actually glad he didn't win the Oscar over Pacino for "Malcolm X." He explained:
"The opposite is true. There have been times when I didn't want to win. When Pacino won for 'Scent of a Woman', I was up for 'Malcolm X.' I didn't want to win that time. I would have felt badly. It was Pacino's time. If he hadn't won that one he would have been 0 for 8. I was already 1 for 2 or something. When he won, was 1 for 3, batting .333. I was OK with that."
Indeed, had Pacino not won, Brest's film would have joined "The Godfather," "Serpico," "The Godfather: Part II," "Dog Day Afternoon," "And Justice for All," and "Dick Tracy" on the list of movies that Pacino had received an Oscar nod for acting in without winning in the years prior to "Scent of a Woman." Heck, he was already 0-for-1 at the 1993 Oscars show by the time he snagged the Best Actor prize, having also been up for Best Supporting Actor for his work in "Glengarry Glen Ross."
'I genuinely feel good about being invited to the party'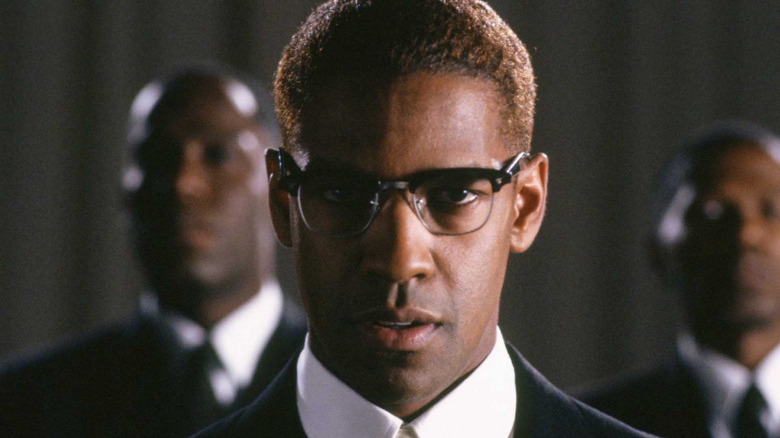 Warner Bros.
Washington certainly isn't alone in suggesting he lost for "Malcolm X" because Pacino was "due" an Oscar come 1993. Lee even went so far as to call this out in "She's Gotta Have It," a series reboot of his 1986 film in which one of the leads refer to Pacino's win over Washington as a "makeup call" for the Academy. Yet, for as much as others were and remain upset on Washington's behalf, the actor himself is perfectly fine with the way things played out.
Moreover, Washington added he's never really been all that angry about losing any Oscar race:
"When I didn't win some of these awards, other people were angrier about it than I was. I know it's a cliché, but I genuinely feel good about being invited to the party. How many other people can say they've been nominated [more than] five times? How many other people can say they have won two Academy Awards? So I'm cool with it. When they called my name for 'Training Day,' I did not expect it at all."
Circling back to the question from the start of this article — what, exactly, do acting Oscars honor if not the legitimate best performances in any given year? Once again setting aside the subjectivity of what "best" even means in this context, acting Oscars tend to be bestowed in recognition of a performer's legacy as much as anything else. There are exceptions to this trend, of course, with Marisa Tomei's early-career win for "My Cousin Vinny" being one of the better-known examples (and make no mistake, that was a well-earned victory). But for the most part, the Academy's process of sorting out the "best" actor in any given year is far more political than its members would like to admit.