Spike Lee Placed An Angry Message For Oscar Voters In She's Gotta Have It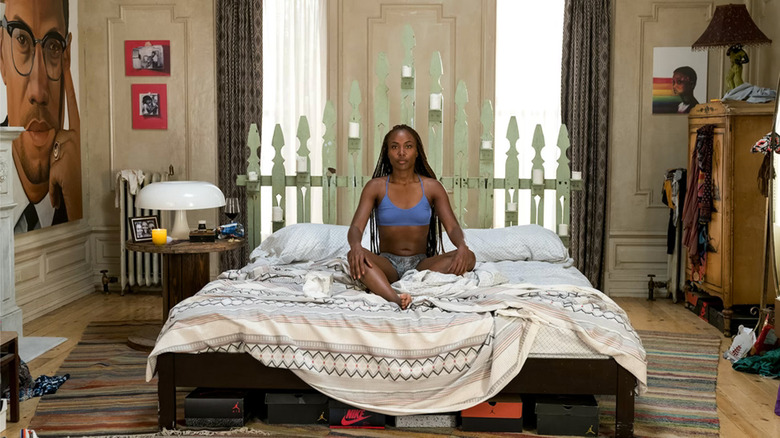 Netflix
Legendary director Spike Lee has had his fair share of beef with the Oscars. And rightfully so: it seems the Academy — and its annual awards ceremony — have never really respected Lee's groundbreaking (and at times, controversial) work. After over 30 years of filmmaking, Lee has only won a single Oscar. Lee, by contrast, is all about giving credit where it's due, and he's also never been shy about sharing his opinion. Some thoughts have even trickled into his more recent work, specifically concerning Denzel Washington's performance in his 1992 film "Malcolm X."
"She's Gotta Have It" — the Netflix series that rebooted Lee's film of the same name — features a discussion of the film in question. It all begins when Nola Darling (DeWanda Wise) invites her new hookup Mars Blackmon (Anthony Ramos) to her place, a spacious loft in a now-gentrified Brooklyn. Mars is quick to notice the work-in-progress portrait of Malcolm X in Nola's studio. The conversation pivots quickly to Denzel's portrayal of the civil rights icon: both Nola and Mars agree that Washington was robbed of a well-deserved Oscar.
Nola concedes that Washington might have been "too Black" for the Academy at the time. "Al Pacino, though? Come on."
Pacino was nominated for, and won, Best Actor over Washington for the film "Scent of a Woman. Though his triumph was not nearly as messy as the "La La Land" mix-up of 2017, Nola argues that the actor still beat Washington on a technicality.
Bad call, Academy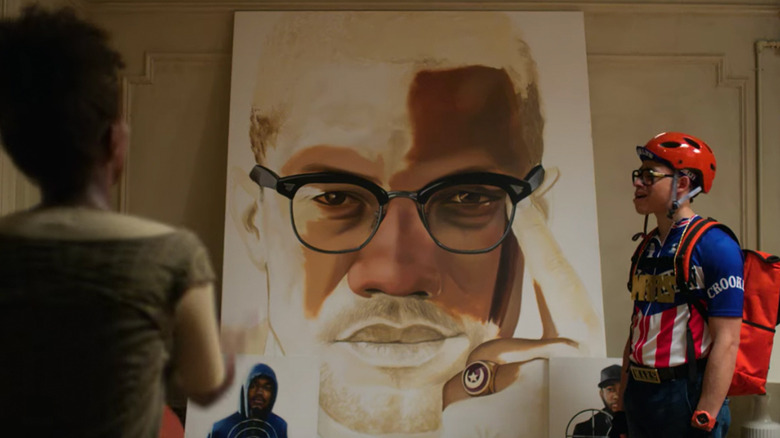 Netflix
Al Pacino is, incontestably, one of the finest actors of his generation. He's starred in some of the greatest films of all time, but he hasn't always been acknowledged for his performances. Before "Scent of a Woman," Pacino had been snubbed four times by the Academy: for "The Godfather" and its sequel, for "Serpico," and for "Dog Day Afternoon." His Oscar, according to Nola, was "long overdue," which led to his win in 1993. "It was an Academy of Motion Picture Arts and Sciences makeup call," she explains.
In the sports world (namely in basketball), a makeup call is essentially a retroactive fix for a refereeing error. If, earlier in the game, a referee ignores a penalty, he'll later try to "make up" for the oversight by calling a similar penalty later. The actual existence of the makeup call is contested in the NBA, but it totally happens — on the court as well as at the Oscars. Leonardo DiCaprio's win for "The Revenant" in 2016 (when he should have won years before) was most definitely a makeup call. Nola argues that Pacino's win in 1993 was secured under similar circumstances.
Awarding Pacino his Oscar for "Scent of a Woman" meant that Washington's own snub would have to be addressed later on. Nola believes that the actor's win for his performance in "Training Day" was yet another makeup call, but "he should've won anyway — so the Academy still owes D another one."
Spike's gotta have it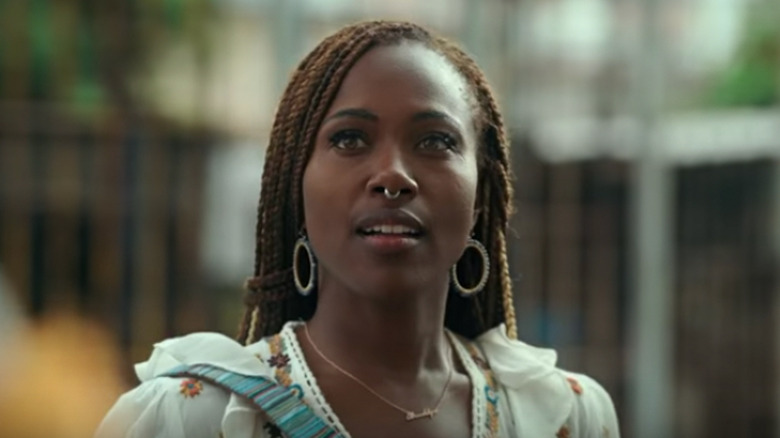 Netflix
This exchange is just meta enough to work — both as a wink to Lee's filmography, and to his own snubs at the Oscars. His incendiary masterpiece "Do the Right Thing" was famously shut out of all but two categories at the 1990 Oscars, a night that belonged to the much-tamer racial narrative "Driving Miss Daisy." Lee was one of several Black filmmakers to boycott the Oscars in 2016, the year that carried the brunt of the #OscarsSoWhite controversy. And though he was up for Best Director and Best Picture in 2019 (for "BlacKkKlansman"), "Green Book" would triumph in the latter — and Lee, infamously, stormed out of the Dolby Theater as a result. "Every time somebody's driving somebody, I lose," Lee said after the ceremony.
Lee won his first non-honorary Oscar that same night, for Best Adapted Screenplay. That he's never been honored with Best Director for any of his work speaks to some serious oversight on the Academy's end, but he's not the only one. Not a single Black director has been able to nab the award in all of Oscar's history — it wasn't until 1992 that John Singleton became the first to even score a nomination. It will probably take more than a makeup call to reverse that damage, but for now, it seems like Lee's mistrust of the Academy is entirely warranted.