Indiana Jones 5: Mads Mikkelsen Says Harrison Ford Is 'An Insanely Powerful Person'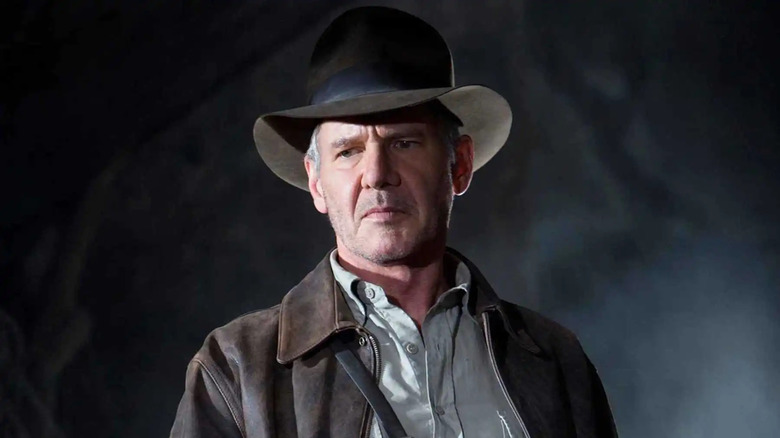 Paramount Pictures
"Indiana Jones 5" wrapped filming back in late February of 2022, but it's still going to be a while before we get to see it. The film moved from a release date of July 29, 2022 to June 30, 2023, and that came after various other delays. Among the more painful delays, star Harrison Ford injured his shoulder on set, though some filming was done without him while he recovered. Ford is a difficult man to keep down, and his co-star Mads Mikkelsen was very impressed with him. 
While speaking to The Hollywood Reporter about "Fantastic Beasts: The Secrets of Dumbledore," Mikkelsen praised Ford for his physicality. (That's a big deal coming from Mikkelsen, whose other professions included being a gymnast and a professional ballet dancer.) In "Fantastic Beasts," he plays villain Gellert Grindelwald, replacing Johnny Depp. For "Indiana Jones 5," we don't yet know specific details about his character, though we're assuming (based on Mikkelsen's track record of playing baddies) that he's some manner of villain. 
Mikkelsen said of Ford:
"It was the first time I met him, and he's an insanely powerful person. Not just as an actor, but physically. I remember the first day we were shooting, it was a night shoot, then we stopped at 5 a.m. — and then he got on his mountain bike and went biking for 50 kilometers [31 miles]. Harrison is a monster of a man, a very nice monster."
I would like to point out here that "very nice monster" Ford is 79 years old, shooting a movie and biking 31 miles at 5 a.m. I'm feeling exceedingly lazy right now.
It would be nice to have a trailer soon ... hint hint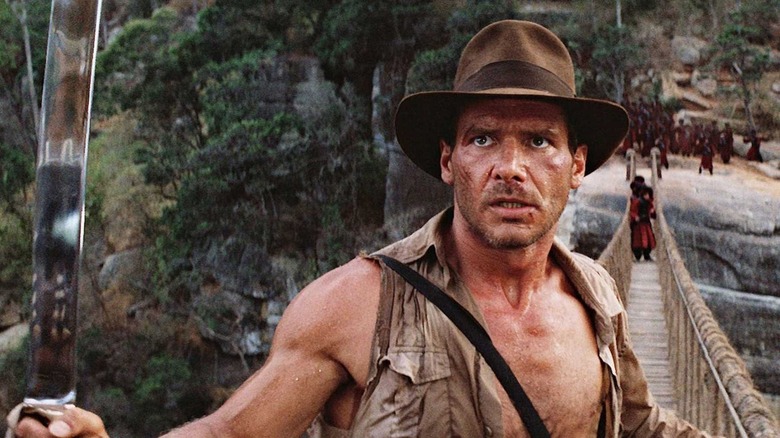 Paramount Pictures
Mikkelsen shed some light on the upcoming "Indiana Jones" film as well, saying: 
"[Raiders of the Lost Ark] was one of my favorite films, and it just oozed that golden period of serials from the 1940s — and that's in the fifth film as well. They're going heavily back to the first and second film and getting that original feel, the original Indy, something dense and epic."
This is a good thing, because the fourth film was ... well, it was ... not great. I do not blame Harrison here. It just didn't fit the franchise, in my opinion. It wasn't awful by any stretch, but it just didn't have the same zing to it that the first films did. 
"Indiana Jones 5" is directed by James Mangold, with Steven Spielberg as an executive producer. I wish that there was more information on the plot, but we don't have much to go on right now. 
Here's what we do know: It appears that Ford will get some de-aging treatment for certain scenes. It's been speculated that we'll see some WWII flashbacks, but that has not been confirmed. Mangold wrote the script with Jez and John-Henry Butterworth ("Edge of Tomorrow"). The film also stars Phoebe Waller-Bridge, Thomas Kretschmann, Boyd Holbrook, Shaunette Renée Wilson, Toby Jones, and Antonio Banderas. That's a pretty spectacular group! I don't know about you, but I'm so excited to see Ford back in his wide-brimmed fedora — even if it involves aliens again.
"Indiana Jones 5" arrives in theaters on June 30, 2023.