Fantastic Beasts: The Secrets Of Dumbledore Eyes $40 Million Opening Weekend, A New Series Low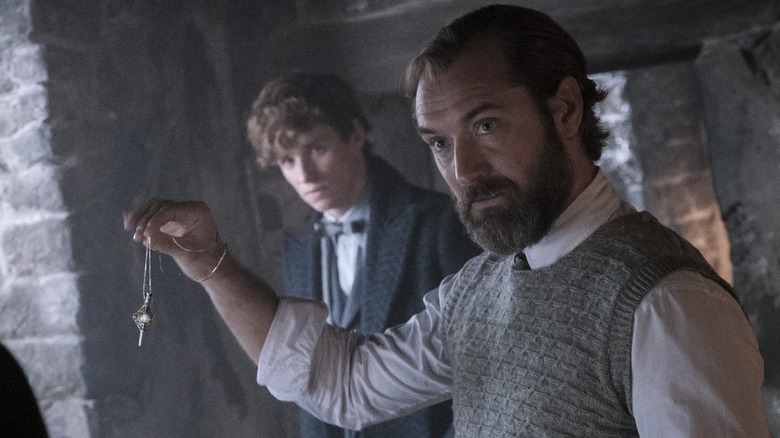 Warner Bros.
As "Fantastic Beasts: The Secrets of Dumbledore" gets ready to make its way to theaters in North America this weekend, things are frankly not looking good for the latest "Harry Potter" spin-off. While movie theaters around the country will surely be more than happy to see whatever moviegoers make it out for the third installment in the series, Warner Bros. may have some tough decisions to make come Monday morning.
According to Variety, "The Secrets of Dumbledore" (which carries a steep $200 million budget) is currently eyeing a debut of "at least" $40 million this weekend. Even if it makes quite a bit more than that, this is not at all in line with expectations for this franchise. Anything shy of the $62.1 million opening weekend posted by 2018's "Fantastic Beasts: The Crimes of Grindelwald" will be a new low for a "Harry Potter" movie. And $40 million, or anything near it, would represent a rapid and steep decline.
It's worth noting that the third entry in the "Fantastic Beasts" series already got off to a slow start internationally, taking in $58 million from 22 international markets. What's more, "Sonic the Hedgehog 2" is looking at a possible $40 million second weekend. So, if "Dumbledore" stumbles and the video game sequel overperforms again, we could have a gigantic upset with "Sonic 2" taking the top spot. That seems a bit unlikely but the fact that we're even talking about it is bad enough.
The magic seems to be gone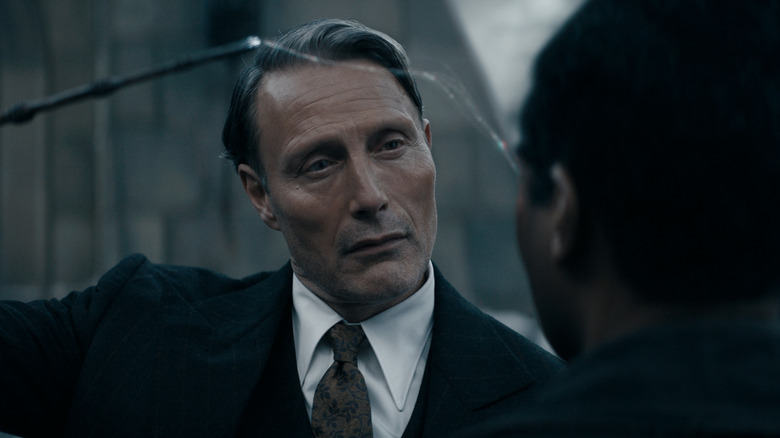 Warner Bros.
It's amazing how quickly this all went wrong. "Fantastic Beasts and Where to Find Them" was a promising start for this whole venture, earning $811 million globally against solid reviews. The adventures of Eddie Redmayne's Newt Scamander and his magical beasts seemed to be working. Then Johnny Depp was cast as Grindelwald. Then his highly public feud with his ex-wife Amber Heard, who has alleged abuse against him, kicked in. Then J.K. Rowling came under fire for her repeated, controversial statements regarding the transgender community. And then "The Crimes of Grindelwald" was met with poor reviews and a steep decline in ticket sales.
Now, Warner Bros. is still dealing with the Rowling of it all in addition to Ezra Miller, who was recently arrested for disorderly conduct. It's a mess and interest in the property has clearly waned. The studio is said to be taking a wait-and-see approach before giving the green light to "Fantastic Beasts 4" but, as it stands, this may be the end of the line for this corner of the Wizarding World.
"Fantastic Beasts: the Secrets of Dumbledore" hits theaters Friday.
Professor Albus Dumbledore (Jude Law) knows the powerful Dark wizard Gellert Grindelwald (Mads Mikkelsen) is moving to seize control of the wizarding world. Unable to stop him alone, he entrusts Magizoologist Newt Scamander (Eddie Redmayne) to lead an intrepid team of wizards, witches and one brave Muggle baker on a dangerous mission, where they encounter old and new beasts and clash with Grindelwald's growing legion of followers. But with the stakes so high, how long can Dumbledore remain on the sidelines?