Bill Murray's Climactic Kingpin Scene Involved Over 1,000 People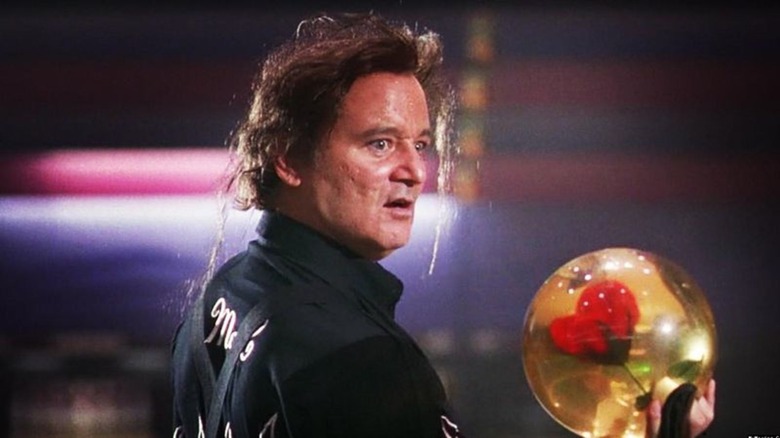 MGM/UA Distribution Company
As is the story with many quirky Hollywood comedies, the 1996 bowling comedy "Kingpin" from Peter and Bobby Farrelly (collectively known as The Farrelly Brothers) was a box office bomb that developed a cult following. The film follows washed-up former bowling prodigy Roy Munson (Woody Harrelson) who lost his hand shortly after his pro debut, and his rival, the eccentric, wild-haired Ernie "Big Ern" McCracken.
The Farrelly Brothers were on a roll after their 1994 debut film "Dumb & Dumber," but they came up short in their sophomore effort. Though "Kingpin" grossed just $25 million worldwide according to Box Office Mojo, it certainly has its merits. The cult comedy certainly gave us one of Bill Murray's most peculiar and memorable roles.
When Murray's character "Big Ern" McCracken finally vanquishes the plucky Roy Munson, he'd do so while filmed in front of 1,000 people. The scene itself, not to mention getting Murray to do it, was a lucky strike for the filmmaking duo.
Bill Murray bowled a turkey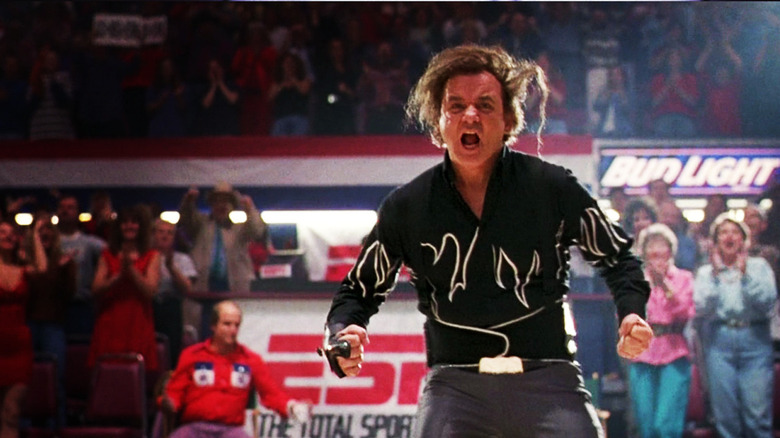 MGM/UA Distribution Company
The final tournament of "Kingpin" takes place at the National Bowling Center in Reno, Nevada. A challenge of the shoot was filling the building with extras for a full day, and keeping them convincingly engaged in the action. According to Fast Company, the film crew used raffles and had Bill Murray go into the stands to meet people to keep extras interested in the shoot. 
Then, bowling magic happened from an unlikely source, eliciting an organic response from a tired audience. Bobby Farrelly explains:
"But when we got to the final part and Bill had to get three strikes in a row, I figured it could take 10 to 15 rolls. It's gonna take a while for him to get three strikes. But I explained the situation to the audience: 'It's the last frame, he needs a turkey here. And so on the first one, you guys clap big, and then the second one, you clap bigger, and on the third one, you explode because he needs all three.' Of course, Bill gets up there, first one, strike. Everybody goes nuts. Second one, strike, the place goes crazy. Third one, strike. Three in a row. They were really blown away. Like, Bill just threw three strikes in a row when he had to and they erupted. It was not fake at all."
Murray's turkey (the bowling term for three strikes in a row) wasn't the only unplanned brilliance that day. The original script had "Big Ern" celebrating with no dialogue. Murray, known for his improvisation skills, took matters into his own hands and did something right up his alley: Instead of celebrating in silence as he was surrounded by fans and reporters, Murray improvised the absurd line that made it into the film, "I can do anything I want ... finally, Big Ern is above the law!"
Such a lightning-in-a-bottle moment likely wouldn't have happened without Murray's involvement — something else that happened by chance.
They weren't sure Murray would show up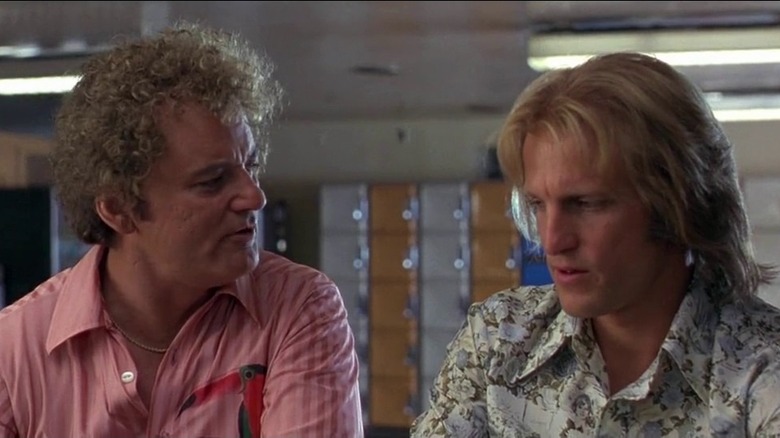 MGM/UA Distribution Company
The decision to cast Randy Quaid as Ishmael opposite Woody Harrelson paid off in more ways than one: without Quaid, Murray wouldn't have been in "Kingpin." 
After The Farrelly Brothers struggled to cast the part of "Big Ern" McCracken, it was Quaid who suggested Bill Murray. The casting process was very informal. Quaid called Murray and the next day he told the brothers that Murray wanted in on the project. They didn't even have Murray's contact information, just the promise from Quaid that he'd be there. The filmmakers had their doubts up until the day of the shoot. Peter Farrelly said:
"And then we were three weeks into production by the time Bill came along. So we had this fear that he wouldn't show up but sure enough, seven o'clock on the day he was supposed to arrive, we were shooting that night, he suddenly just comes walking in."
Murray's portrayal of "Big Ern" McCracken led to some of the most memorable moments in the entire film, both in and out of the bowling alley.
While "Kingpin" might have been a financial disaster at the box office, it has aged well over the years, so much so that a reported sequel is in the works. There's no word as of now if Murray will return, or if he's kept his bowling skills sharp, though it's hard to imagine "Kingpin" without "Big Ern."