How To Watch X At Home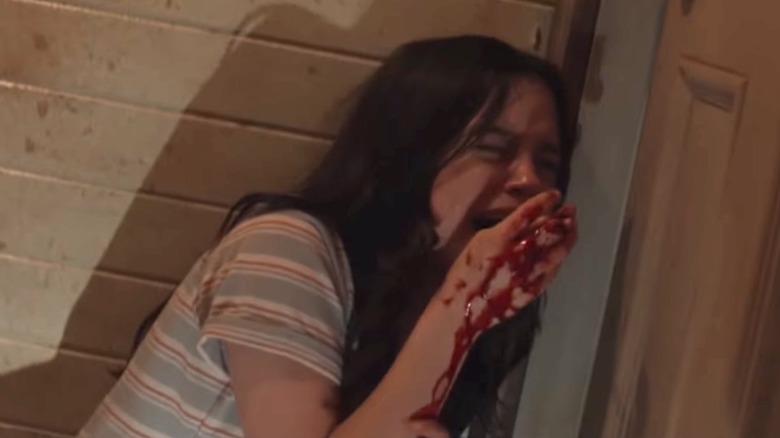 A24
The pandemic has truly changed everyone and everyone in irreparable ways, but if you're like me (an immunocompromised weirdo), the inability to head to the theater and check out a new release has been absolutely agonizing. There are obviously much bigger and more severe ways in which the world has changed, but on the smaller end of first-world problems, it's getting harder and harder to watch the rest of the world happily pose with ticket stubs while many of us are relegated to whatever is accessible on VOD.
The horror movie on everyone's lips the last month has been Ti West's highly-anticipated return to features, the A24 film "X." Featuring scream queen on the rise Jenna Ortega, alongside Mia Goth, Brittany Snow, Kid Cudi, Martin Henderson, Owen Campbell, Stephen Ure, and James Gaylyn, "X" follows a group of actors in 1979 who are looking to shoot an adult film in rural Texas. The crew decides to rent out a boarding house owned by a reclusive couple on a farm, but once the owners learn what these young adults are up to, the crew finds themselves sucked into a fight for survival against a duo of "psycho-biddies." If you've been unable to see "X" in theaters, we've got some good news for you.
X is coming home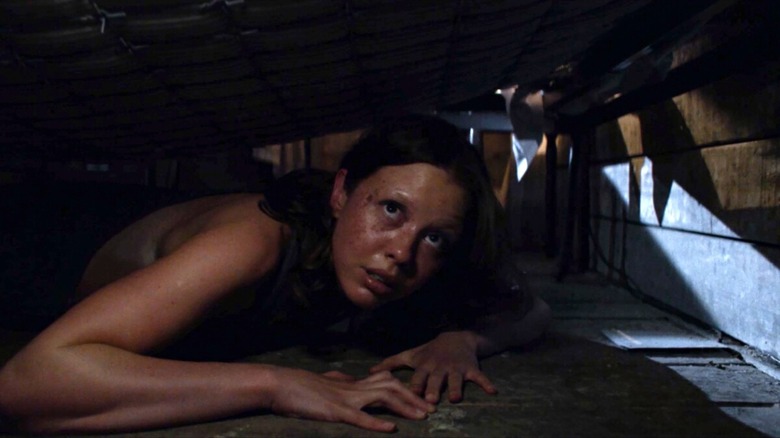 A24
We've already reported that "X" will soon be arriving on Blu-ray Combo Pack (plus DVD and Digital) and DVD from Lionsgate on May 24, 2022, but if you just can't wait until May, "X" is coming to VOD on April 14, 2022. That's right, in just a few days, you can watch "X" from the comfort of your couch and without the risk of being annoyed by that one person who refuses to put their phone away in a dark theater or, you know, the pandemic. 
For those who still haven't had the privilege of checking it out, "X" was an immediate hit with critics and audiences should be thrilled to know that West already shot a prequel film called "Pearl." West also hinted that there's a good chance that "X" will be part of a trilogy, including a sequel film that he's currently writing:
"If people wonder what the backstory to 'X' is, well, I know all of it. That one will be about how home video has affected people. I'm very proud of these. They're super different and very out-of-nowhere. You won't need to see one to see the other but they do complement each other."
With two more films on the way, now is the perfect time to get on board with "X," because it looks like the A24 trilogy of films are going to be the talk of the horror circles for years to come. With David Gordon Green's "Halloween" trilogy coming to an end, a new sheriff is in town and their name is Ti West.