Josh Brolin Thinks The Coen Brothers Pranked Him While Shooting No Country For Old Men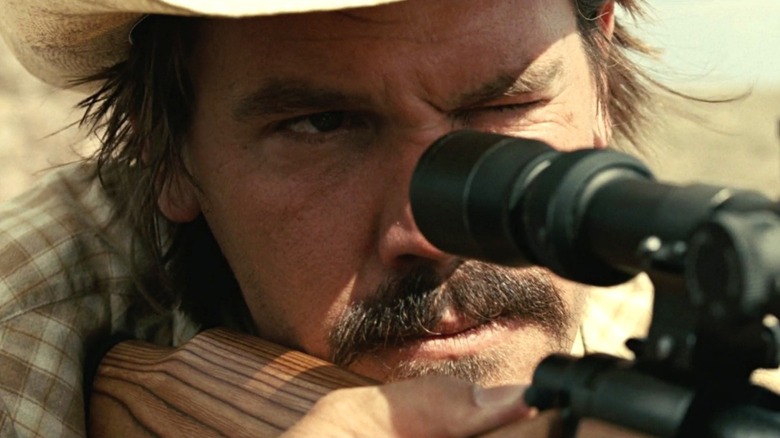 Miramax Films
Once upon a time, Josh Brolin broke onto the mainstream as Brand Walsh, the heartthrob older brother of Sean Astin's Mikey in "The Goonies." He appeared in a variety of films and even nabbed a leading role on the series "The Young Riders," but new life was breathed into Brolin's career after he was cast as Llewelyn Moss in the Joel and Ethan Coen film "No Country for Old Men." Brolin's Moss is a hunter who inadvertently finds himself mixed up with the deadly assassin Anton Chigurh (Javier Bardem) after stumbling across the aftermath of a drug deal that left bodies in the wake. Moss leaves the scene with a briefcase filled with $2 million, cash that Chigurh desperately wants to retrieve. The film was nominated for eight Academy Awards, winning four for Best Picture, Best Director, Best Supporting Actor for Javier Bardem, and Best Adapted Screenplay.
The success of the film helped reignite the industry's interest in Brolin, who went on to appear in major films like "American Gangster," "W.," True Grit," "Inherent Vice," "Sicario," and "Dune." Not mention his casting as the biggest villain in the galaxy, Thanos, in the Marvel Cinematic Universe. His role as Llewelyn Moss didn't require a lot of dialogue, which initially concerned Brolin. "I mean it was a fear, for sure, because dialogue, that's what you kind of rest upon as an actor, you know?" The lack of dialogue did allow for space to try new things, and for the Coen brothers, the opportunity to possibly screw with Josh Brolin.
'Was it a joke, or did it help the movie and the scene?'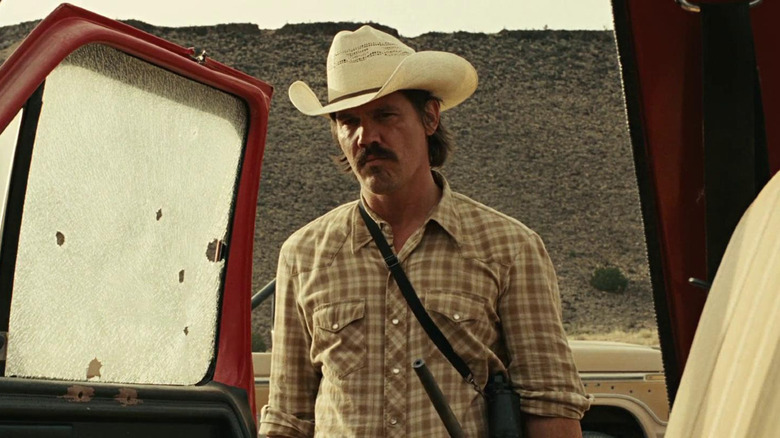 Miramax Films
In one of the earliest moments in "No Country For Old Men," Brolin's Moss finds the briefcase full of money and the corpses of those in the drug deal. As he said in an interview, "When I got the satchel and I opened it up, I said, 'Don't you think he should say something?" As Brolin tells it, Joel Coen asked Brolin to offer suggestions, which he did in the form of inquisitive sounds. It's not as if Brolin was looking to bust out a soliloquy or anything, just some form of audible indication of what his character was feeling:
And I said, "I don't know, like a 'huh' or a 'hm.'" And they go, "Is there anything else?" And I go, "Like 'hmm?'" And they go, "What else?" And, now you're thinking, "They're f****** with me, right?"
Brolin tried six different responses before Ethan Coen told him to "try the second one" again. Brolin did as directed, and while we aren't sure which take the Coen brothers ended up using in the final cut of the film, Brolin thinks the directors used the moment to mess with him. "Every time we screened the movie I always knew where Ethan was in the theater, because every time that moment happened he would burst out laughing," he said. "So, was it a joke, or did it help the movie and the scene? We'll never know." 
Despite the possibility the directors were messing with him, Brolin still spoke highly of his experience, but playfully joked "Any kind of film that they've come out with and they've manifested that's good is an accident, not because of skill or anything." There's clearly some magical method to the Coen Bros. madness, and the duo and Brolin were able to laugh their way to nearly-universal acclaim.