The Mandalorian's Frog Lady Actor Is Returning In Season 3 (Though Not Necessarily As Frog Lady)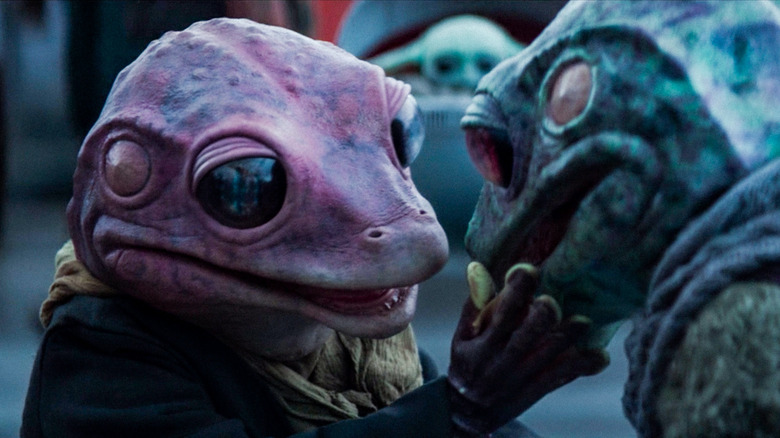 Disney+
Frog Lady! I'm sorry, but that deserves to be yelled, which I just did in my house. Misty Rosas, the actor who played the Frog Lady in season 2 of "The Mandalorian," has revealed that she will be returning for season 3. However, since Rosas specializes in physical performances underneath heavy costumes, that doesn't necessarily mean that Frog Lady herself is going to be back (unless she's on a revenge mission against Grogu for his egg-eating rampage).
If you weren't aware, Rosas also did the physical acting work for Nick Nolte's Kuill in "The Mandalorian" season 1. Rosas is an actress and a stunt performer who has done stunt work for "The Hunger Games: Catching Fire," "Monster House," "Van Helsing," and one of my personal favorites, "Practical Magic." In a since-deleted Instagram selfie that was first spotted by Star Wars News Net, Rosas can be seen wearing a cast and crew T-shirt for "The Mandalorian" season 3. She even has a face mask with the Mythosaur symbol that identifies Din Djarin's Mandalorian tribe, which she thanks "The Mandalorian" and "Book of Boba Fett" cinematographer David Klein for providing. 
Rosas could absolutely be doing physical performances for another alien, working as herself, or maybe (my fingers are crossed) we'll see her as Frog Lady with her babies! Even cuter than frog babies is the lovely piece of fan art that Rosas shared (via comicbook.com) with Frog Lady holding Grogu and him holding onto her hand. 
Frog babies, please!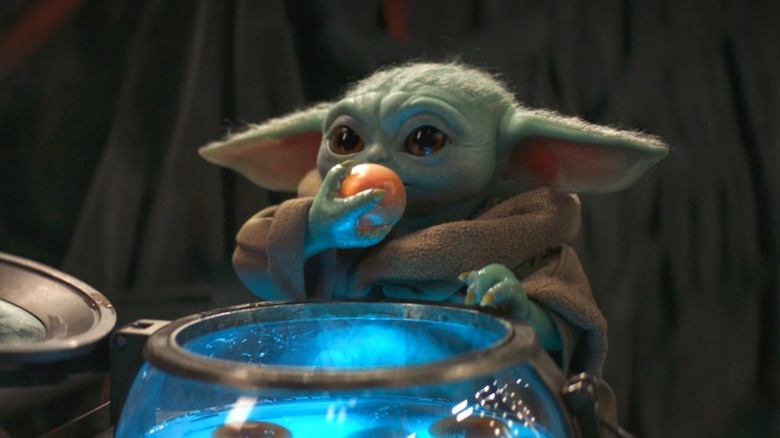 Disney+
The text of the post reads: 
"A sweet, little #fanartfriday post.💕 This one ALWAYS gets me!🥰💚✨💕🐸 Grogu holding onto her hand, and his little foot!😍 Aaaahhhhh! Heart melting!!! #allthefeels ♥️#connection #compassion #empathy #love 💕✨ @theartofnathannaerica I was SO EXCITED when I received my script and read through the "babysitting" scene! My first reaction was, "YAY! I get to hold Grogu!🥰👏🏽👏🏽👏🏽"
Rosas' emoji game is strong and I love it very much ... though I do feel the need to say, "He ate your babies!" 
"The Mandalorian" season 3 has recently wrapped filming, and the season is expected to air later this year. We don't know much about what's next for Mando and Grogu, other than the fact that people who didn't watch the last few episodes of "The Book of Boba Fett" might not be happy that certain characters have been reunited outside the series proper. "Book of Boba Fett" was basically "The Mandalorian" season 2.5, so if you haven't watched the last three episodes of "Boba Fett," you should do so before season 3. One wonderfully perfect detail that we do know is that the legendary Christopher Lloyd has joined the cast. 
Disney+, I want to see frog babies and I want to see them now. This is a sentence I never thought I'd type, but here we are. 
"The Mandalorian" season 3 doesn't have an official release date yet, but it's expected to premiere towards the end of 2022.