The Daily Stream: Practical Magic Has Gentle Spells And A Great Revenge Story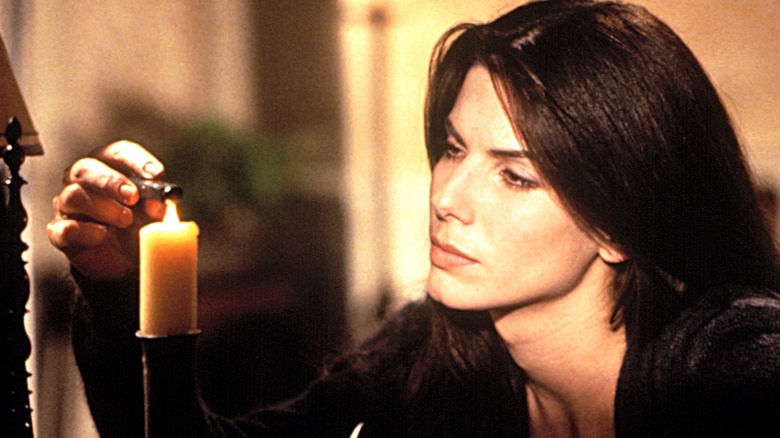 Warner Bros. Pictures
(Welcome to The Daily Stream, an ongoing series in which the /Film team shares what they've been watching, why it's worth checking out, and where you can stream it.)
The Movie: "Practical Magic"
Where You Can Stream It: HBO Max, Amazon Prime Video (rental)
The Pitch: As someone who isn't generally the biggest fan of rom coms, it's almost hard to admit to loving a film like "Practical Magic," and yet when it pops up on television, I cannot resist. I seek it out when I'm stressed. There is something about this movie that melts it all away, like Sally and Gillian Owens have cast a spell on me. 
1998's "Practical Magic" is based on the novel of the same name by Alice Hoffman, and was directed by Griffin Dunne (also known for his acting roles in movies like "After Hours" and "American Werewolf in London"). It stars Sandra Bullock and Nicole Kidman in their late '90s glory. We're talking slip skirts, velvet dresses, and belly chains here. They play Sally and Gillian respectively, witch sisters who live with their aunts played by Stockard Channing and Dianne Wiest. Tell me there are women you'd want more than this to be your kooky witchy relatives and I'll call you a liar. 
The Owens family is cursed, it seems. When any of the Owens women fall in love, the men they fall for always die. In an attempt to prevent this "curse" from robbing her of her hypothetical one true love, Sally casts a spell saying she'll only fall in love with a very specific man. He'll have different-colored eyes, and other traits so rare that she believes no man who fits the bill could ever possibly exist. Sally does fall in love, gets married, and has two kids with a man who doesn't fit that description — but alas, he bites the dust. 
That guy does exist though, and all the magic in the world can't stop true love.
Why It's Essential Viewing
First of all, you put Sandra Bullock and Nicole Kidman together in a film and have them play witches, and seriously what else do you want from life? Add in a scene where the aunts and the nieces dance while drunk and it's just perfection. (The actors reportedly all got drunk for real during while shooting that scene.) There is something really wonderful about light magic. We're not talking wizard-level magic here. It's wise women magic. Spells for banishment in syrup, belladonna in tequila to kill an abusive man (I do not condone poisoning, but I do in this film), spells to bond with your sister, and spells for true love. 
Magic is a desire for help getting what we want, and most of us aren't looking to destroy a dragon or take down enemy troops. We want to be close to the people we love, even when we're far away. We want people who are causing us trouble to buzz off. We want to punish people who hurt those we love. We want to find our one true pairing. In the end, we wish for these things, and the Owens sisters are just a little better at getting it than we are. (They also use magic to make their blender work, and since mine is always broken, I envy that power.)
It's a Witch Movie, So Of Course Steve Nicks Is On The Soundtrack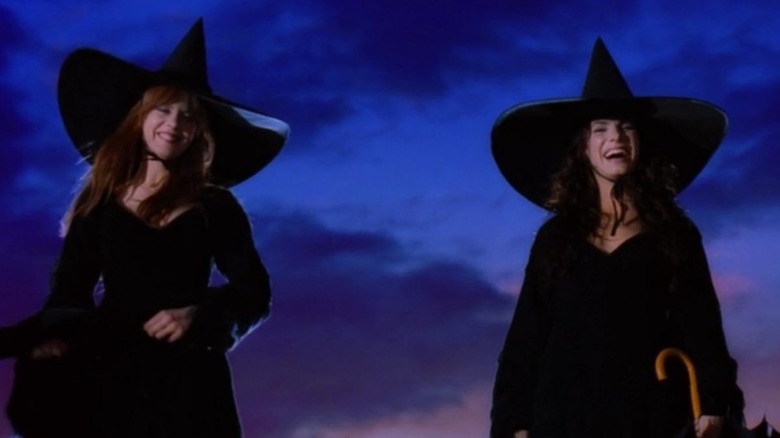 Warner Bros. Pictures
There is something else here that makes "Practical Magic" stand out: This is a film about women. The man who hurts Gillian is hard to get rid of, like many abusers, but her sister helps her do it. And at the end of the movie, it's the women of the town who come together to help when the Owens family can't do it alone. These are women who've been enemies (or at least rivals or gossip fodder) before, but when the chips are down, they take care of each other. The film's cast is mostly women. The Owens house is all women (including a very young Evan Rachel Wood as one of Sally's daughters). It's rare and it's lovely. 
Maybe the tone is a bit of a mess. Maybe Gillian doesn't make the best choices, but the film is fun. I don't always ask for my favorite films to be perfect. I just want to love them. It's impossible not to love the Owens sisters. Especially Sally, who is finding out who she is. She closes herself off from her magic (her vulnerability), and finally lets someone in. 
Also, the soundtrack has Stevie Nicks, and if there is anything more appropriate for a witch movie than that, I don't know what it is.