The Bubble Review: This Talent-Stuffed Comedy May Meander But It'll Still Make You Laugh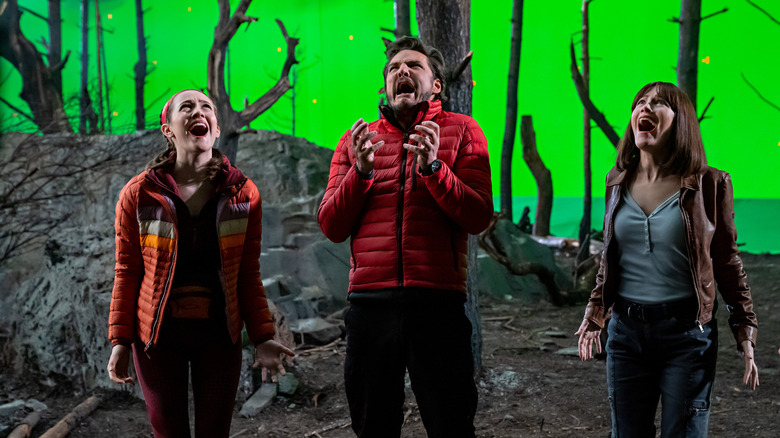 Laura Radford/Netflix
It was only a matter of time before someone made a comedy that centers around the hellish experience of living in a world shut down by COVID-19. Judd Apatow is that someone, and being "the first" is a moniker he knowingly took on when he went about making "The Bubble." The film — an ensemble feature whose premise rests on the challenges of shooting an aggressively bad action movie in the middle of a pandemic — succeeds in being funny. 
It's also very self-aware of its premise, and at times seems almost embarrassed about it, as if Apatow feels a bit weird about co-writing and directing a comedy centered around a virus that has scarred all our lives. You can feel the undercurrent of Apatow's angst as the events of the film unfold, with certain scenes seeming to come from a headspace of panic, desperation, and fear — a state that many of us were in during the Spring of 2020.
That doesn't mean, however, that the movie isn't fun to watch, though your mileage may vary depending on how you're dealing with everything that has happened (and is still happening) over the last two years.
Are you emotionally ready for nasal swab jokes?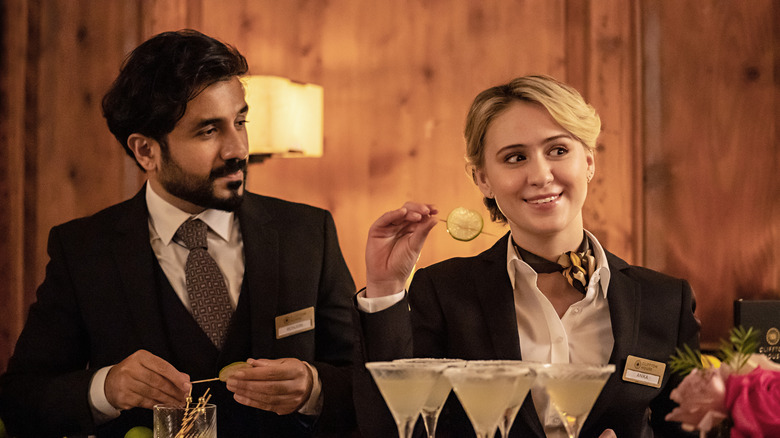 Laura Radford/Netflix
Apatow's inspiration for "The Bubble" came from the early days of lockdown, when sports teams and films like "Jurassic World: Dominion" created enclosed spaces (i.e., bubbles) in order to continue bringing entertainment to the masses (or perhaps more accurately — as "The Bubble" touches on — to allow the rich to continue to become richer). In the movie, a group of actors heads to a fancy British hotel in the countryside to film "Cliff Beasts 6," the latest movie in a very silly fake franchise, which is also a clear riff on the "Jurassic World" films.
These fake "Cliff Beasts" cast members — played by Karen Gillan, Leslie Mann, Iris Apatow, David Duchovny, Keegan-Michael Key, Pedro Pascal, and Guz Khan — are all ridiculous individuals that play up typical actor stereotypes to comedic effect. Key, for example, started a health-centered cult during his pandemic downtime, while Duchovny's character is one of those actors who always want to "tweak" the script because he thinks he knows best. In a nod to our times, the sixth "Cliff Beasts" movie also adds TikTok star Krystal Kris (Iris Apatow) to the production, which also means your eyeballs will see more than one TikTok-esque dance during the film.
The good news is the "Cliff Beasts" actors keep the comedy coming, none more so than Pascal, who was the funniest of the bunch. (Did we know Pascal was so funny? I didn't before "The Bubble," and gaining this knowledge alone made the film worth a watch.)
Cameos, cameos, everywhere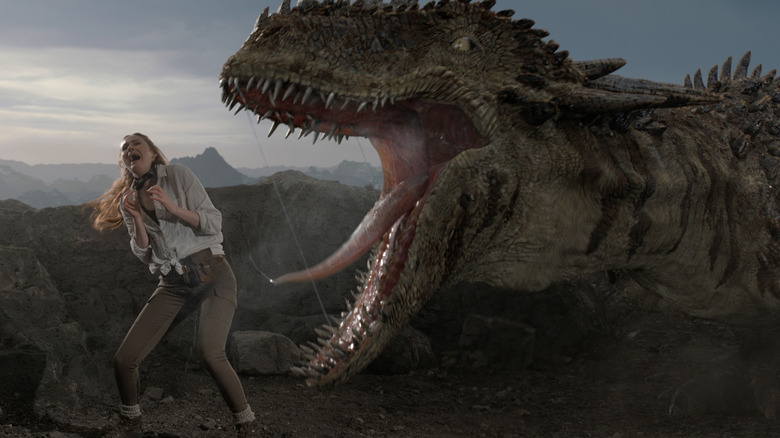 Netflix
There's amazing talent outside the core fake cast as well. Fred Armisen is there as the "Cliff Beasts 6" director, and Peter Serafinowicz plays the producer trying to keep everything from becoming a complete disaster. Add into the mix the two virus safety folks (Samson Kayo and Harry Trevaldwyn), the hotel staff (Maria Bakalova and Vir Das), and things are downright crowded in the "Cliff Beasts" comedic bubble.
And if that wasn't enough (reader, it was enough), the movie is also crammed with cameos of legendary talents, a fun thing to see but perhaps a detriment from an editing standpoint. I'm sympathetic here — I mean, who wouldn't want to include that completely unnecessary (and not super funny) Zoom call scene with John Lithgow, after all? That's not to say that none of these cameos add to the story — James McAvoy has a moment with Gillan near the end, for example, that had me in tears. But with a 124-minute runtime, even the most impressive cameos start to wear thin. The plot also steers into absurd territory near the end in a way that is jarringly graphic, though the story more or less gets back on track and meanders toward an end. 
Despite these issues, however, "The Bubble" succeeds in what it set out to be — a movie that gives us some laughs during these distressing times. And I was ready to laugh. It's a nice change, after all, from crying.
/Film Rating: 6 out of 10