Moon Knight's Human Statue Character Has A Comic Book Origin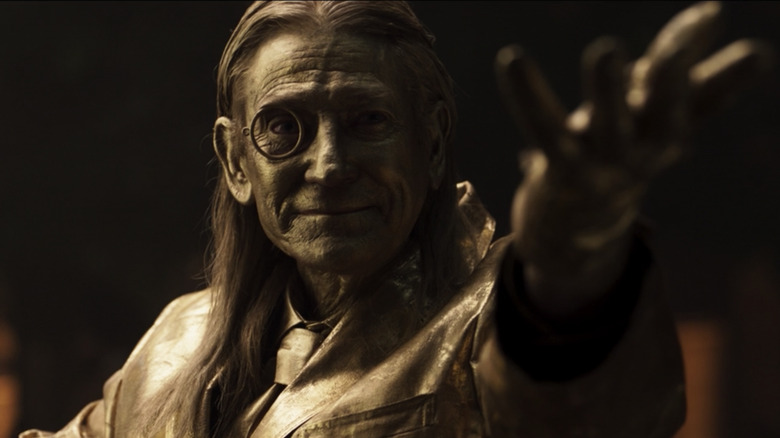 Disney
"Moon Knight" has finally entered the MCU! Marc Spector is one of Marvel's most unique heroes and fans have waited a long time to see him given a live-action adaptation. However, "Moon Knight" is likely quite different from what comic readers were expecting. For one thing, the Disney+ series spends the majority of its first episode with Steven Grant, an unassuming museum gift shop worker in London who thinks he's suffering from a strange sleep disorder. In reality, Steven is being inhabited by another personality, a mysterious man named Marc Spector, who carries the powers of Moon Knight. 
While the little bit we see of Marc is similar to his comic counterpart, Steven is markedly different from his. Gone is the millionaire playboy persona so often likened to Bruce Wayne — which is perhaps why the writers chose to alter him so drastically — and in his place is a sweet, but nebbish gift shop employee. One major aspect of the character has been left intact though: Steven is desperately trying to make sense of his fractured psyche.
Moon Knight often works alone, but many of his comic adventures feature a cast of characters who have been integral to Marc's mission over the years. They are all absent from the first episode of "Moon Knight," save one (though another's name does show up). While many viewers probably didn't give much thought to the living statue Marc confides in, chances are he looked quite familiar to comic fans. So, what is this person's name and who is he to Marc Spector in the comics?
More than meets the eye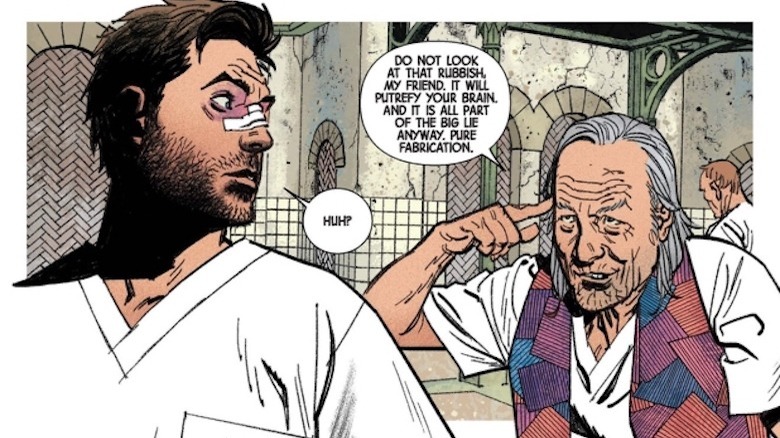 Marvel Comics
The name Bertrand Crawley likely came to mind for many Moon Knight fans as Steven spoke to the living statue in the first episode of the Disney+ series. After all, the performer certainly looks the part. A quick peek at the show's end credits confirms these suspicions, with Shaun Scott credited as Crawley. Similarly to Marlene, Frenchie, and Gena, Crawley has been a part of Marc's inner circle for a very long time.
Like most of Moon Knight's core cast of characters, Bertrand Crawley made his first appearance in 1976 in "Marvel Spotlight" Vol. 1 #28. He was brought to life by Moon Knight creators Doug Moench and Don Perlin. Crawley was homeless on the streets of New York when he met another one of Marc's alter egos, Jake Lockley. His position made him uniquely suited to act as an informant and he was quickly put on the payroll, thanks to Steven's wealth. He has gathered intel for Moon Knight on and off ever since.
There is more to Crawley than meets the eye, as he is quite intelligent and highly skilled when it comes to gathering information. He also has a very tragic backstory as shown in "Moon Knight" Vol. 1 #2, created by the hero's co-creator Moench and the amazing Bill Sienkiewicz. Initially a textbook salesman, Crawley's alcoholism destroyed both his livelihood and his marriage. After his wife left with his young son Jimmy, he eventually wound up living on the streets. Jimmy's own life was as brutal as it was brief. He became a murderer, killing homeless men in the hopes of ending the father who abandoned him and whom he blamed for his mother's death. Thanks to Moon Knight, his time as the Slasher was very short-lived, though Crawley didn't hold that against the hero.
Crawley has popped in and out of Moon Knight comics over the years, but he does play a particularly pivotal role in the excellent 2016-2017 comic run from Jeff Lemire and Greg Smallwood. It's unclear how much of Crawley we'll see in "Moon Knight." Thus far, he's served as a much-needed sounding board for Steven. Sometimes, all you need is someone willing to listen and while Crawley is certainly a captive audience, perhaps he will eventually help Moon Knight on his hero's journey.