Everything You Need To Know About Moon Knight's Multiple Identities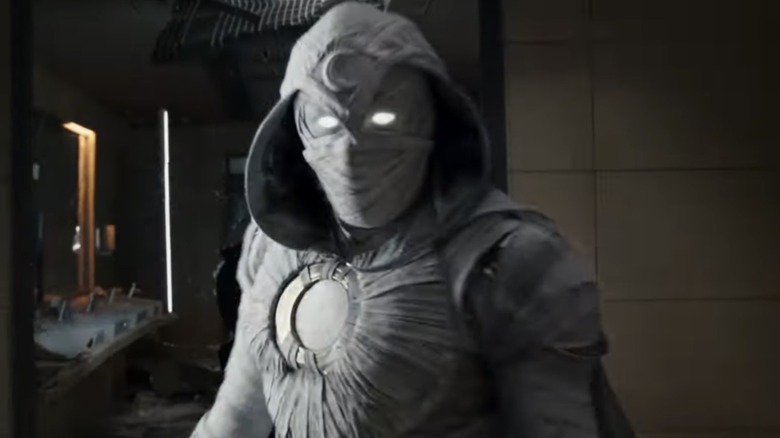 Marvel Studios
Ordinarily, attributing authorship of superhero comic book characters (i.e. which writers and artists created them) is relatively simple. For example, the character of Marc Spector — the white-clad quasi-mystic vigilante Moon Knight — made his debut in 1975's "Werewolf by Night" #32 by writer Doug Moench and artist Don Perlin. However, the characters of Steven Grant and Jake Lockley weren't introduced until 1976's "Marvel Spotlight" #28-29 by Doug Moench and Don Perlin (again), even though both characters are also Moon Knight. Jake, Marc, Steven and Moon Knight all appear on the same front cover of 1980's "Moon Knight" (Vol. 1) #1 by Moench and artist Bill Sienkiewicz. While the character first donned his "Mr. Knight" outfit in 2011's "Secret Avengers" #19 by writer Warren Ellis and artist Michael Lark, "Mr. Knight" didn't make his named debut until 2014's "Moon Knight" (Vol. 7) #1 by writer Warren Ellis (again) and artist Declan Shalvey.
These have been the most prominent of Moon Knight's alter egos over the decades, which have been variously accounted for as investigative aliases, psychologically dissociated identities (a diagnosis that's drawn fire for its accompanying inaccurate portrayals in the comics), and even discrete aspects of the same ancient Egyptian god. /Film already served up 10 Things You Didn't Know About Moon Knight in anticipation of the character's live-action Disney+ original series debut on March 30, but this time we're answering the more specific question "Who is Moon Knight?" by delving into the primary multiple identities (and their histories) that have coalesced into this character.
From Wolf's Bane To Marvel's Batman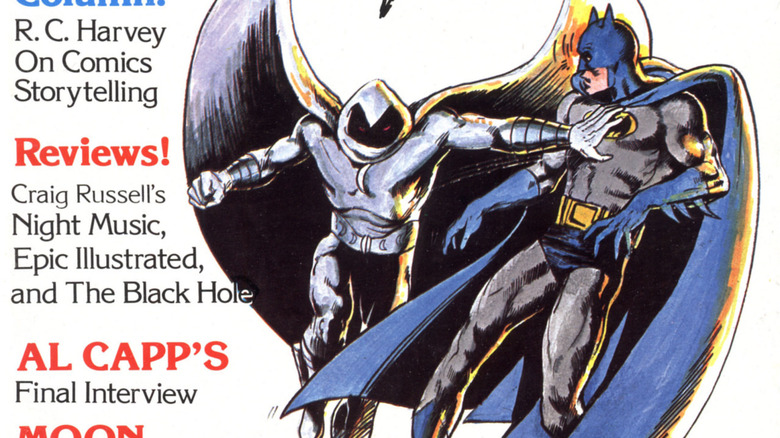 Fantagraphics Books
Before any stories suggested Moon Knight might be dealing with mental disorders, his identity was already revised. This occurred between his initial 1975-76 "Werewolf by Night" issues and the launch of his own title four years later. Between 1976's "Marvel Spotlight" #28-29, 1977's "Defenders" #47-51, 1978's "Spectacular Spider-Man" #22-23, and 1979's "Marvel Two-In-One" #52 by writer Steven Grant (more on that name to come), Moon Knight was recast as a more heroic figure. Marc Spector joins the Defenders during their war against the Zodiac criminal cartel and is retconned into accepting the Committee's assignment to capture werewolf-by-night Jack Russell as part of an undercover mission to infiltrate the villainous cabal.
Artist Bill Sienkiewicz created a new look for Moon Knight in 1978-80's "Hulk! Magazine" #13-15, #17-18, and #20, all written by Moench. The stylistic similarities between Sienkiewicz and artist Neal Adams (popular for his depictions of DC Comics' Batman) led readers to perceive Moon Knight as Marvel Comics' attempt to recreate The Dark Knight. This was captured on the cover of 1980's "The Comics Journal" #54, for which Sienkiewicz illustrated Moon Knight shoving Batman to one side while shouting, "Out of my way, old-timer!" Since Bruce Wayne adopted another alias three years before Marc Spector made his first appearance, it made sense that Moon Knight's title would introduce two more "civilian" guises for Marc.
Echoing Batman And The Shadow's Examples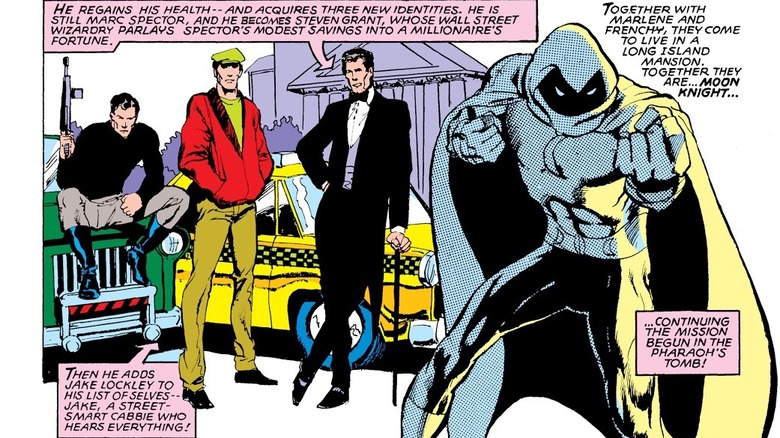 Marvel Comics
Matches Malone was a Gotham gangster who died in his first appearance in 1972's "Batman" #242, but Bruce Wayne kept him alive as a cover identity to access the criminal underworld, something the Batman persona could not provide. Likewise, after American soldier of fortune Marc Spector is left for dead in a freshly unearthed pharaoh's tomb at the feet of a statue of Khonshu (ancient Egyptian god of the moon and vengeance), he adopts the title of "Moon Knight." He also acquires two other identities, retaining the name Marc Spector while "adding to his list of selves," per 1980's "Moon Knight" (Vol. 1) #1:
• Steven Grant, "whose Wall Street wizardry parlays Spector's modest savings into a millionaire's fortune."
• And Jake Lockley, "a street-smart cabbie who hears everything!"
It's not difficult to discern parallels between Bruce Wayne's butler, Alfred Pennyworth, and Marc Spector's longtime brother-in-arms, former French Foreign Legion member Jean-Paul "Frenchie" Duchamp. Fans of the pulps and old-school serials might identify similarities between Spector and the original secret identity of "The Shadow," Kent Allard, a war veteran who returned to America changed by his exposure to foreign cultures. There are also similarities between Steven Grant and the Shadow's best-known alter ego, wealthy globetrotting playboy Lamont Cranston. Even Jake Lockley recalls the Shadow's cab-driving chauffeur, Moses (Moe) "Shrevvy" Shrevnitz, just as Lamont Cranston's socialite companion, Margo Lane, is reflected in Steven Grant's pampered but put-upon lover, Marlene Alraune.
Unhealthy Partners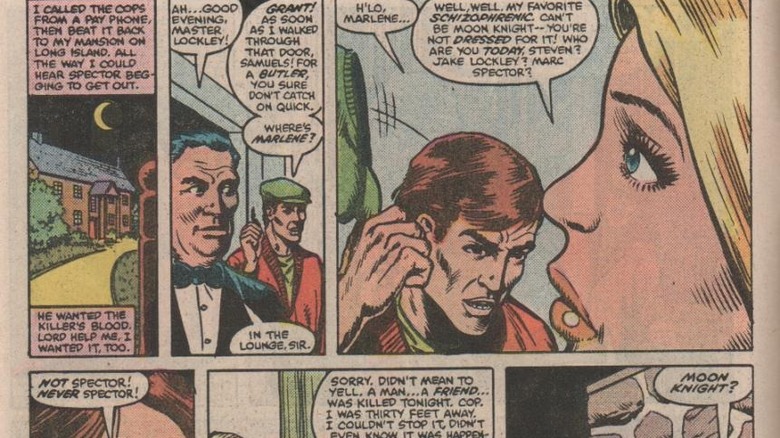 Marvel Comics
Marlene Alraune's relationship with Moon Knight began badly when he was still Marc Spector. It remained troubled as Steven Grant became Moon Knight's primary personality. Marlene's archeologist father was killed by mercenary terrorist Raoul Bushman, who was working with Marc at the time. Dr. Peter Alraune died to hide from Bushman the tomb where Marc was subsequently resurrected from his mortal wounds. When Marlene moves into Steven's mansion, he declares he'll keep fighting crime regardless of her feelings, which reminds her of her father's refusal to heed her warnings. In 1981's "Moon Knight" #9-10, Bushman drives Moon Knight insane by bringing about the destruction of the Khonshu statue (Moon Knight believes the statue empowers him). He insists Khonshu's spirit inhabits his body until Marlene sets him straight by claiming the destroyed statue was not the original.
In 1982's "Moon Knight" #27, writer Steven Grant uses the narration of Steven Grant (the character) to reveal Marc Spector's personality has been "put away," while Marlene tauntingly addresses him as "my favorite schizophrenic," before wondering aloud which personality is piloting his body. In 1983-84's "Moon Knight" #36-38, writer Alan Zelenetz portrays Steven Grant progressing toward integrating his personalities, first by exorcising the spirit of a Khonshu priest, then by dealing with the legacy of Marc Spector's rabbi father. Eventually, Grant reclaims his identity as Spector and briefly abandons his crime-fighting crusade to settle down with Marlene in 1985's "Moon Knight" (Vol. 2) #1, written by Zelenetz.
Doug Moench Shows His Notes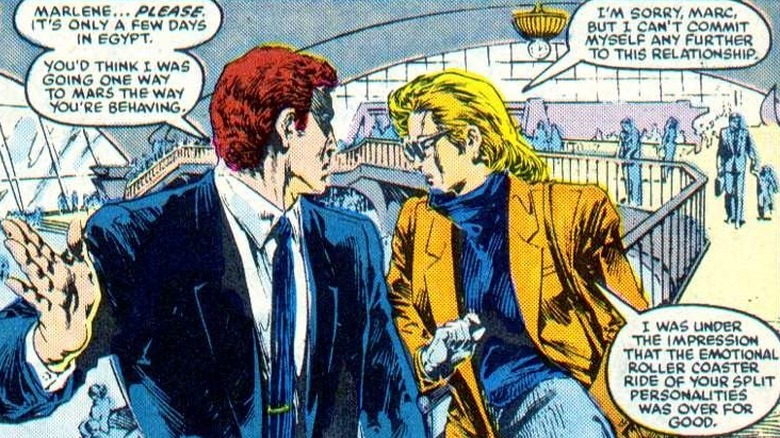 Marvel Comics
That same issue sees Spector go so far as to sell his statue of Khonshu, but he then dreams that the moon god is summoning him back to Egypt. Marlene threatens to leave Marc if he follows Khonshu's call since she's put up with plenty from him, but she also compounded his delusions by telling his Steven Grant persona he needed to be a better man than the killer Marc Spector once was. Again, this is not how Dissociative Identity Disorder works. Not that they were ever destined for a healthy relationship, since Marlene originally wished death upon Marc for working with Bushman (who killed her father). Writer Doug Moench outlined the unhealthy dynamic of Moon Knight's identities in a full page of production notes for 1981's "Moon Knight" (Vol. 1) #15.
Moench described Marc Spector as "a wayward man" who "teetered on the brink of ruthlessness" and "barely managed to retain his footing this side of disaster," making him "a man Moon Knight would sometimes like to forget." Accordingly, Moench explained that Steven Grant was created to assuage Spector's guilty conscience, not only by "becoming a new man," but also by using "all the loot he'd earned or acquired as a mercenary" to achieve "altruistic ends" by financing Moon Knight's crime-fighting. Moench described Grant's personality as "the reserved, refined, capable and committed man Marlene wishes Moon Knight could truly and more fully become — but also the man with whom Moon Knight is least comfortable."
Based On Questionable Psychoanalysis, Real Names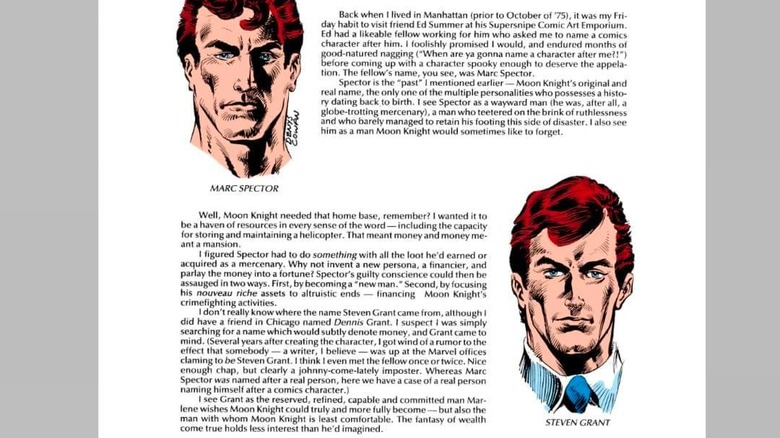 Marvel Comics
Just as Steven Grant enabled Moon Knight to consolidate his assets under a conveniently affluent cover identity, Doug Moench encapsulated Jake Lockley as a "believable means of gathering info," beyond genre-standard job fields such as cops, news reporters, or lawyers. Moench thought a cabbie provided "great contrast with millionaire Grant," and described Lockley as "the man Moon Knight is most comfortable with — no pretensions and no real responsibilities, always on the move, always in contact with people on an easy, earthy level." Moench deemed Lockley closest to Moon Knight's "real identity," with "a capacity for humor and absurdity," minus Spector's "guilt and grimness." Moench referred to "Jake Blank" in his plot, and credited artist Don Perlin with suggesting the surname "Lockley," but Marc Spector worked for Ed Summer's Supersnipe Comic Art Emporium in Manhattan when Moench promised to use his name for a comics character.
Unlikely as it might seem, Doug Moench named Moon Knight's millionaire guise "Steven Grant" before he'd met or even heard of Marvel Comics writer Steven Grant, whom Moench jokingly insisted had "clearly" named himself after the comics character. "Perhaps I created (Moon Knight) too soon after reading Flora Schreiber's 'Sybil,'" Moench concluded, referring to the 1973 book about psychoanalyst Cornelia B. Wilbur treating the pseudonymous Sybil Dorsett (née Shirley Ardell Mason) for DID. Perhaps, although Mason, Wilbur, Schreiber, and their critics still field claims and counter-claims of distorting and fabricating evidence, among other unethical practices, even posthumously.
Daddy Issues, Compounded By Retcons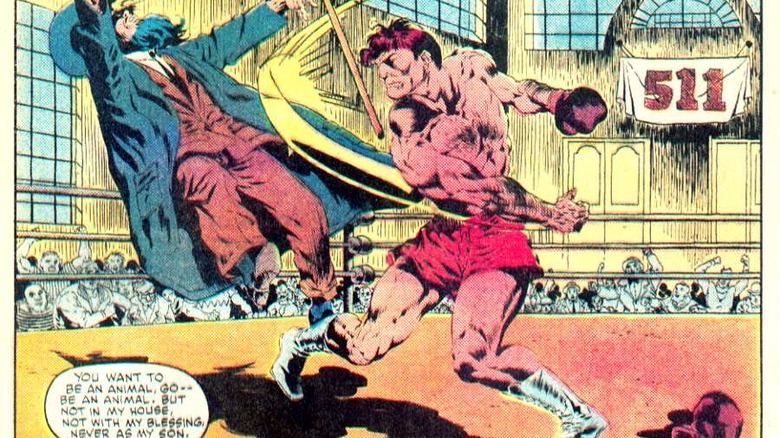 Marvel Comics
"Any man fleeing from his past and seeking to become a new and better man ... would logically be prone to role-playing," Doug Moench wrote in "Moon Knight" #15. "I've merely tried to stretch the ancient concept to further limits ... while still keeping the character sane." Subsequent writers haven't prioritized keeping Moon Knight sane, but Alan Zelenetz's introduction of Marc Spector's Jewish heritage in 1984's "Moon Knight" #37-38 proved more influential. Zelenetz established that the Spector family lived in poverty in Chicago, with Marc and his rabbi father, Elias, mutually disappointing each other as Marc grew up. Marc called his father a coward for doing nothing when a gang slashed a swastika into the rabbi's forehead, while Elias scolded his son — in the ring, during a match — for earning "dirty money" by boxing.
This led, in quick succession, to Marc punching out his father in public, Elias disowning his 18-year-old son, and Marc joining the Marines the next day. Elias Spector originally died during "the present day" of his first appearance in "Moon Knight" (Vol. 1) #37, but writer Jeff Lemire retconned Elias' death, and Marc's childhood, through his five-part "Death and Birth" story arc in 2017's "Moon Knight" (Vol. 8) #10-14. According to "Death and Birth," when Marc was a boy, Steven Grant and Jake Lockley were imaginary friends his age. Because Marc could see and hear Steven and Jake, as though they were real, Elias took his son to a child psychiatrist.
Discharged Under The Wrong Heading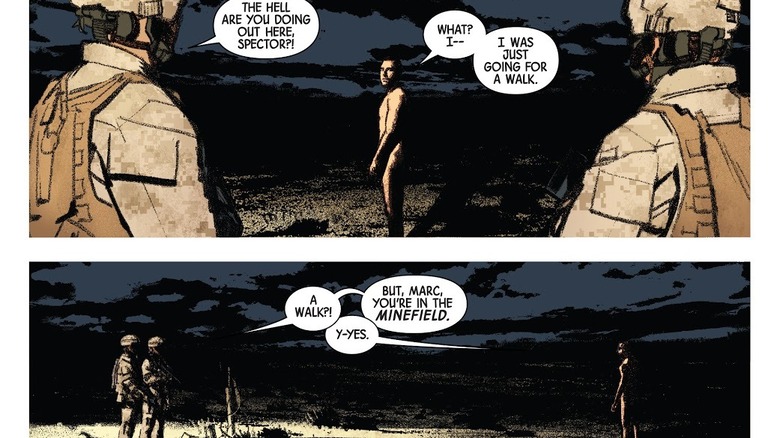 Marvel Comics
While the doctor offered his diagnosis to Elias, Khonshu manifested in front of Marc for the first time, claiming to be his "true father." Elias had Marc interned at the Putnam Psychiatric Hospital long enough for the boy to become a young man until Marc was granted a temporary release to attend Elias' funeral and simply never returned. Spector still served in the Marines, per Alan Zelenetz, but "Death and Birth" depicts his three-year enlistment ending with a dishonorable discharge during his second tour in Iraq, after Marc walked onto a minefield naked at night under the light of the full moon.
This incident, among Marc's other documented "bizarre behavior," prompted his commanding officer to uncover that Spector had lied to his recruiters by not disclosing his stint as a patient at the Putnam Mental Health Hospital, leading his CO to declare him unfit for duty. (Since Marine Corps Private Marc Spector was involuntarily separated from service due to a diagnosed mental health condition, he shouldn't have received an other-than-honorable discharge, per 2016 policy.) Jeff Lemire also retconned Marc Spector's original trek to the tomb by revealing Steven Grant and Jake Lockley reappeared to him in the desert, before Khonshu summoned him to be reborn as Moon Knight. The hallucinatory, flashback-laden, spiritual plane-straddling vision quest of "Death and Birth" reaches its present-day resolution when Marc, Steven, Jake, and Moon Knight integrate their identities to break free of Khonshu's control together.
Jewish Cultural Trauma Sparks Marc's DID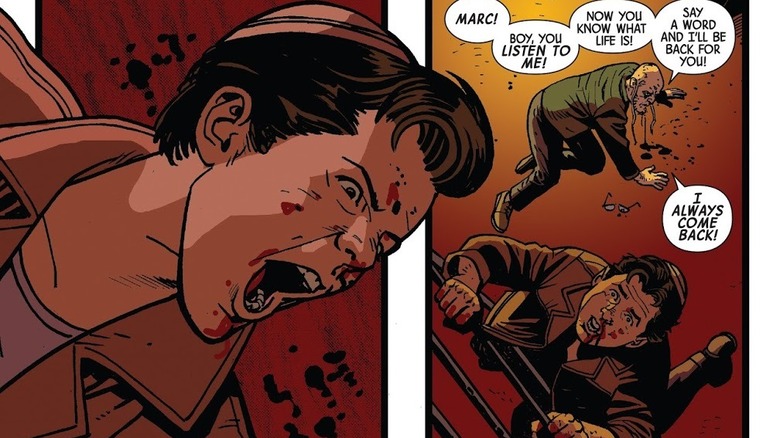 Marvel Comics
Writer Max Bemis compounded Jeff Lemire's retcons in 2018's "Moon Knight" (Vol. 1) #194 by backdating the origins of Marc's DID even further. Bemis introduced Yitz Perlman, the rabbi who taught Elias Spector how to be a rabbi in Chicago, whom Marc Spector came to regard as a surrogate uncle due in part to Yitz's self-deprecating Jewish humor. However, when Marc discovered a hidden basement room in Perlman's synagogue he stumbled on "Uncle Yitz" torturing a boy to death. The rabbi confessed he was secretly an escaped Nazi soldier named Ernst, who'd murdered Marc's grandfather during World War II so he could flee to America by posing as a friend of the family.
In Germany, Ernst belonged to a cabal that helped create the Red Skull, and in America they'd cloned Adolf Hitler into the Hate-Monger. On his own, Ernst devised a method to extend his lifespan by stimulating the pleasure center of his brain, which led to him becoming a serial murderer since what he enjoyed most was killing Jews. After Ernst subjected Marc to a horrifying account of the Holocaust, Marc found strength enough to fight his way free but never spoke of it until adulthood, as he heard that Rabbi Perlman had "transferred to another synagogue" the next day. "There were times I was even able to scrub it out of my own mind," Marc tells Frenchie, "until it came back in a hushed voice or some fleeting image."
Inherited Condition Versus Brain Damage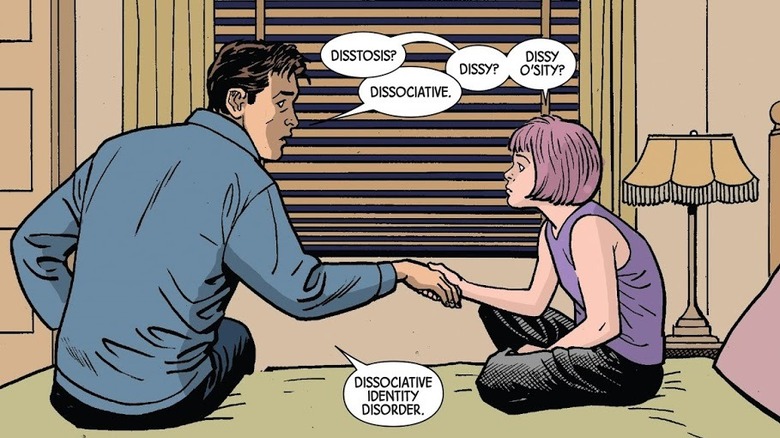 Marvel Comics
Marc Spector remembers Ernst's last words to him, as he escaped: "Don't worry ... you'll find a way to live with this." When he recounts these events to Frenchie, Marc recalls how his father "would zone out sometimes and just ... disappear" because "he ... had a lot going on up there." Marc laments, "Sometimes I wish I could go back there and tell him I know a little bit about what that's like." When Marc attempts to explain Dissociative Identity Disorder to Diatrice (his young daughter with Marlene) he tells her, "When I was little, I got scared very badly and, since my brain was wacky, it found a wacky way to deal with being scared."
Marc tells Diatrice how he "made friends like Uncle Jake and Uncle Steven to keep me company when I feel really lonely or upset," after he admits, "It's probably something that's been in my family for a long time. And I can't help it." This retcons 2014's "Moon Knight" (Vol. 7) #1, in which writer Warren Ellis had a psychologist tell Marc Spector he didn't have Dissociative Identity Disorder, perhaps to account (and atone) for Marvel Comics' prior portrayals of Moon Knight which inaccurately depicted DID. Instead, Dr. Elisa Warsame told Marc he cycles through four aspects of Khonshu — "Pathfinder, Embracer, Defender, and the Watcher of overnight travelers" — and "your brain, struggling to define what has happened to it, seeks to apply identities to them."
Concerned Citizen Mr. Knight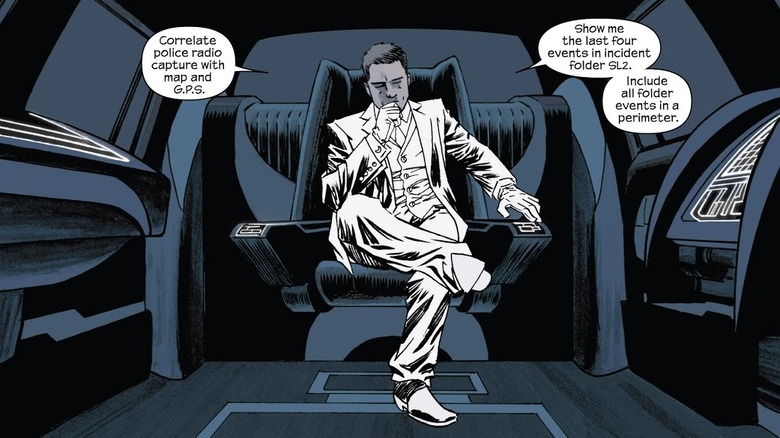 Marvel Comics
According to Dr. Elisa Warsame, Moon Knight applied the identities of not only Marc Spector, Steven Grant, and Jake Lockley to these aspects of Khonshu, but also those of Wolverine, Spider-Man, and Captain America, during writer Brian Michael Bendis' 12 issues of "Moon Knight" (Vol. 6). "You're not insane," Marc's psychologist tells him in "Moon Knight" (Vol. 7) #1. "Your brain has been colonized by an ancient consciousness from beyond space-time." Through hypnosis in "Moon Knight" (Vol. 7) #9, Elisa makes contact with Khonshu's aspects as "The Defender of Night Travelers" and "The One Who Lives On Hearts," the latter of whom she described as "Khonshu's vengeful secret aspect" whom Marc embodied "in your most violent moments."
Not that the good doctor is necessarily a reliable narrator, since she uses her hypnosis to recruit Khonshu to her own cause of vengeance, leaving Marc Spector to awaken and realize she'd taken Khonshu and all his alternate identities from him. This comes after Ellis establishes — in "Moon Knight" (Vol. 7) #1, again — how Marc is working with the NYPD not as Moon Knight but as "Mr. Knight," a mask-wearing, dapper-suited "concerned citizen" on the "new sweeper squad for homicide" created by the mayor "specifically for freak beat stuff." As the squad's Detective Flint tells an officer, "If that man were identified by the name of a dangerous vigilante, then I'd have to follow a very specific set of standing orders and restrain him using whatever force was necessary."
The Midnight Mission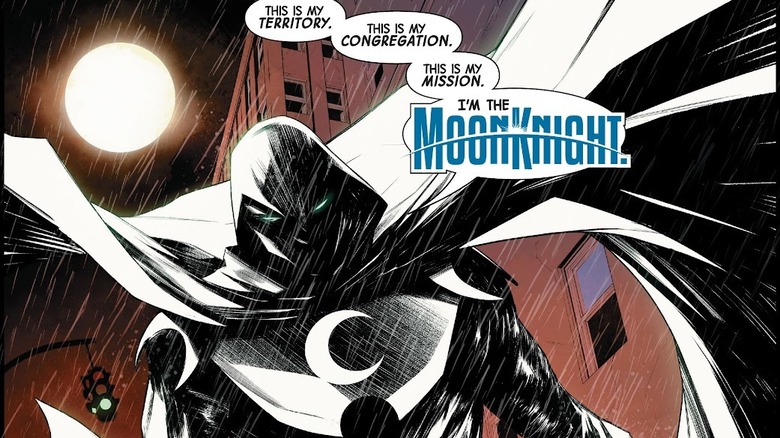 Marvel Comics
Writer Jed MacKay kicked off "Moon Knight" (Vol. 9) in 2021 with a synthesis of these disparate backstories, as the Avengers arranged for psychiatrist Dr. Andrea Sterman to serve as Marc Spector's therapist. This was after "Mr. Knight" claimed territory in Manhattan to establish the "Midnight Mission" congregation, whose doors are open to anyone requesting help. When Sterman points out that Spector serves as the High Priest of Khonshu (despite being Jewish), Marc counters that he's also a rabbi's son who became a war criminal, so "contradictions are nothing new for me." 
"I know Khonshu is unworthy of my worship," Spector tells Sterman. "But unworthy or not, I am his fist. I am the high priest of a god I am estranged from. I have taken on his duty as my own."
Marc explains to Andrea that becoming "the Fist of Khonshu" also meant becoming "the Traveler, the Embracer, the Pathfinder," and "The Defender of Those Who Travel at Night." As of issue #5, in November of 2021, Spector reports to Sterman he hasn't experienced any dissociative episodes "in weeks now," and "when Jake or Steven do surface, it's only for minutes at a time." However, Andrea's larger concern has always been what she calls Marc's "superhuman menticide." 
"Your DID, we can treat," Sterman tells Spector. "But you've been in brain-to-brain contact with a god, Marc — however we define 'god.' MRI and MEG scans show that your brain structure has been fundamentally changed by that."