Paramount+ Releases First Full Episode Of Halo Series Online For Free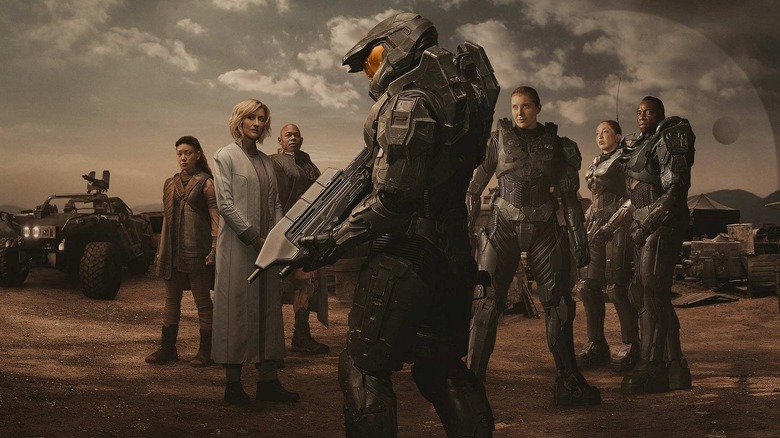 Paramount+
Maybe you're a fan of the game franchise "Halo." Maybe you saw all the crazy drones in the sky over Austin, Texas during the SXSW festival advertising the new Paramount+ series. Maybe you just like Pablo Schreiber a whole lot. Whatever your fandom level, even if you're not a Paramount+ subscriber, you can still check out the very first episode of "Halo." The streaming service will release episode one for free online, which will allow you to decide if you want to follow the adventures of Master Chief, Cortana, and Dr. Catherine Halsey as they navigate the alien threat from the Covenant. 
You can also decide if you're okay with Master Chief removing his helmet. I'm not a "Halo" player (this makes me very sad, but I can't do first-person shooters), so I have no feelings about this outside of the fact that we already have a show where someone almost never shows his face in "The Mandalorian." Please don't get mad at me, "Halo" fans. It's my non-player feeling, and I respect yours.
Watch the first episode below. 
Try before you buy?
"Halo" premiered on March 24, 2022, so there might be spoilers out there. It might be worth checking it out now — because a second season has already been greenlit for the series. 
Here is the info for "Halo:"
In its adaptation for Paramount+, HALO will take place in the universe that first came to be in 2001 with the launch of Xbox's first "Halo" game. Dramatizing an epic 26th-century conflict between humanity and an alien threat known as the Covenant, HALO the series will weave deeply drawn personal stories with action, adventure and a richly imagined vision of the future.
"Halo" stars Pablo Schreiber as Master Chief, Jen Taylor as Cortana, the AI who helps him, Natascha McElhone as Dr. Catherine Halsey, Yerin Ha as Quan Ah, Bokeem Woodbine as fellow super-soldier Soren-066, Shabana Azmi as Admiral Margaret Parangosky from the novels, Danny Sapani as Captain Jacob Keyes, and Olive Gray as his daughter Miranda. I love that Cortana has the same voice as she does in the game. Even though I don't play, Cortana's voice is something I've heard enough to instantly recognize it. Plus, I'm a fan of using the same voice actors, even when something jumps from game to show or film. (I'm looking at you, Mario movie.)
Even if you're not a game person, you can still watch this series. It's not quite a one-to-one adaptation (the helmet alone should tell you that if you know anything about the game or have a friend who plays). Hey, free is free, so give it a shot and let us know what you think!