Halo Marketing Team Unleashes Drone Swarm On Terrified Austin Residents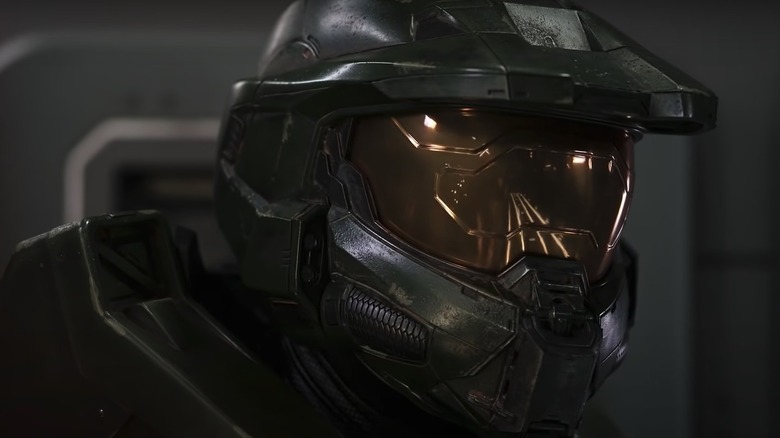 Paramount+
I'm usually a sucker for viral marketing. For example, I spent more time than I should admit to on the viral "The Batman" site, rataalada.com, looking at all the Riddler's notes. I hiked up a mountain in Griffith Park to use the "Star Wars" app to see ships over the Hollywood sign years ago. It's usually fun, and it certainly gets people talking. 
Sometimes though, the timing isn't really great. It depends on your opinion, of course, but Paramount+ just did some viral marketing for their upcoming series "Halo," and it freaked a lot of people out, according to THR (who pointed out a Reddit thread about it). Some people loved it, of course, and the idea is pretty cool.
more photos pic.twitter.com/mUSVYQTAGj

— dennis hegstad 🤠 (@dennishegstad) March 14, 2022
Twitter user @dennishegstad posted some great pics of the viral marketing, which included 400 drones lighting up the sky over Austin, Texas, which is currently hosting the SXSW festival. The site says the drones created an image in the sky that was 300 feet tall and 600 feet wide and turned into a scannable QR code that gives you a link to the trailer for the series. 
Maybe this isn't the best time for glowing things to fly over cities?
Drones are really noisy, and I think that would freak me out more than anything. The site also mentions that some people said this could be used in the future to get people to open malware on their devices. Personally, I think with everything going on in the world right now, maybe flying things over a city isn't the best idea. I love the concept, but this would have had me running inside. Even a single drone at my park will often startle me, and it certainly upsets the animals I'm feeding. 
That's not all. This will apparently be happening again this evening for the world premiere. The drone show is produced by Giant Spoon, and those 4000 drones will again fly over Austin's skies again. The press release says, "In conjunction with tonight's SXSW World Premiere, over four hundred drones flying in synchronized formation will bring the new series HALO to life in the night sky, giving crowds a glimpse into the action-packed adventure and notable characters that await fans, including Master Chief and Cortana."
They will happen beginning at 8:00 P.M. local time, with several shows 10-15 minutes in length. They'll be best viewed around Austin's Convention Center. Each show will end with that QR code to stream the trailer.
Maybe tell the people you know in Austin what's happening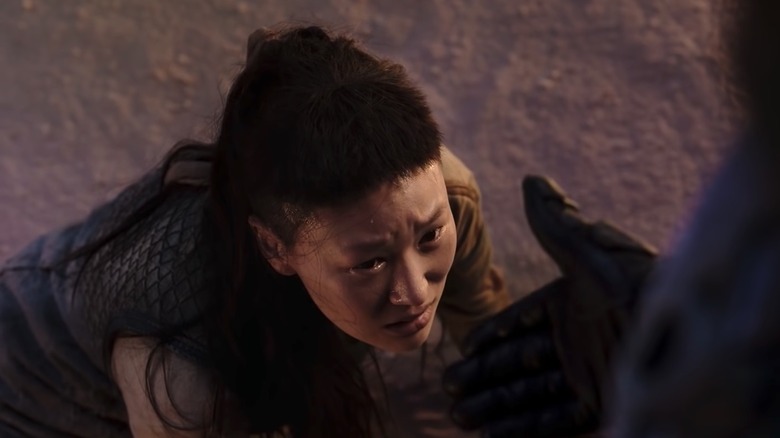 Paramount+
I'm super excited for the series, of course, despite the fact that first-person shooters give me vertigo. It's going to be nice to be able to finally participate after all these years! "Halo" stars Pablo Schreiber as Master Chief, Jen Taylor as Cortana, the AI who helps him, Natascha McElhone as Dr. Catherine Halsey, Yerin Ha as Quan Ah, Bokeem Woodbine as fellow super-soldier Soren-066, Shabana Azmi as Admiral Margaret Parangosky from the novels, Danny Sapani as Captain Jacob Keyes, and Olive Gray as his daughter Miranda.
Here is the info for the series:
In its adaptation for Paramount+, HALO will take place in the universe that first came to be in 2001 with the launch of Xbox's first "Halo" game. Dramatizing an epic 26th-century conflict between humanity and an alien threat known as the Covenant, HALO the series will weave deeply drawn personal stories with action, adventure and a richly imagined vision of the future.
"Halo" will premiere at SXSW today, March 14, 2022, and will debut on Paramount+ on March 24, 2022.