Why Peaky Blinders Showrunner Steven Knight Changed The Ending Of Season 6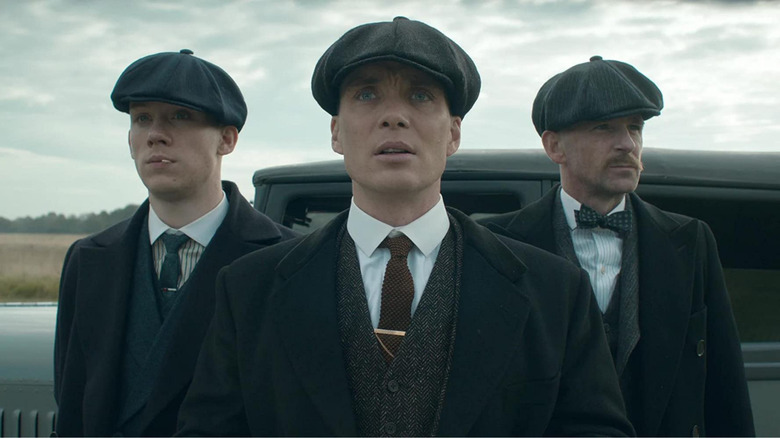 BBC
You know what they say about God laughing at those who make plans, right? Nobody would understand that sentiment more than Tommy Shelby himself, the head of the Shelby crime family and the PTSD-ridden main character of the hit show "Peaky Blinders." Played with a deft (and almost comically heavily-accented) touch by Cillian Murphy, the violent and endlessly driven character has turned the Shelby family name from one most commonly associated with illegal horse racing and gambling to one of the British Isles' most powerful and well-connected political figures. That journey, having taken place over the course of almost an entire decade since the show's debut in September of 2013, certainly serves as a testament to the character's penchant for adapting on the fly and making tough choices when others would certainly shy away from such responsibility.
I'm not going to go so far as to make a direct comparison between Tommy Shelby and "Peaky Blinders" creator, writer, and showrunner Steven Knight ... but the similarities between both of their (very different) circumstances are just too hard to resist. Some of the most successful movies and shows ever made — see: "Breaking Bad" — have famously come about as a result of, inevitably, the best-laid plans going up completely in smoke. As much as narratives about completely pre-planned arcs make for a good story — see: the Marvel Cinematic Universe — creative teams are best served staying light on their feet and remaining willing to adapt when the need calls for it.
That's precisely what happened with "Peaky Blinders," as it turns out. Steven Knight once publicly stated that the must-watch, early 1900s-set series had been scheduled to end right on the cusp of World War II. But in order to bring the final season in for a smooth landing, ahead of its grand conclusion as a feature film, those initial plans had to change. And, in all honesty, thank goodness for that, too.
'I want to keep it going'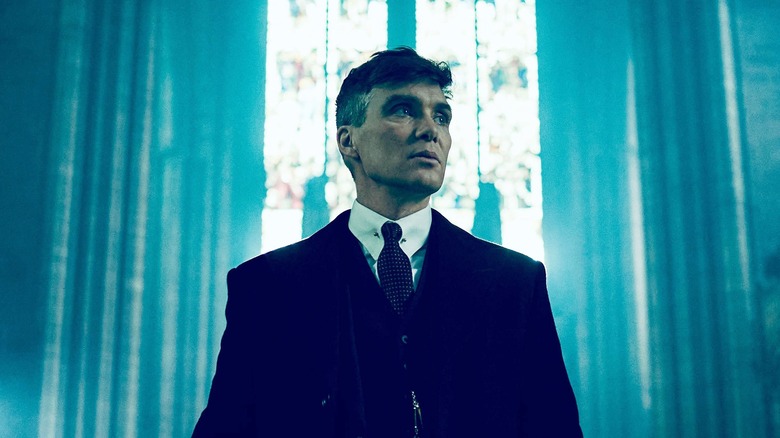 BBC
Who among us could ever resist the temptation to keep a good thing going? "Peaky Blinders" may be wrapping up its successful run on the small screen this year (the sixth season of the popular series debuted in the UK in February of 2022 and is currently airing new episodes every Sunday, while the rest of us must wait until it hits Netflix all at once in June), but not exactly in the way it was originally "supposed" to. As Steven Knight has made clear on previous occasions, his vision for the series included closing on the poignant and downbeat note of air raid sirens announcing the commencement of World War II in Birmingham. That changed, according to Express, in dramatic fashion. As he put it in an interview:
"It was always Britain between the wars — how the lesson from one war was not learned and was repeated. It's also the end of empire: we enter the Second World War and by the end of it, there is no empire, really. But I ... have revised the scope of what it is. It will now go into and beyond the Second World War. Because I just think the energy that is out there in the world for this, I want to keep it going, and I want to see how this can progress beyond that."
Importantly, Knight appears to have only the best and most justifiable reasons for this change of plans. As much as fan demand and audience response may factor in, the demands of the story are ultimately what matter most. If the legacy of the Shelby family can't effectively wrap up as originally envisioned, then Knight would've been derelict in his duty not to adjust accordingly. Thankfully for us, this just means even more "Peaky Blinders" goodness to come in the weeks, months, and even years ahead. From where I'm sitting, maybe planning everything out from the beginning is a little overrated. Tommy Shelby, I'm sure, would likely agree.