Cillian Murphy Hates This Aspect Of His Peaky Blinders Preparation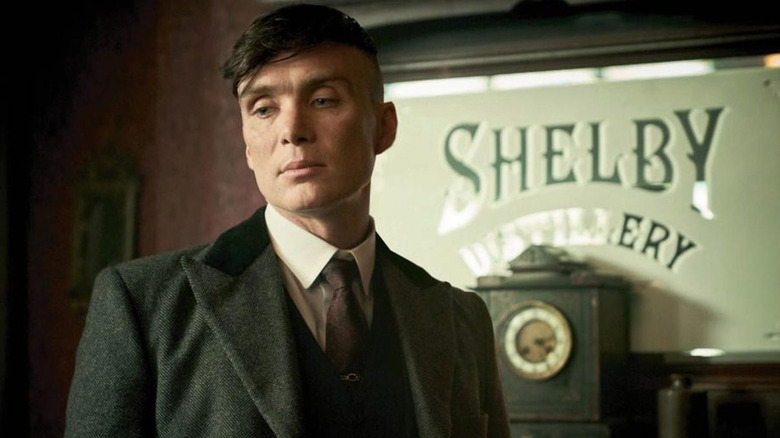 BBC
With the sixth season of Steven Knight's British crime drama series "Peaky Blinders" airing now on BBC iPlayer (and coming to Netflix on June 10), the countdown to the end has officially begun. Cillian Murphy's enigmatic leading character — the soft-spoken gang leader and Shelby family patriarch, Thomas Shelby — has much to lose, but he's well-prepared to take down the fascist leader Oswald Mosley (portrayed by Sam Claflin). If there's anything we know about Tommy Shelby, we know this is a man who gets what he wants.
Murphy has been secretive about what's in store for fans in the last season of the beloved series (don't worry, there's a "Peaky Blinders" movie in the works), but the actor has been open about sharing the hardships he experienced while filming the show. It's an understatement to say that his character is perhaps the most complex in all of "Peaky Blinders," but it is frequently overlooked that playing a character of Tommy's stature can be complicated, too.
Building an imposing figure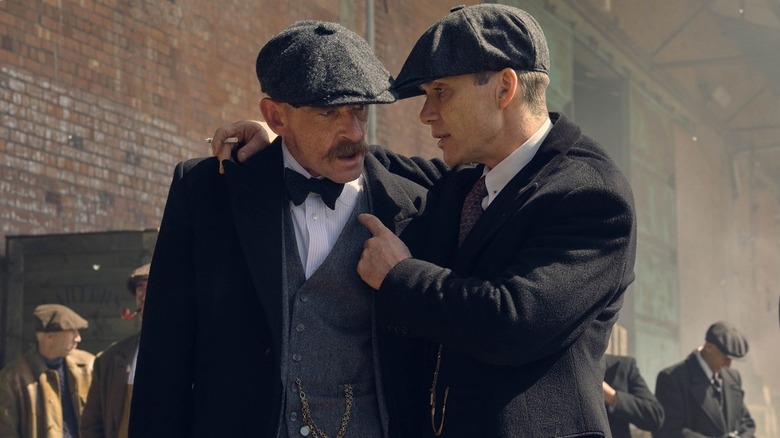 BBC
Ahead of the final season's debut, Cillian Murphy shared with Express UK that he disliked a few things about preparing for his on-screen role. The Irish actor divulged that playing Thomas Shelby mandated a specific fitness routine that was hard to achieve and keep up with throughout filming. One can only imagine the distress it caused Murphy when Season 6 experienced an erratic filming schedule due to the COVID-19 pandemic causing multiple delays on production.
The show's fans would agree that Tommy has a very intimidating frame; his gaze might invoke a sense of impending danger, but it is his build that terrifies onlookers before he can meet their eyes. Accomplishing this body type proved to be a challenge.
Murphy stated that since he is naturally slim, he had to train hard to achieve his character's broad and sturdy-appearing frame: "I'm not a very physically imposing person. So I have to eat a lot of protein and lift a lot of weights and do all that stuff. So that takes a while, which I hate." 
Perfecting the accent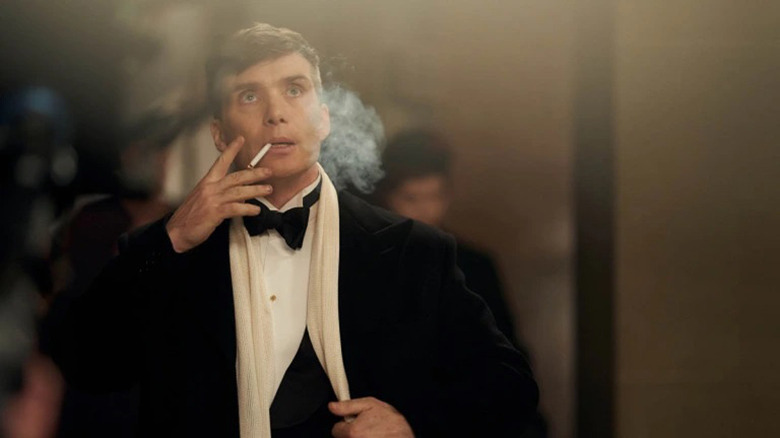 BBC
Getting on board with Tommy Shelby's health regimen wasn't a choice but a lifestyle change Cillian Murphy assumed to look the part every time. But it's not the only part of the character prep that required patience and practice.
"Peaky Blinders" is all about Thomas Shelby and his gangster family's rise to power and legitimate business from a background teeming with crime in the wake of World War I. The show is entirely set in the city of Birmingham, meaning that Cillian Murphy had to swap his natural Cork accent for a gruff Brummie accent throughout his six-year stint on the show. It sounds effortless when you hear it on-screen, but it wasn't an easy feat.
Mastering a Birmingham accent for his role took a lot of work, and Murphy recognized that the most effective way to go about it was by hanging out at bars in Birmingham. The Irish actor told Radio Times (via Express UK) that he visited pubs in the city with the show's creator Steven Knight (who was born in Birmingham) and recorded their conversations with the locals.
"I hung out with Steve [Knight, screenwriter], and we went to the actual Garrison pub in Birmingham with his Brummie mates. And we're just drinking Guinness there, and they're singing Birmingham City songs and telling all sorts of stories, and I was recording on my iPhone. And then I took that home and used it to try and track the accents, you know."
Murphy said previously that Season 6 is "dark as f***," and portraying a character coming to terms with his PTSD and grief might not necessarily sound like a pleasant filming experience. Still, Murphy put in the work both physically and emotionally to portray Tommy Shelby with the poise and complexity the character requires.