10 Times Rhys Darby Stole The Show Before Our Flag Means Death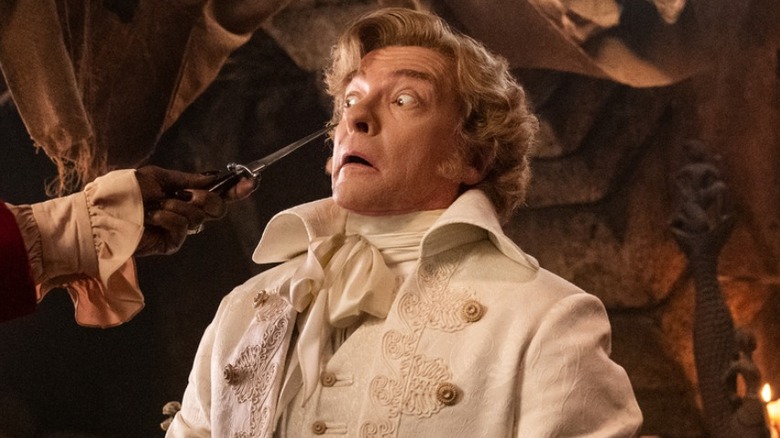 HBO Max
In "Our Flag Means Death," Rhys Darby's Stede Bonnet might not be the best pirate to plunder the seven seas, but he's at least succeeded in stealing our hearts. The HBO Max series created by David Jenkins started out as an offbeat historical comedy, but has slowly transformed into a sincere (and still very funny!) love story between Stede and the legendary Blackbeard (Taika Waititi). By the time its finale aired last week, the show had won over an enthusiastic fan base, which has rightfully championed it for its casual inclusivity, good-natured humor, and meaningful queer representation.
Waititi has already earned well-deserved praise for his take on swaggering but sensitive Blackbeard, but it's Darby who I'm most thrilled to see take the spotlight. The actor has been putting in great work for years, often appearing alongside his friends from the New Zealand comedy scene, but also taking on supporting and guest roles in titles that are always elevated by his presence.
For my money, Darby is one of the funniest and most endearing actors working today. "Our Flag Means Death" gives him the rare opportunity to stretch his dramatic chops as well. The season's final episodes prove that the actor can make us cry with little more than the surprised raise of an eyebrow, or a softly spoken question. Before he conquered love and the open seas in HBO Max's latest, he also stole scenes in dozens of movies and shows. Here are ten of the best.
Flight of the Conchords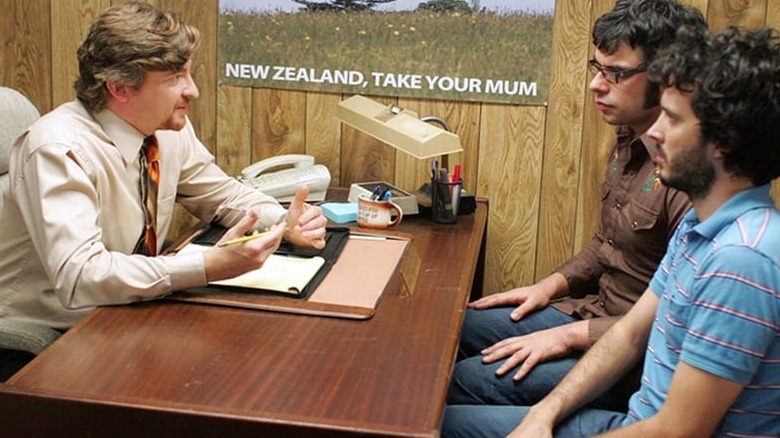 HBO
If you meet a person who treats Darby like the be-all, end-all of comedy, you're probably talking to a "Flight of the Conchords" fan. The short-lived HBO series made a huge impression, launching its co-creators and stars Bret McKenzie and Jermaine Clement into the zeitgeist in a way that would've scared the pants off their unpopular on-screen counterparts. In the show, the duo plays versions of themselves living the ultimate fish out of water experience in New York as they try to make it as struggling musicians. But the pair's deadpan comedy and childlike moodiness are never funnier than when played off of Rhys' character, Murray.
As the band's manager–who also works full-time at the New Zealand Consulate–peppy Murray is as clueless about the music industry as he is certain he's an expert. The group's "band meetings" almost always devolve into bits that are so ridiculous and hilarious, it's hard to see how the actors got a single good take in without breaking character. Whether Murray is replacing Bret with a digital recording to stay competitive with the Australians, assuredly leading tourists into mugging situations, or accidentally investing all his cash in custom mouse pads, he remains ever-enthusiastic in the face of failure. He may not play in the band, but Darby is no doubt the unsung third Conchord who makes the series soar.
What We Do In The Shadows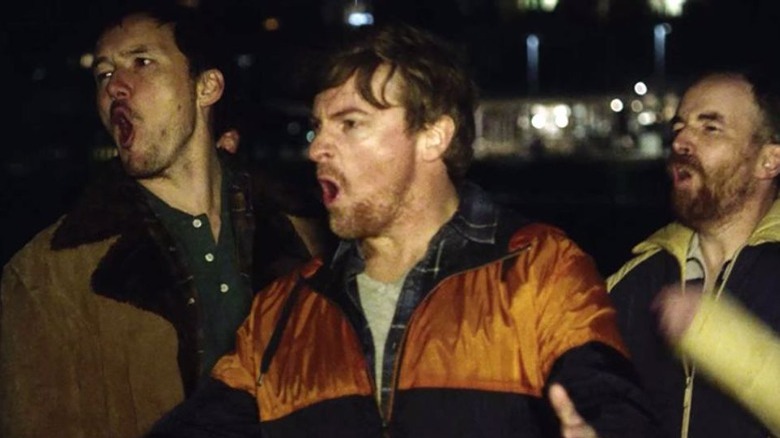 Unison/Paladin
If a project counts Waititi or Clement among its creators, it's a sure bet it'll be uproarious, but also surprisingly sweet. Both comedians love to cultivate genuine friendships and wacky but heartfelt group dynamics within high-concept scenarios, and vampire mockumentary "What We Do in the Shadows" is no exception. The film follows a group of vampire roommates (played by Waititi, Clement, and Jonathan Brugh) as they film a documentary about their bloody, dorky everyday lives.
Upon rewatch, it's always surprising just how many laughs the movie is able to squeeze out despite its shoestring budget. No joke has more staying power than the werewolf bit, a "Twilight" riff that sees the vampires face off against a pack of un-transformed lycanthropes in a showdown that's 90% silly posturing. Darby plays the head werewolf, Anton, who leads his group with the polite mantra "We're werewolves, not swearwolves." For most of each month, the pack of werewolves is essentially a group of dudes who like to smell people and play fetch, but the joke it so good that Anton has returned in both of the movie's spinoffs–FX's "What We Do In The Shadows" show and the supernatural procedural "Wellington Paranormal."
The X-Files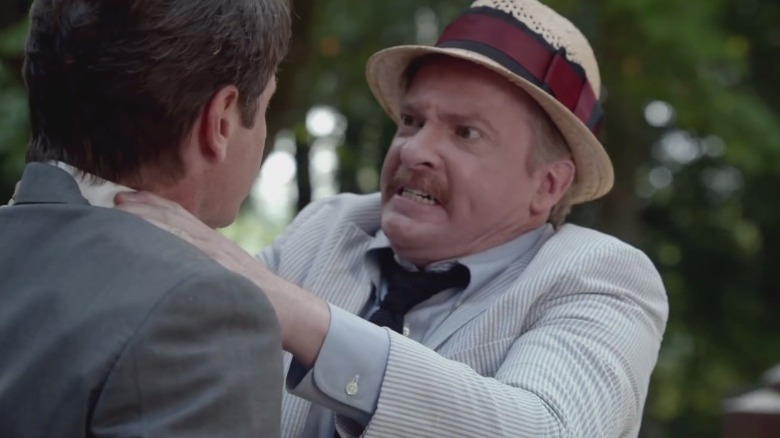 20th Television
The two revival seasons of Chris Carter's beloved '90s sci-fi staple admittedly have little going for them, but at least one episode is an obvious standout. "Mulder and Scully Meet The Were-Monster" is a certified Darin Morgan banger. Morgan has been a favored "X-Files" writer since his debut episode, "Humbug," introduced a level of weird humor that somehow fit just right with the show's two alien-hunting leads. "The X-Files" is rarely more fun than when Morgan is penning the script, and by season ten, the team behind it clearly knew as much.
This comedic episode features Kumail Nanjiani as an animal control officer who, with Mulder (David Duchovny) and Scully (Gillian Anderson), chases down a lizard man who's wreaking havoc in an Oregon community. Their culprit seems to be Guy Mann, a conspicuously named, dapperly dressed fellow played by Darby. Without giving away all the episode's best bits, it's worth noting that this hour includes a screamingly funny inversion of common creature mythology and plenty of excellent moments in which Darby laments the cruelty of life to a perfectly deadpan Duchovny.
Hunt For The Wilderpeople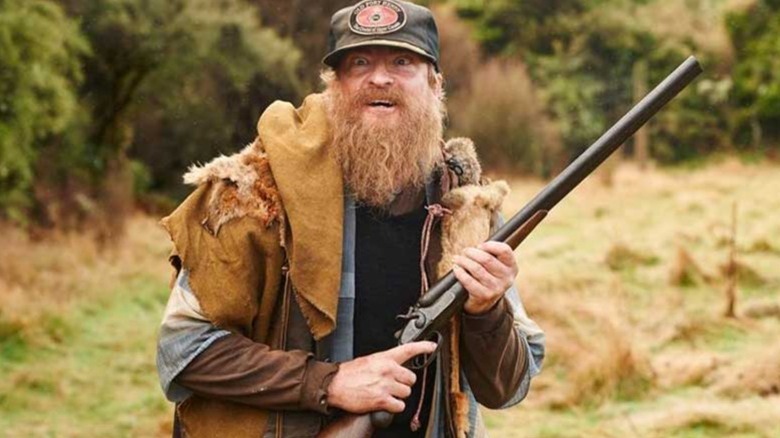 The Orchard
Darby's zaniest performance to date might also be his funniest. Waititi's bush-set adventure comedy stars Sam Neill as an antisocial man named Hector who, after a tragedy, suddenly finds himself tasked with caring for creative and rebellious foster kid Ricky Baker (Julian Dennison). When Ricky worries he'll be put back into the foster system, he runs away into the wilderness, and he and Hec soon end up on the lam from child services.
That's where Darby's character comes in. The comedian plays a man the pair discover living off the grid who goes by the name of Psycho Sam The Bush-Man. It's an apt name, since Hec and Ricky discover him while he's foraging near a river disguised as a literal bush. Darby plays Sam with a level of crazed enthusiasm so memorable, it nearly usurps every other part of this epic, quotable movie. He's as friendly as he is paranoid, offering use of his emergency bunker (turns out he forgot to dig it!) and lending the duo the truck they eventually use to ride into the film's epic climax.
Short Poppies
TV One
Admittedly, Darby isn't so much stealing the show in "Short Poppies" as he is the show. The one-season series (created by Darby) functions as an extremely kooky showcase for the performer, as he takes on eight different roles. "Tickled" and "Dark Tourist" documentarian David Farrier plays himself, interviewing the notable residents of a small New Zealand town. And every spotlighted character is played by Darby, from lifeguard and leg beauty pageant participant Terry Pole to power-walking busybody Mary Ledbetter.
"Short Poppies" is a quirky comedic experiment that doesn't always work, but it highlights Darby's super wide acting range and continues the tradition of humble and sweet New Zealand-set comedies. The show's fictional setting has more than its share of small-town drama, but it also has plenty of endearing characteristics, like the whale watching company started by a guy whose credentials include seeing a whale once. The show also goes to surprisingly strange–and comedically fruitful–places, as when Darby plays a zealous UFO-logist who's determined to get abducted.
The Boat That Rocked (aka Pirate Radio)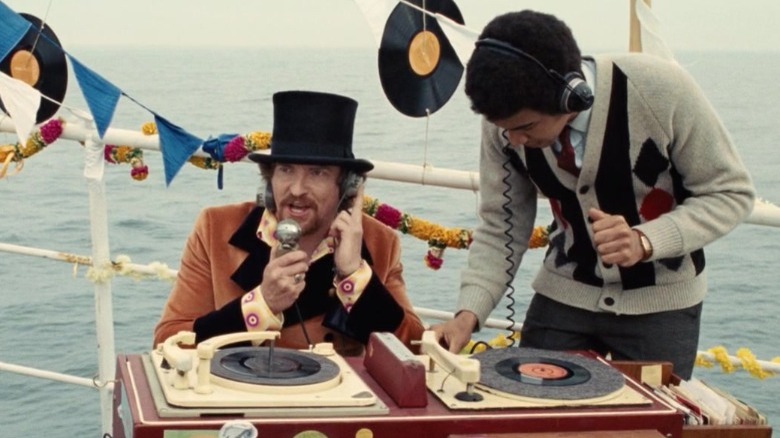 Universal Pictures
Richard Curtis' take on the pirate radio stations of the 1960s is an entertaining hangout movie about guys being dudes. These particular guys are all anarchic radio DJs who became the stuff of legends when they avoided the UK's strict radio laws by broadcasting from a boat out on open waters. Their freedom from restrictions made them an enemy of the government, but also allowed them to do all the wild things portrayed in this movie, like dive from the mast of their ship into the ocean below, or bring a boatload of girls onto the ship for a shag-fest.
"The Boat That Rocked" has a massive ensemble cast, but you can't miss Darby. He's the guy dressed like a '70s curtain set, wearing funky stripes and colorful patterns so garish they come back around to looking good again. In an against-type role, the actor plays Angus "The Nut" Nutford, an on-air comedian who's a sucker for a good (or bad) dick joke. "The Boat That Rocked" isn't the best movie on this list, but it tells a totally unique story and, like the show that brought us all here, is technically about a band of pirates.
Wrecked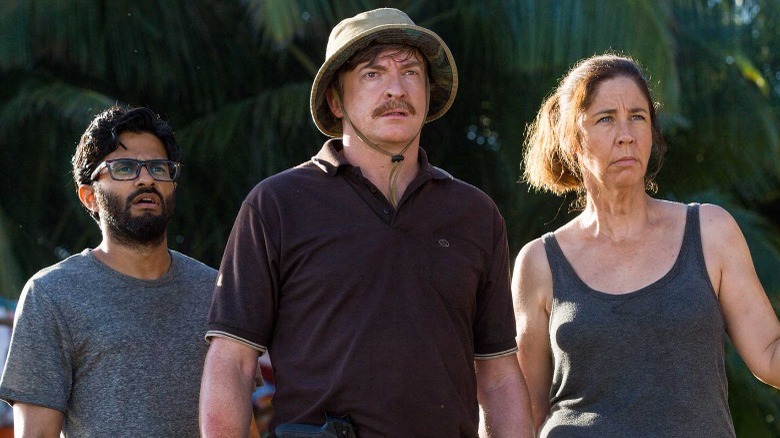 Warner Bros. Television
"Wrecked" is an inexplicable show on a lot of levels. For one thing, it's a "LOST" parody that didn't debut until years after "LOST" went off the air. The TBS series' sometimes broad humor can be more dumb than funny, but it also has some gut-busting comedic moments, like when the stranded passengers have a DVD player with only enough charge to ever watch one movie again–forcing them to choose between "Dumb and Dumber To" and "Selma."
Darby plays Steve, an initially unassuming tourist with a silly hat and mustache who eventually evolves into a sort of island dictator. Before all that, though, Steve is an unlucky but affable guy, breaking both his legs in the plane crash and spending the show's early episodes stuck laying on the beach. He's certainly not a one-for-one parody of "LOST" character John Locke (Terry O'Quinn), but there are definitely a couple of parallels. "Wrecked" gives Darby some of the show's funniest bits, such as when he has a miscommunication with a fellow survivor about whether his "baby" is an actual child or a prized golf club. Somehow, the belated farce "Wrecked" went on for three seasons, and Steve was there as a surprisingly hilarious and sometimes unhinged part of the group the whole time.
Voltron: Legendary Defender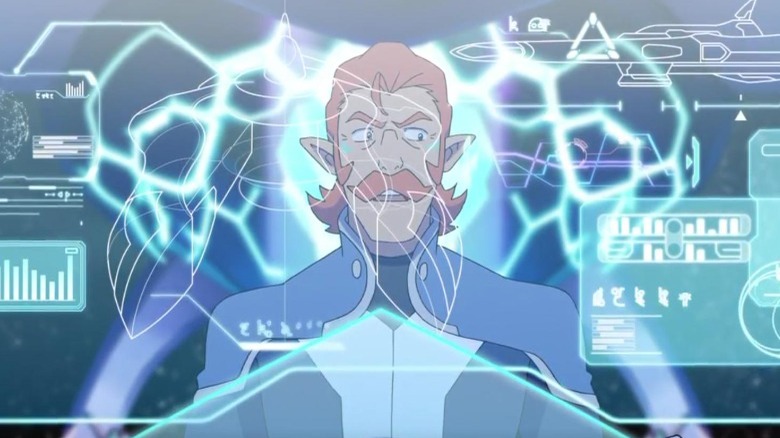 Netflix
Netflix has a pretty solid track record for rebooting '80s animated series (see also: "She-Ra and the Princess of Power"), and "Voltron: Legendary Defender" is no exception. Like its '80s counterpart, the series by some of the team behind "Avatar: The Last Airbender" follows a group of galaxy explorers who can combine together into the form of a giant robot when the need for such a thing arises. The Netflix version of the show garnered a passionate fan base and lasted for eight seasons, making it basically ancient by the streamer's standards.
Darby plays Coran, an Altean royal adviser, fount of knowledge, and all-around quirky dude. While other characters ended up embroiled in relationship drama and epic quests, Coran often functions as a sort of comic relief in the show's sci-fi setting. Whether he's saddled with a case of the Slipperies (a gross, sweaty flu), hatching a literal brain worm, or rapidly de-aging back into a baby, Coran is always doing something memorably zany. With his big orange mustache and dapper nature, he's also a classic Rhys Darby character.
A Series of Unfortunate Events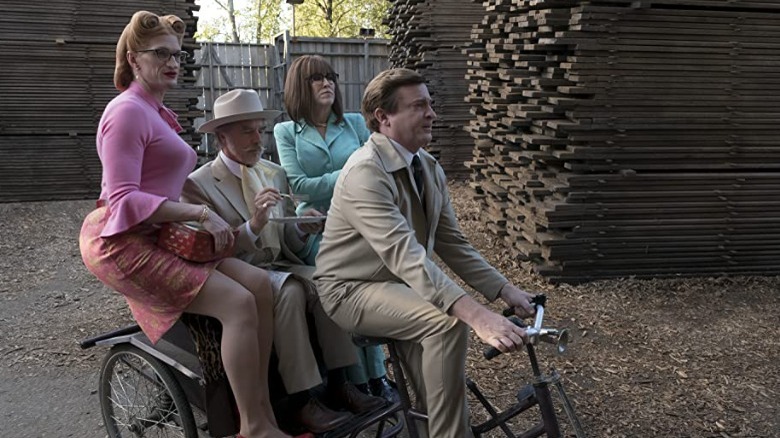 Netflix
If you think Stede and Blackbeard have some relationship problems, wait until you meet Charles (Darby) and Sir (Don Johnson). Netflix's live-action adaptation of Lemony Snicket's dark children's book series is an underrated masterpiece, bringing each book to life across two episodes and featuring an epic slate of guest stars. In the first season, the children end up working at a miserable mill that's prone to more than a few OSHA violations–and feeds its workers only chewing gum.
The mill is run by Sir, a gruff man who seems like something out of a Charles Dickens novel. His partner — which our narrator assures us is a word with two meanings here — is Charles, a much sweeter, more mild-mannered guy who is nonetheless unhelpful to the Baudelaire orphans. "You have to understand, he had a very terrible childhood," he tells Klaus (Louis Hynes) while trying to excuse Sir's bad behavior. "I understand," the boy answers, "I'm having a very terrible childhood right now." As with most "A Series of Unfortunate Events" plots, this one ends up going to some strange places, with a hypnotized, omelet-cooking Charles stuck right in the middle of all the drama.
Bob's Burgers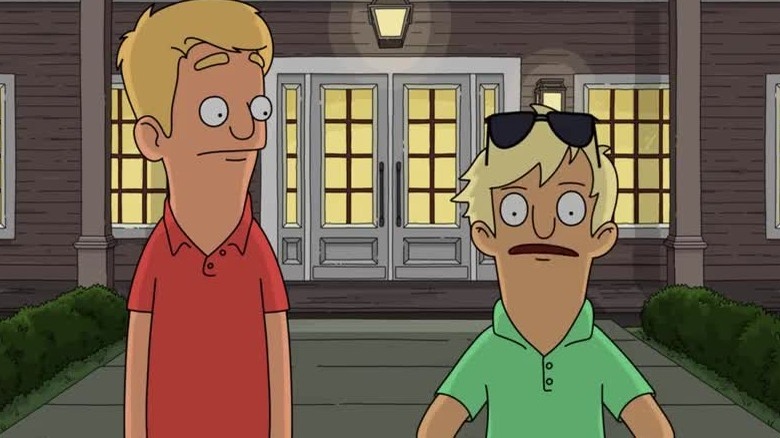 20th Television
Darby gets to keep his distinctive New Zealand accent in most of his projects, but not enough of them recognize the most important thing about it: how freaking cute it is. Luckily, we have "Bob's Burgers" to save the day. The comedian has only popped up twice in the long-running animated family sitcom to date, but both appearances have been memorable. He first appears in the season seven episode "Ain't Miss Debatin'" playing a foreign exchange student named Duncan. Duncan is on the debate team Tina (Dan Mintz) is meant to go up against in the big school tournament, and the teen is instantly smitten by his cheerful, unintelligible lingo. "She likes them not quite a man and hard to understand!" Gene (Eugene Mirman) declares when Tina admits she's got feelings for the boy despite the fact that she's dating a dweeb on her own team.
The actor has done plenty of voice work before, but few animated roles have pumped out so many jokes per minute. This episode and his brief return in "What About Blob?" have some of the most quotable lines of the series, from when Duncan won't stop talking about the "couple of chesties" he grew while going through puberty on the plane ride to America, to wisely intoning that "you don't wear your sockies with your boaties." All of this is, hilariously, music to lovestruck Tina's ears.
If you need even more Darby humor after all this, check out his guest spot in a show by the team behind "Bob's Burgers," called "The Great North." In season one, the actor pops up as a sentient snowflake Alaskan dad Beef (Nick Offerman) hallucinates while stuck in the cold.