Twister Almost Starred Garth Brooks, But He Didn't Want To Compete With A Tornado
Hollywood is responsible for some of the most ridiculous headlines imaginable, but this one is definitely in the running as an all-time great. Back in the 1990s, there was no bigger star than country singer Garth Brooks. You may think this claim is exaggerated considering the popularity of bubblegum pop icons and boy bands of this era, but Brooks is the only artist in music history to release nine albums to reach diamond status in the United States. To put it into perspective, Brooks broke the record previously held by the Beatles at six. The man was named the Artist of the Decade by the American Music Awards in 2000 and won the RIAA Award for bestselling solo albums artist of the century in the U.S. We truly cannot underestimate the power and popularity of country music.
Brooks, however, did not underestimate his star power, and refused to do anything that made him look less than an unstoppable force. Back in 2013, a former production partner of Brooks named Lisa Sanderson filed a lawsuit against him that brought to light some incredibly odd career decisions. For example, Brooks never sought out the life of a crossover artist, exclusively appearing on film and television as himself. That isn't to say the opportunities for an acting career weren't available; he just chose not to pursue them. Apparently, Brooks was offered a role in "Saving Private Ryan" but declined Steven Spielberg's offer because he didn't want to share the spotlight with Matt Damon and Tom Hanks. Sounds a little odd to say no to Spielberg, but that's not even his weirdest rejection. Brooks also turned down a role in "Twister," once again not wanting to take a role that didn't highlight him as the lead and refusing to play second fiddle to the film's true star ... the tornado.
Brooks caused a storm of his own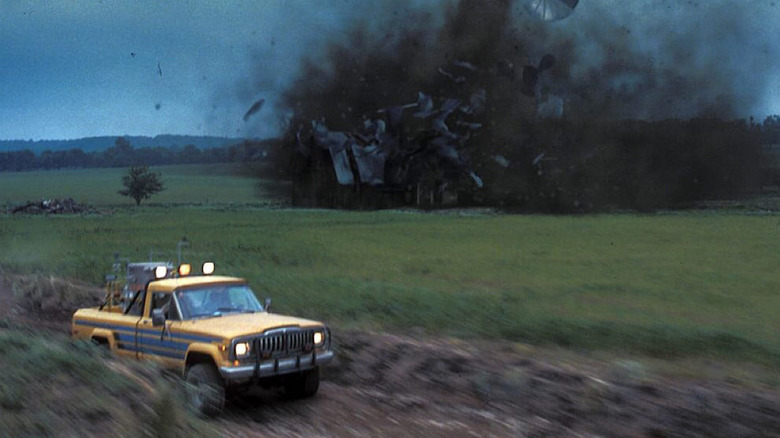 Warner Bros.
Sanderson's lawsuit alleged that Garth Brooks is responsible for her losing out on money and opportunities because, as she put it, Brooks is a "paranoid, angry, deceitful, and vindictive man who will turn against those closest to him on a dime." Yikes. The accusations are unsurprising considering their production company Red Strokes Entertainment at one point was working on a film called "The Lamb" with Paramount Pictures centering on Brooks' rock star alter ego, Chris Gaines. Brooks took on the identity of Gaines and even put on the 1999 album "Garth Brooks in... the Life of Chris Gaines" as a pre-soundtrack to the film that never materialized. He did, however, appear as Gaines in a television mockumentary for the VH1 series "Behind the Music" and as the musical guest on an episode of "Saturday Night Live" that he hosted as himself.
Sanderson also alleges that Brooks burned bridges with Tim Burton as Red Strokes Entertainment was at one point involved with Burton's "Alice in Wonderland," as well as a film called "Alyss" that was written by Brooks. Sanderson also alleged that Brooks destroyed their company's relationship with Fox, which was at one point interested in a script he had written (why is he writing all of these scripts?!) about a semi-dead rock star. While details are murky, Brooks allegedly claimed his then-alive father was actually dead, and refused to let the studio or production use any of his music.
Unfortunately for Sanderson, the court ruled in favor of Brooks, who is not obligated to costar against a tornado just to make her money, and she ended up owing him over $226,000 when all was said and done.