Lockwood & Co.: Release Date, Cast, And More Details About Netflix's Ghost Detective Show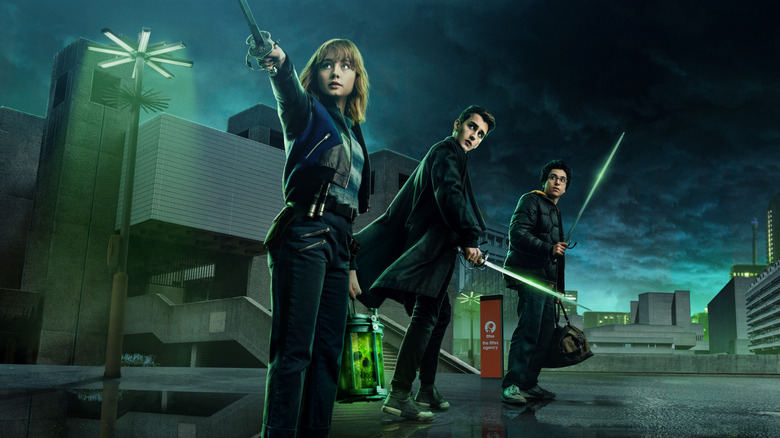 Netflix
(Welcome to ...And More, our no-frills, zero B.S. guide to when and where you can watch upcoming movies and shows, and everything else you could possibly stand to know.)
Lately, I've been tracking how Netflix is singlehandedly reviving the world of young adult stories on television. And I am here for it. In the past few years, the streaming giant has created several YA series that are based on books (and have a pre-existing community of fans), including the "To All The Boys I've Loved Before" trilogy, "The Baby-Sitters Club," "One of Us Is Lying," and now "Heartstopper," Netflix's slate of YA content is a gift that keeps on giving. 
The streamer's latest series order is a story about a group of badass detective teens battling a ghost epidemic in London, and is based on a fascinating series of novels from author Jonathan Stroud.
Whether "Lockwood & Co." will be adapted into eight seasons (considering there are eight books) or get axed after the first season (Netflix is a firm believer in its own kind of cancel culture) is yet to be seen. Until then, we can take comfort knowing that an exciting new YA series is hitting the streamer soon. Here's all we know about "Lockwood & Co." so far.
What is Lockwood & Co. about?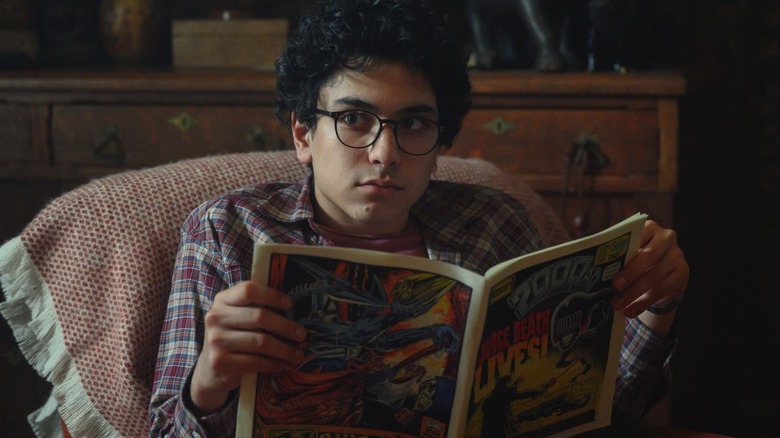 Netflix
Jonathan Stroud's young adult supernatural thriller series tells the story of three young operatives, Lucy Carlyle, Anthony Lockwood, and George Cubbins, who work at a psychic detection agency. When a ghost epidemic breaks out on the streets of London, the group must get together to valiantly investigate some of the spookiest hauntings they've seen in the city. Armed with tools that repel ghosts, such as magnesium flares and salt bombs, as well as a ton of courage, the trio must put an end to these otherworldly beings. A consistent theme in the books has been that of responsibility — Anthony is seen struggling to protect his agency from going out of business while having to take care of his employees — and I hope that will be resonant in the adaptation too.
Here's the official synopsis for "Lockwood & Co." 
Set in London, where the most gifted teenage ghost-hunters venture nightly into perilous combat with deadly spirits, amidst the many corporate, adult-run agencies, one stands alone: independent of any commercial imperative or adult supervision – a tiny startup, run by a renegade trio destined to unravel a mystery that will change the course of history: Lockwood & Co.
Who is in the Lockwood & Co. cast?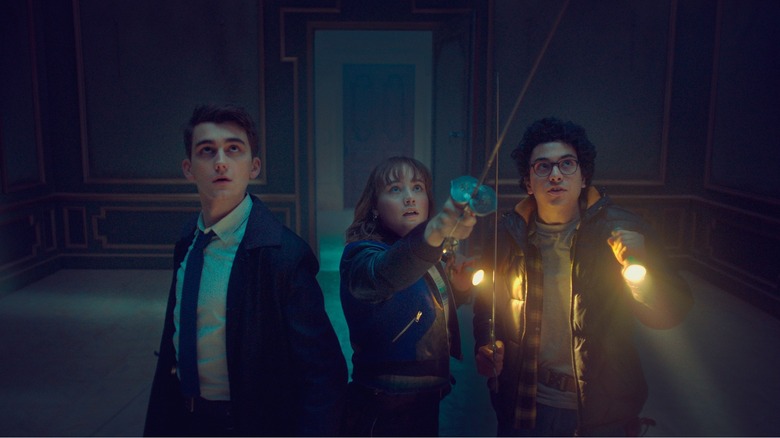 Netflix
The eight-episode Netflix adaptation features actress Ruby Stokes (who plays Francesca in "Bridgerton" season 2). Stokes plays Lucy Carlyle, a newly arrived, psychically gifted young girl who, along with her partners, runs a psychic detection agency in London. Joining Stokes are newcomers Cameron Chapman as Anthony Lockwood and Ali Hadji-Heshmati as George Karim (Cubbins in the book series). While Anthony runs the agency in the books, the show has chosen Lucy to lead the crew instead.
The cast also includes actors Ivanno Jeremiah ("Humans," "Black Mirror"), who stars as Inspector Barnes, Luke Treadaway ("Attack the Block") as The Golden Blade, and Morven Christie ("The A Word") as Penelope Fittes. Jack Bandeira is set to play Quill Kipps, and Ben Crompton will portray Julius Winkman. Hayley Konadu has joined the show as Flo Bones, Paddy Holland stars as Bobby Vernon, and Rhianna Dorris plays Kat Godwin. 
Joe Cornish, who directed "Attack the Block" and "The Kid Who Would Be King," serves as showrunner on "Lockwood & Co." and is also set to executive produce alongside Nira Park and Rachael Prior. The series is produced by Complete Fiction, a production company from long-time friends and collaborators Edgar Wright, Park, Cornish, and Prior.
Watch a teaser for Lockwood & Co.
While there's no full-length trailer for "Lockwood & Co." yet, Netflix has given us a first look at the upcoming series through a short teaser. The clip features Lucy Carlyle (Ruby Stokes) and Anthony Lockwood (Cameron Chapman) as they battle it out against an enraged spirit. Anthony is seen in action, making use of his combat skills to defend himself and Lucy while she's desperately trying to hold herself off from falling over the stairs. Lockwood manages to shove off the spirit for good and pulls Lucy to safety right when she's about to fall. When he inquires if the spirit touched her, Lucy responds in the negative, stating she'd be dead if that had happened. 
Fans would agree that the teaser sets up the series pretty well, and there's a lot more action to look forward to when the show finally arrives! Hopefully we get to see Lucy using her abilities next, since she's leading the adaptation instead of Anthony.
When will Lockwood & Co. arrive on Netflix?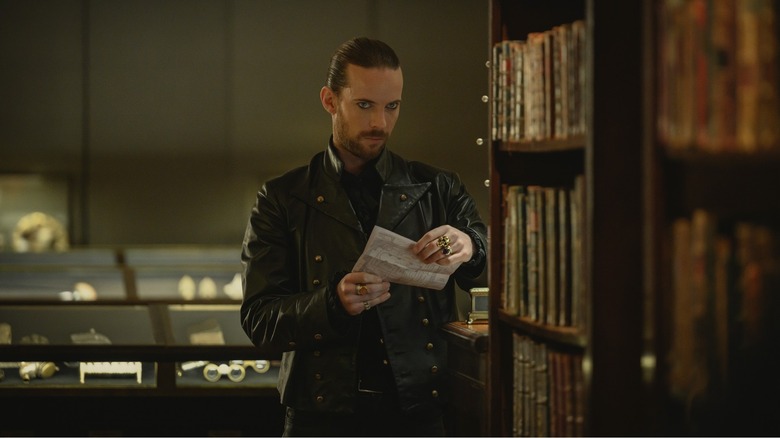 Netflix
Netflix has announced "Lockwood & Co." will arrive on January 27, 2023. The adaptation has eight episodes, and all will be available to view later this month (we can probably expect a full trailer before then as well). Stroud's novels are loved for their world-building and the partnership shared by Anthony, Lucy, and George, and fans will be looking to the series to effectively bring those elements to life.
There's certainly more to learn about the upcoming Netflix adaptation — we're yet to see a glimpse of the ghost-ridden city of London and the trio's psychic detection agency. But we already know that the source material is solid, and Joe Cornish's track record with plucky young heroes gives us reason to be hopeful. "Lockwood and Co." is in great hands!