Oscar Isaac, Rad Dude, Has Words About Disney's Response To 'Don't Say Gay' Bill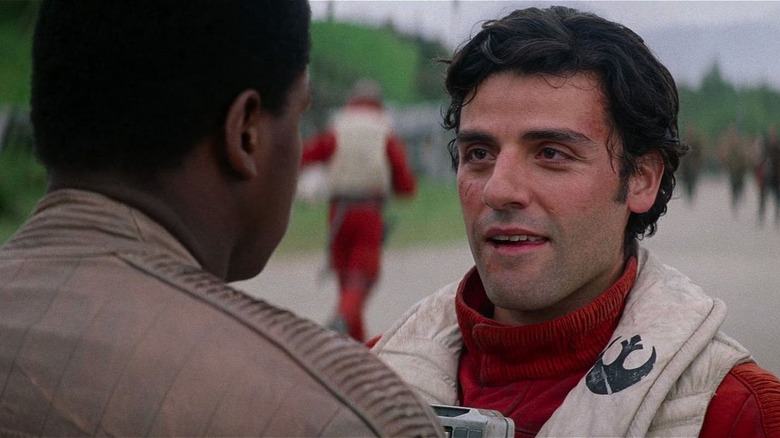 Lucasfilm
The Disney employee walkouts inspired by their inaction to Florida's abhorrent HB 1557 "Don't Say Gay" bill is well underway, with many people in the entertainment industry acting in solidarity by performing their own walkouts, or refusing to watch, stream, or promote anything owned by the House of Mouse. With the new "Moon Knight" series on Disney+ set to debut in just over a week, the series star Oscar Isaac is deep in the contractually obligated press and promotional cycle. Disney held a press junket today for "Moon Knight" where a brave soul (Adam B. Vary at Variety) asked Isaac for a comment on the ordeal, and his response will only deepen our collective crush on one of Hollywood's most beloved leading men. "I guess my comment would be [starts singing] gay gay gay gay gay gay gay gay gay gay gay gayyyyyy!" Bless you, Oscar Isaac. You magnificent weirdo.
To ensure that no one thought he was merely doing the bare minimum, he clarified his stance by saying, "Yeah, it's an absolutely ridiculous law, it's insane, it's insanity," he said. "And I hope that Disney as a company comes out as forcefully as possible against this idea." Isaac also added, "It's astounding that it even exists in this country." Isaac's comments were refreshingly welcome coming from a celebrity with genuine power and influence, especially as many Disney employees have felt the need to stay silent or anonymous in order to secure their job.
Kerry Washington and Mark Ruffalo also joined the cause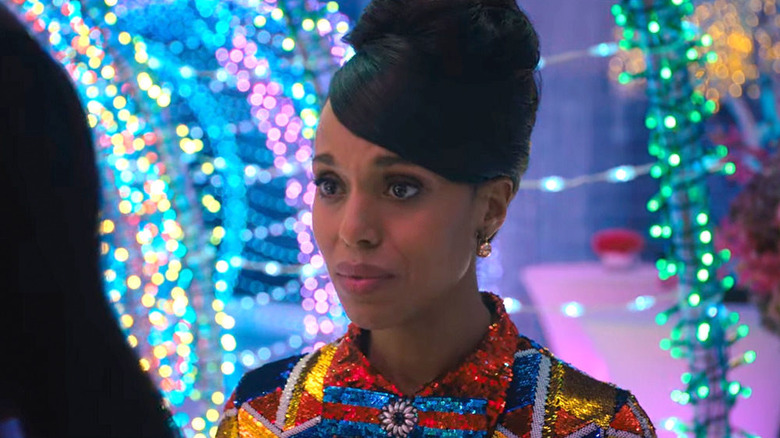 Netflix
While Isaac is one of the biggest high-profile celebrities to stand in solidarity, he is thankfully not the only one. Kerry Washington who spent many years on Disney-owned ABC's "Scandal" took to social media to speak out against the bill, and show her support for the LGBTQIA+ employees and allies taking a stand today against their employer's inaction. For a long time, as an employee of ABC, I have been a part of the Disney corporate "family," Washington said. "It's a creative and professional community that I am often happy and proud to be a part of, but sometimes family members disagree. This is one of those times." Washington recently played the homophobic mother of "West Side Story" star Ariana DeBose in "The Prom" for Netflix, so she's well versed in how to call out the close-minded people who felt inaction was enough.
#SayGay ❤️🧡💛💚💙💜💗
Sign the petition 🙏🏾 https://t.co/CEscP9thXc pic.twitter.com/i9ZjM1Z0sj

— kerry washington (@kerrywashington) March 22, 2022
Mark Ruffalo also showed his support, quote tweeting Washington's statement and adding, "Standing proud and in solidarity with our LBGTQIA+ family! #SayGay #DisneyWalkout." With employees ranging from Disney animators to cast members at the numerous Disney theme parks and resorts protesting today, the celebrity endorsements are a comforting sign that the employees are not alone. Both Marvel and Lucasfilm tweeted out solidarity statements, while participating Pixar employees proudly held the progress pride flag and the trans pride flag under the giant Luxo Jr. outside of The Steve Jobs building.
What a day so far! Thank you all so much for the resounding support. It means the world to us.

Lots still coming in, but a special shout out right now to Pixar for this amazing pic of solidarity.#DisneyDoBetter #DisneySayTrans #DisneySayGay #DisneyWalkout #WhereIsChapek pic.twitter.com/BzvjfVabPC

— Disney Walkout (@DisneyWalkout) March 22, 2022
The Disney Walkout open letter and petition can be found here.