Men Trailer: Jessie Buckley Is Haunted In Alex Garland's New A24 Horror Film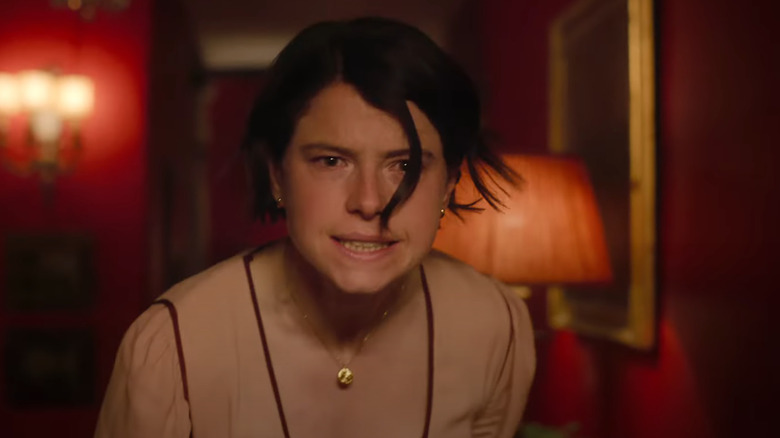 A24
Life moves pretty fast, if you don't stop and look around once in a while ... Alex Garland might be creeping in the shadows and ready to give you waking nightmares for years to come. Everyone's favorite author turned screenwriter turned master of slow-burn science-fiction horror is back with a new horror film, "Men," for A24. Check out the official synopsis for the movie, and then strap in for some nightmarish imagery of Rory Kinnear that will flash on the backs of your eyelids until further notice.
In the aftermath of a personal tragedy, Harper retreats alone to the beautiful English countryside, hoping to find a place to heal. However, someone or something from the surrounding woods appears to be stalking her. What begins as simmering dread soon becomes a fully formed nightmare, inhabited by her darkest memories and fears.
"Men" is the third feature film directed by Alex Garland following "Ex Machina" in 2014 and "Annihilation" in 2018. The film stars Academy Award-nominated actress Jessie Buckley ("I'm Thinking of Ending Things," "Chernobyl," "The Lost Daughter") and Rory Kinnear ("No Time To Die," "Our Flag Means Death," "Black Mirror") who is reportedly playing almost every male role in the film, including a child. And now there's a new trailer. Watch it below. 
The trailer for Alex Garland's Men
If only the Academy Awards actually appreciated horror movies, because Jessie Buckley is continuing to prove why she's one of the best performers currently in the game. We already knew she was going to thrive in an Alex Garland movie after starring in the psychological nightmare universe of Charlie Kaufman's "I'm Thinking of Ending Things," but "Men" looks to provide another killer performance. 
As for the Olivier Award-winning Rory Kinnear? It's best to quote Jessie Buckley on this one, "Why are you doing this?!" Kinnear is one of the most talented and well-trained actors working today, and seeing him really lean into the dark side of horror is an absolute thrill. He's also so effectively creepy that he better prepare to earn a seat in horror's lineage of "terrifying, balding white men" alongside Anthony Hopkins in "The Silence of the Lambs" and Tobin Bell in the "Saw" franchise.
As is expected with any Alex Garland movie, the trailer is only the tip of the iceberg for whatever messaging, metaphor, and existential turmoil he has brewing beyond the surface. "Men" is due out in theaters on May 20, 2022, and the release date can't get here fast enough.