The Party Down Revival Is Finished Shooting, According To Adam Scott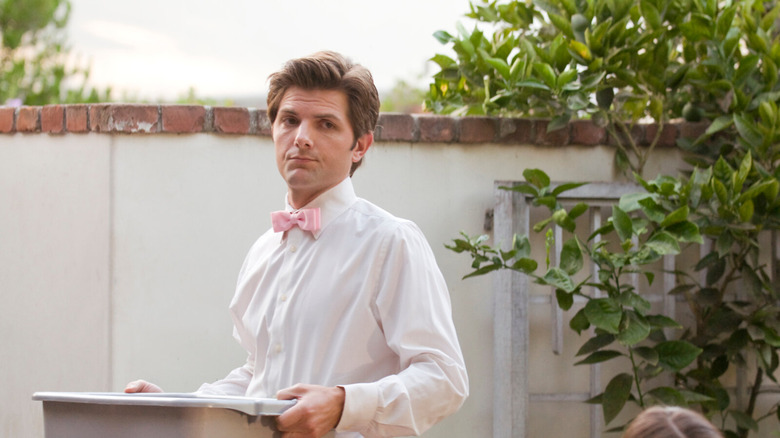 Starz
"Party Down" is party done! According to your favorite caterer Adam Scott, the "Party Down" revival has just finished shooting. So have a little too much to drink, throw on a button-down shirt, and start responding to those Craigslist casting calls, because you have just enough time to immerse yourself fully in the "Party Down" lifestyle before the show slides back onto your TV. 
Although, maybe our favorite wannabe stars have mellowed out and wised up? It's entirely possible. The only thing that can be confirmed right now is that there are definitely pink bow ties in your future.
In an interview with Vulture about Scott's role on the AppleTV+ thriller "Severance," Scott casually dropped the news that production had completed, saying:
"We just finished on Saturday night, or Sunday morning at 3 a.m. It's going to be great ... It was a really magical month and a half or so while we were shooting ... 'Magical' is gross. I don't want to say that. It's that particular combination of people where you have the greatest time. When you're laughing and you can't really breathe — we all needed it."
Party forever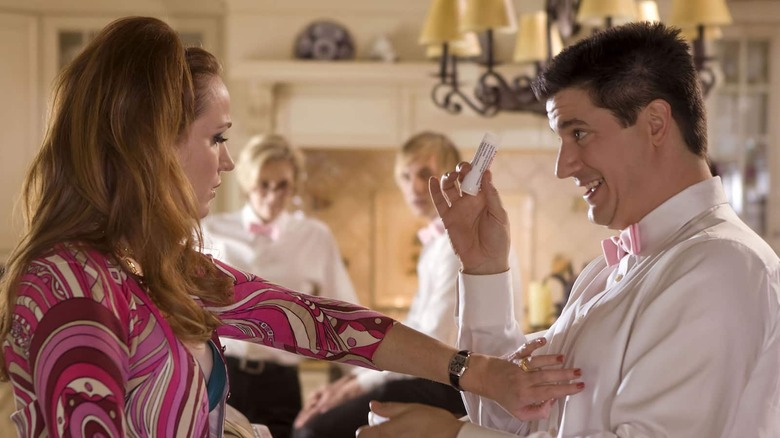 Starz
The original "Party Down" series premiered on Starz all the way back in a magical land formerly known as 2009. Over two seasons, the show followed a mix of LA caterers who were all desperate to leave the catering life behind and break into Hollywood. Some took their jobs more seriously than others, some were more successful than others, and hijinks ensued all around. Besides Scott, the show starred Ken Marino ("Wet Hot American Summer"), Lizzy Caplan ("Mean Girls"), Ryan Hansen ("Veronica Mars"), Martin Starr ("Freaks and Geeks"), Jane Lynch ("Glee"), Jennifer Coolidge ("The White Lotus"), and Megan Mullally ("Will and Grace"), as well as reoccurring guest stars like J.K. Simmons ("Whiplash"), Ken Jeong ("Community"), Kristen Bell ("Veronica Mars"), and June Diane Raphael ("Grace and Frankie").
In the years since the "Party Down" party ended, it gained a sort of cult status which culminated with a "Party Down" reunion during Vulture Festival in 2019. A movie was supposed to happen in 2011, but wipe that from your mind because we're getting something even better — another delicious season of the show itself. 
The six-episode revival doesn't have a release date (yet), but we do know the enhanced cast includes all of your old favorites (sans Caplan who is busy with the adaptation of "Fleishman Is In Trouble"), plus some new faces like Jennifer Garner, Zoë Chao, Tyrel Jackson Williams, and James Marsden.