Why Party Down Was Canceled – Here's What We Know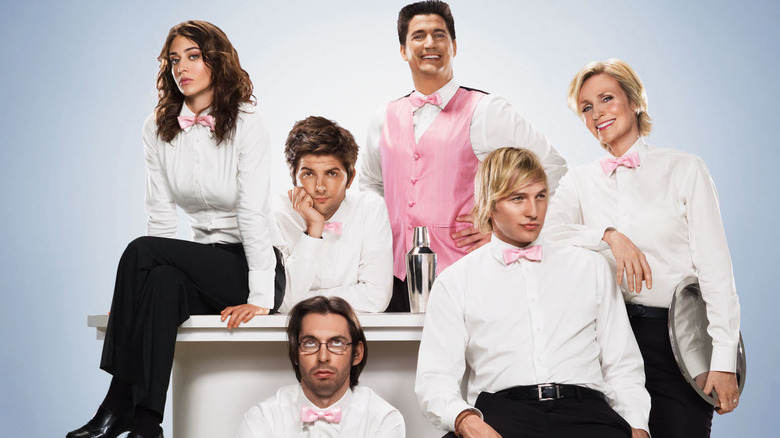 Starz
"Are we having fun yet?" Actually, yes, we are, now that "Party Down" is returning to Starz! The short-lived, but much-loved show aired for just two seasons from 2009-2010. Created by Rob Thomas, John Enbom, Dan Etheridge, and Paul Rudd, the series centers on a group of Los Angeles cater-waiters working for the titular company, most of whom are biding their time while trying to make it big in Hollywood.
Ken Marino's Ron Donald is sort of the patriarch of this dysfunctional family, or at least he tries to be when he's sober. Henry Pollard (Adam Scott) actually experienced a modicum of success, but the same commercial that made him so recognizable also torpedoed his career. Doing her best to not fall for his charms is aspiring comedian Casey Klein (Lizzy Caplan). Then there's Ryan Hansen as Kyle Bradway, who hopes his looks will earn him a star on the Hollywood Walk of Fame, and Martin Starr's "hard sci-fi" writer Roman DeBeers. Lastly is Constance Carmell (Jane Lynch), whose many movie roles are almost as interesting as the stories behind them. Life continues on around the Party Down crew, but all of these characters are still waiting for theirs to actually begin.
The writing is incredibly sharp, but much of what makes "Party Down" shine is its fantastic cast. Seriously, with so many funny people in the same room, how could the series not be hilarious? Even after the show lost Lynch to "Glee," she was replaced first by Jennifer Coolidge, and then by Megan Mullally in season 2, both of whom brought an equally delightful, yet different energy to the cast. There were also plenty of excellent guest stars, many of whom fans would recognize from Thomas' other series, "Veronica Mars."
With a new season in the works that will reunite almost all the original cast members (you will be missed Lizzy Caplan!), let's look into why we never got a third season in the first place. Why was "Party Down" canceled?
Party Down?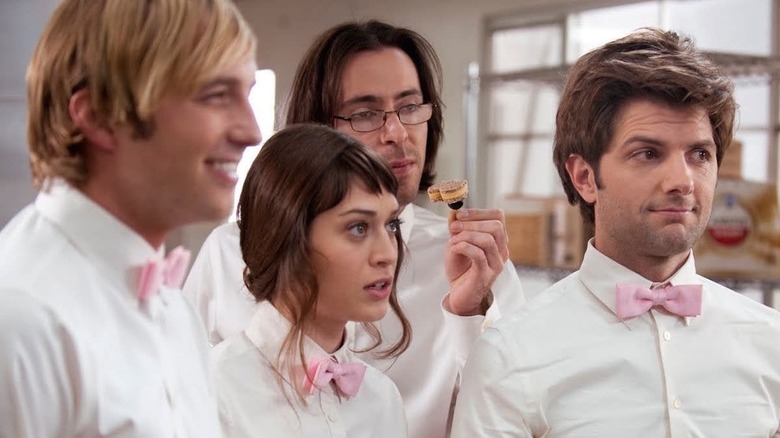 Starz
A common reaction for people hearing news of the "Party Down" revival is, "What's that?" The series was adored by critics and everyone who was actually watching it. Unfortunately, that was a very small number of viewers. A big reason for the series' cancelation is the same one that plagues many TV shows canceled in their prime: low viewing numbers. Deadline reported that only 74,000 people watched the season 2 finale and while the then-new head of Starz was a big fan of the show, those numbers simply weren't enough to justify a season 3. Thankfully, the show has become a cult classic in the years since, due mostly to its popularity on streaming services.
Regarding Henry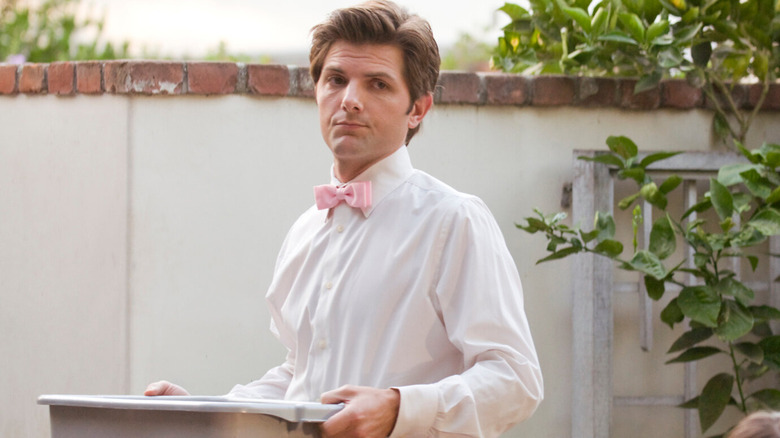 Starz
Losing Lynch was definitely a blow to show, but "Party Down" was able to stay afloat in season 2 with an equally talented actress in Mullally, and the same clever writing that it had become known for. But after season 2, Adam Scott accepted a role on "Parks and Recreation," and his absence may have been something the series could not recover from. While every member of the cast was vital, in many ways, Henry was the heart of the series. He was certainly often the one keeping the catering company from imploding.
After the show's cancelation, there was hope of a film continuation of "Party Down," but that never really took shape. That's okay though, since we've got six new episodes on the way, and that's a miracle. After all, the show's cater-waiters may still be waiting for success, but the actors who play them have certainly found more of it since the series ended. I'm looking forward to wasting time with my favorite group of misanthropes when "Party Down" returns.